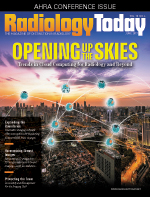 Opening Up the Skies: Trends in Cloud Computing for Radiology and Beyond
By Kathy Hardy
Radiology Today
Vol. 18 No. 6 P. 10
A growing confidence in cloud computing among health care professionals is resulting in the adoption of more options that open up the skies to greater data mobility. Once considered just a back-up storage option, cloud computing is now a tool for data exchange. Increasingly, health care organizations are making the cloud a de facto location for safely storing and sharing vital patient data, supporting trends in health care mobility. Surgeons and radiologists working together can share images and other data gathered from the cloud with their mobile phones and tablets. Even patients have the expectation that they can access their images from mobile devices and share them with their doctors for the purpose of diagnosis and second opinions.
"We watch streamed movies and listen to streamed music on our phones, tablets, and other devices," says Mini Peiris, chief marketing officer at Ambra Health. "Health care is still in the land of CDs and faxes. Storing data in the cloud makes it easier for everyone to access."
Clouds Moving In
According to the Health Information and Management Systems Society Analytics 2016 Cloud Survey, cloud computing in health care has tripled since 2014, due to the different ways organizations are leveraging the technology. In 2014, the cloud was seen primarily as a way to support the exchange of health information and storage of data. Now, organizations have begun to implement the cloud for things such as application development and patient engagement.
In addition, a white paper published by the Cloud Standards Customer Council refers to an aging population and greater health care awareness overall as drivers of an increased demand for health care, which in turn influences the role of IT in the industry. However, it is expected that the number of primary care physicians will not keep pace with demand, creating a need to cover a larger patient population with fewer medical staff. Cloud computing could help close that gap in care.
For these reasons and others, working in the cloud isn't as dark as it used to be, and radiology may be the specialty that sheds the most light on the benefits of storing and sharing data in the cloud. Radiology, with its large image files, is a health care "early adopter" of cloud technology, says Eric Rice, chief technology officer and vice president of research and development at Mach7 Technologies. Mach7's Enterprise Imaging Platform provides options for cloud-based deployments that include storage, image sharing, and physician and patient portals. In the past 10 years, Rice has seen an evolution from cloud as an offsite storage option to an entire enterprise solution. What started as a place to back up data in the event of a disaster has become an enterprisewide method for keeping referring physicians and patients in the loop regarding their individualized health care.
"We've gone from storing to sharing to accessing patient data to implementation via entire PACS systems," Rice says. "There are now more situations where the cloud is used on a day-to-day basis. We're seeing more clinical workflows as the cloud is accepted more."
Image storage has become a large part of the need for utilizing space in the cloud, Peiris says. With a cloud vendor-neutral archive (VNA) resting as a layer on top of PACS, medical archives can expand to include images, reports, and other types of data from multiple departments and specialties.
"If you can consolidate imaging into an archive and integrate that into the system, you optimize interoperability," she says. "You can do that with the cloud. From there, you can push imaging into outlets like EHRs and patient portals, and everyone feeds off a centralized archive."
A cloud VNA can also serve as a starting point for medical facilities in the process of consolidating multiple health systems.
"Merging multiple PACS is difficult to do, with multiple imaging silos to work through," Peiris says. "The process is especially difficult when subspecialties are involved. A cloud VNA can help make the process easier."
Upward Mobility
Jonathon Dreyer, senior director of solutions marketing for Nuance Communications' health care group, led the company's cloud and mobile solutions marketing team and launched Dragon Medical One, its cloud-based platform. He sees a move toward more mobile workflows and a desire for web-based options as driving factors in cloud adoption; not all facilities can or want to support the internal infrastructure necessary to incorporate these IT changes.
"Shifting to a cloud solution reallocates the burden of infrastructure support, removing the heavy lifting from the client," Dreyer says. "Facilities are turning to vendors who can manage the cloud for them. They trust the safety and expertise of outside IT sources for their mobile IT solutions."
From a mobility perspective, the cloud can serve as a connectivity tool for radiologists and clinicians, who often need to collaborate from separate locations. Karen Holzberger, vice president and general manager of diagnostic solutions for Nuance Communications, says radiologists can't always get out of the reading room while surgeons and other specialists are meeting directly with the patients.
"The cloud gives multidisciplinary medical professionals the chance to connect," she says. "The cloud benefits all specialists by providing a consistent experience, regardless of where the clinicians are located at the time of consultation."
Looking at the cloud as a "universal archive," says Fred Trovato, executive vice president of global sales for Novarad, allows collaboration to be greatly improved by sharing all medical data in this manner and enhances patients' quality of care.
"If you can display all patient medical data in the cloud, not just images, and offer that information through a universal viewer, physicians can access the information they need from a tablet, phone, or any computer workstation, regardless of their location," Trovato says. "Users are able to catalog and mine data for complete interoperability of information."
Rice adds that cloud computing can also help small health care providers take advantage of the latest interoperability options. Even facilities that use outpatient reading groups can benefit from the cloud.
"Not everyone is an IT expert," Rice says. "With the cloud, you can start a small practice without adding an IT department. Or, if you already have a large data system, you don't need to spend money to increase onsite storage."
The cloud is also being utilized to provide access to medical images and other data at medical facilities in rural areas and developing markets around the world that rely on teleradiology services for their imaging. Rice says a Mach7 partner in South Africa helped bring a PACS solution to a part of the world that has not previously benefitted from a sophisticated level of diagnosis.
"In remote areas where they can't implement the infrastructure necessary to run server rooms, where they don't have air conditioning to keep equipment cool, the cloud provides storage and sharing capabilities previously unheard of in those geographic areas," Rice says.
Consumerism
In a world of instant mobile access to just about everything, patients expect that same immediacy with their health care. They're demanding better access to, and more control over, their information, Rice says. Medical facilities can market the benefits of being in the cloud.
"Patients will start demanding better access to their medical data," he says. "They want more control over their information. They want to be able to share their images and test results with their doctors."
The health care industry's shift from volume-based to value-based care may also be contributing to the growing emphasis on consumers' perspectives. Peiris says there's a big focus on patient engagement, with some radiologists getting out of the reading room and interacting with their patients' surgeons and primary care physicians. Making the switch can require a swift change in IT infrastructure, and this is where resources such as cloud computing can play a role in providing physicians with cost-effective alternatives that meet patients' needs.
In the case of St. Luke's University Health Network, patients at more than 200 sites throughout Pennsylvania and New Jersey can ditch CDs and DVDs in favor of accessing and sharing their images via Ambra's web-based image sharing portal. As Peiris explains, once a patient shares medical images with St. Luke's, they are given the ability to create an account where they can store their images as part of their personal health record. In addition, admissions staff and registrars can also upload patients' prior medical images.
Give 'Em Space
As imaging modalities continue to maximize technical capability, storage of the larger, layered image files created by modalities such as PET/CT and nuclear cardiology will need to keep pace. Xiaoyi Wang, president, co-CEO, and cofounder of Thinking Systems Corporation says his company specializes in cloud-based PACS solutions for these more complex molecular imaging modalities.
"Looking at molecular imaging is more difficult than looking at gray images," Wang says. "With PET/CT you have overlapping of images, and you need to see the entire volume, not just one slice. Nuclear cardiology studies must display motion and be in color. To get images like this to respond on a local workstation is a challenge."
Managing large files is also a focus for Harold Welch, vice president of technical solutions at Novarad. When cloud computing was first introduced, the bandwidth enabled sufficient storage for back-up files but wasn't the best place for large 3D or high-definition (HD) files. That's changed today, he says.
"We've developed algorithms today that enable effective streaming of large files," Welch says. "It's like watching a movie on Netflix. You can view things like breast tomosynthesis images and HD video via the cloud on any mobile device."
One-Stop Shopping
The ability to easily compare images is another driving force behind cloud adoption. Not only do physicians within the same medical facility benefit from the sharing aspects of the cloud, but there's also the possibility for image sharing among outside groups of medical professionals. A doctor handling a unique case can potentially access images and other data from similar cases. The ability to conduct analysis can help with individual patient care.
And the image comparison isn't limited to DICOM images. For example, Peiris notes that clinicians can view a patient's head CT image side-by-side with a video of brain functionality.
"Radiologists and surgeons can utilize this multi-imaging functionality to see multiple aspects of the brain together," Peiris says.
She adds that a cloud development platform can help facilitate cutting-edge trends such as artificial intelligence and deep learning. The cloud's storage capability lends itself to enabling the engineering necessary to initiate this not-so-futuristic trend.
"You need to have your imaging stored in one place to use these tools," she says. "The cloud's role as a data repository fits that role."
As a one-stop source for medical information, the sky's the limit when it comes to future developments.
"The more history we can store and share," Welch says, "the better understanding we will have of patient care."
— Kathy Hardy is a freelance writer based in Phoenixville, Pennsylvania. She is a frequent contributor to Radiology Today.