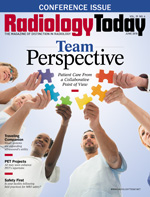 CT Slice: Scoring Opportunity — New DXA Application Tackles Body Composition
By Dave Yeager
Radiology Today
Vol. 19 No. 6 P. 5
Although dual-energy X-ray absorptiometry (DXA) has long been used to measure bone density, that's not all it can do. A new DXA application developed at the University of Minnesota offers body composition information that sports teams can use to evaluate and monitor their athletes with a radiation dose that is less than that of an X-ray exam; the DXA scan is equivalent to one day's worth of background radiation. In February, Hologic, Inc, signed an agreement to be the exclusive provider of the software, called Dexalytics: Teams, in North America.
The Dexalytics database is built on the body composition profiles of more than 10,000 male and female athletes. So far, the profiles cover athletes who participate in football, men's and women's hockey, women's track, women's volleyball, and men's basketball. Mike Toomey, senior director of marketing for Hologic, says the new software makes DXA more accessible than it has been in the past.
"While body composition was available [with DXA], it was a very sophisticated, complex clinical data output. And what we're learning is that it made [those results] impenetrable to a broader audience," Toomey says. "This new technology breaks down that barrier and enables the DXA results to be understood by a larger audience, by simplifying the output. We hope it will empower, in this case, the athlete community to better understand their bodies, make better decisions about their nutrition, make better decisions about strength and conditioning, and begin to understand how their body composition impacts their performance on the field."
Check the Score
The software computes the lean and fat body mass ratio of an individual. The body composition data can be further segmented by upper vs lower body or right vs left side. Athletic programs can set parameters for each position based on the body composition measurements that they consider ideal.
"A use case might look like this: A college football program can compare their newly recruited freshman class to their starting players or any other ideal for a specific position. They will have the benefit of the informed functional ratios of body composition for every position," Toomey says. "The college football program can also say, 'But in our system, this is what's important.' Then, they can weight different attributes that would change the score. The data can help inform the sports dietitians, the strength and training coach, and the rest of the coaching staff about what nutritional or strength training regimen is useful to get the players from where they are at baseline body composition to the ideal for the position."
Another factor that can be measured is frame size, a metric that refers to the amount of mass that a player's skeletal frame can optimally accommodate.
"The folks in this community believe that there are upper limits to how much lean mass you can put on a frame before it begins to be disadvantageous to the player's performance on the field," Toomey says. "So, what amount of lean mass should they carry in their upper body in relationship to their lower body?"
Athletic departments can also use the software to identify when players are fit to return from injury. By comparing a player's baseline results with their body composition as they recover, coaches and trainers can make a more informed decision about a player's healing process. In addition, the software can identify asymmetries between lean and fat mass, which may be indicators of a player's injury status.
It's important to note asymmetries at baseline, says Tyler A. Bosch, PhD, a research scientist in the College of Education and Human Development at the University of Minnesota and one of the software developers, because some athletes have more asymmetry than others. For example, he notes that hurdlers tend to have more muscle on their dominant-side leg. Toomey adds that asymmetry information may also foreshadow a player's likelihood of developing an injury.
"There's a body of research that is more recent that points to the probability of injury associated with asymmetries," Toomey says.
Although there has been recent interest in DXA from commercial gyms, Dexalytics: Teams is geared toward sports programs. Toomey says four Division I college programs and two professional teams are currently converting from beta sites to commercial users, and the product was featured at the National Football League Scouting Combine in February and March. He says body composition research has expanded DXA's utility beyond traditional clinical disciplines.
"We [are more frequently finding] ourselves in front of audiences with titles like sports dietitian, sports nutritionist, and strength and conditioning coach, as well as the researchers in the school of kinesiology and the school of dietetics," Toomey says. "And we anticipate that they'll continue to push the science forward and make great strides in the future."
— Dave Yeager is the editor of Radiology Today.