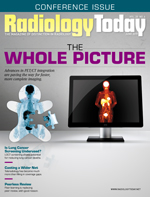 Women's Imaging: Breast Density 2019 — Are You Ready?
By JoAnn Pushkin
Radiology Today
Vol. 20 No. 6 P. 26
A nationwide density notification standard is poised to make a difference this year.
It has been 20 years since the cost of a postage stamp was 33 cents, the Y2K computer bug was in the news, and the FDA last updated mammography quality standards guidelines. On March 28, 2019, the FDA announced a proposed amendment to the Mammography Quality Standards Act (MQSA) intended to "modernize breast cancer screening and help empower patients with information when they are considering important decisions regarding their breast health care." Among the proposed changes is an amendment that would require the reporting of breast density to both US patients and their referring health providers.
Thirty-eight states already require some level of density notification and, once the MQSA amendment goes into effect, it will become a national reporting standard for all US women. One issue the national reporting standard will address is the content variation in the existing state laws, which differ in depth and breadth. Some laws only require that a general notification about breast density be provided without actual information about the patient's own density.
For example, per the table below, though New York, Connecticut, and New Jersey each have "inform" laws, only New York's law requires the patient to be provided information as to whether her breasts are actually "dense." Additionally, of the 38 state laws, only 15 mention supplemental screening and not all mention breast density as an independent risk factor for the development of breast cancer. A single national reporting minimum would standardize information for all US women.
The FDA process for proposed amendments to mammography regulations includes an "open for public comment" period through June 26, 2019. The DenseBreast-info.org  legislation information referenced in the FDA's proposed rule features legally vetted legislative analysis of state density inform laws. DenseBreast-info.org has drafted comments, in the form of a consensus document, detailing concerns, suggested patient notification language, and possible implementation issues for states with existing density notification laws.
For example, the FDA's suggested "low density" notification below begins with information for "some patients" about the masking effect of density on a mammogram, yet it indicates, in the second sentence, that this patient does not have dense breasts. This wording could lead to confusion and undue concern for patients. Additionally, the descriptor of density as "more glands than fat in the breast" is technically inaccurate, as even dense breasts have more fatty tissue than dense when quantified.
"Some patients have high breast tissue density (more glands than fat in the breasts), which makes it harder to find breast cancer on a mammogram. Your breast tissue density is low, not high. Follow the recommendations in this letter, and talk to your health care provider about breast density, risks for breast cancer, and your individual situation."
The FDA's suggested "high density" notification below also begins with "some patients," even though this notification is intended only for "high density" patients. Further, and more importantly, it does not include clear, unambiguous language that breast density is, in and of itself, an independent risk factor for the development of breast cancer.
"Some patients have high breast tissue density (more glands than fat in the breasts), which makes it harder to find breast cancer on a mammogram. Your breast tissue density is high. Some patients with high breast density may need other imaging tests in addition to mammograms. Follow the recommendations in this letter, and talk to your health care provider about high breast density and how it relates to breast cancer risk, and your individual situation."
There are also implementation concerns on the state level for the 38 states with existing "inform" laws. Under MQSA, all facilities would be required to follow the new requirements; however, nothing in this act limits the authority of any state to "impose more stringent requirements beyond those specified under MQSA and its implementing regulations."1 In other words, states can enact state laws relating to mammography that are at least as stringent as the MQSA requirements.
Alternatively, states may choose or be required to have the MQSA reporting requirement supersede their state "inform" law; some existing "inform" laws, such as Maryland's, include the stipulation that the existing state law does not apply if the federal MQSA—or any regulation adopted under the act—requires a notice regarding breast density to be included in the screening results letter that is sent to a patient. FDA implementation guidance on how individual states will determine compliance and "stringency" once the new reporting standard is introduced would be helpful.
Based on the FDA regulatory process outlined after the conclusion of the comment period, DenseBreast-info.org anticipates the final rule becoming effective no sooner than January 2021. In the meantime, it is important to understand what the reporting requirements are in your state, consider what level of inform your patients are receiving, and be prepared for patient questions about breast density.
Are You Ready?
The increasing awareness about the importance of breast density is necessitating new conversations between patients and their health providers. Health care professionals, including referring providers—to whom most density laws suggest patients turn to for information—need to be educated about breast density, its associated risks, and how to best guide patients regarding breast cancer screening relative to their individual breast density.
How knowledgeable are women and the health care community about breast density? A 2015 survey of patients found that only 49% of women knew that breast density affects breast cancer detection, and 53% knew that breast density affects cancer risk.2 The same year, after California's breast density notification law went into effect, a survey found that only 6% of clinicians were comfortable answering patients' questions relating to breast density, and 75% indicated they wanted more education on the topic.3 There is an evident need for education on the topic for both patients and referring providers—a need likely to increase when the national standard is implemented.
To address this demonstrated education gap, the medically sourced DenseBreast-info.org website was launched in 2015. The site contains specific content and data tracks for patients and health care providers. Each section includes a comprehensive set of FAQs and provides in-depth information on what breast density is and why it matters, how dense breasts affect the accuracy of mammography, factors affecting breast density, and screening considerations for women with dense breasts. Free downloadable educational tools, including a patient brochure and breast cancer risk checklist are available for women and health care providers as well as a patient education video series, "Let's Talk About Dense Breasts." There is also a full suite of patient content, including videos, in Spanish.
A CME/CE opportunity, "Breast Density: Why It Matters," is also available. This comprehensive, certified educational program is designed for referring physicians, including family physicians and midlevel providers, OB/GYNS, registered nurses, radiologists (2 AMA PRA Category 1 credits), and radiologic technologists (2 ARRT Category A credits). The European Accreditation Council for CME has mutual recognition agreements with the American Medical Association, so European providers can benefit from the course as well. Other tools for health care providers include the following:
• a screening flowchart, "Who Needs More Screening?";
• a risk model tutorial, including live links; and
• a screening guideline comparison table.
Existing state density inform laws and the impending implementation of a national density reporting standard make it more important than ever for health care providers to be "conversation ready" and educated about breast density. In-depth knowledge will help providers navigate patient conversations about breast density and decisions about appropriate breast cancer screening.
— JoAnn Pushkin is executive director of DenseBreast-info, Inc. Her advocacy served as inspiration for New York State's Breast Density Inform bill, which was signed into law in July 2012. On the federal level, she has initiated efforts for the introduction of the Federal Breast Density and Mammography Reporting Act as well as the FDA's Mammography Quality Standards Act regulatory amendment consideration.
References
1. U.S. Food & Drug Administration. Compliance guidance: the Mammography Quality Standards Act final regulations: preparing for MQSA inspections; final. https://www.fda.gov/MedicalDevices/ucm094420.htm. Updated August 20, 2018. Accessed April 11, 2019.
2. Rhodes DJ, Radecki Breitkopf C, Ziegenfuss JY, Jenkins SM, Vachon CM. Awareness of breast density and its impact on breast cancer detection and risk. J Clin Oncol. 2015;33(10):1143-1150.
3. Khong KA, Hargreaves J, Aminololama-Shakeri S, Lindfors KK. Impact of the California breast density law on primary care physicians. J Am Coll Radiol. 2015;12(3):256-260.