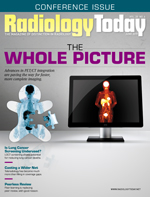 On the Case
By Anna Luisa Kuhn, MD, PhD, and Vladimir Ivanovic, MD
Radiology Today
Vol. 20 No. 6 P. 30
History
A 34-year-old woman without a significant past medical history presented for an evaluation of left neck pain persistent for several days after a yoga workout with headstand poses. Patient was referred for cross-sectional imaging.
Findings
Curved planar coronal reformatted CT angiography images revealed a long segment small caliber of the left internal carotid artery (ICA) extending from the carotid bulb to the level of the skull base. The left carotid bulb was noted to be dilated and more prominent than typically seen. The right carotid bulb and ICA were normal in appearance (Figures 1 and 2).
Also noted was severe wall thickening surrounding the residual lumen of the left ICA on the axial CT angiography (Figure 3). MRI axial T1-weighted image at the level of the most prominent ICA wall thickening demonstrated corresponding crescent-shaped high signal intensity, consistent with an intramural hematoma (Figure 4).
Figure 1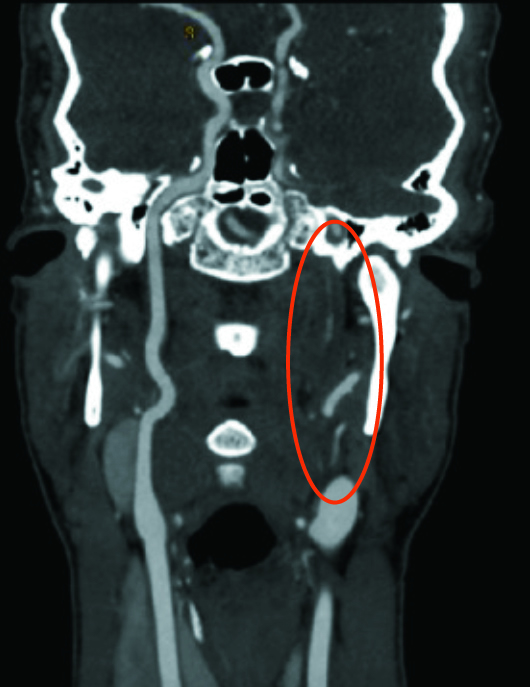 Figure 2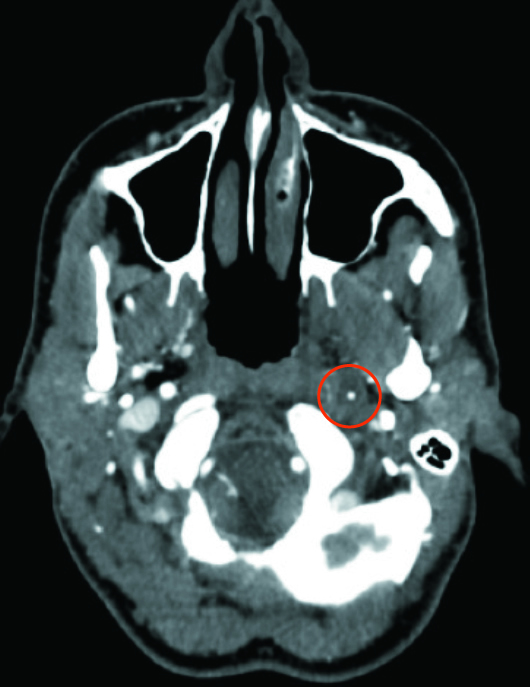 Figure 3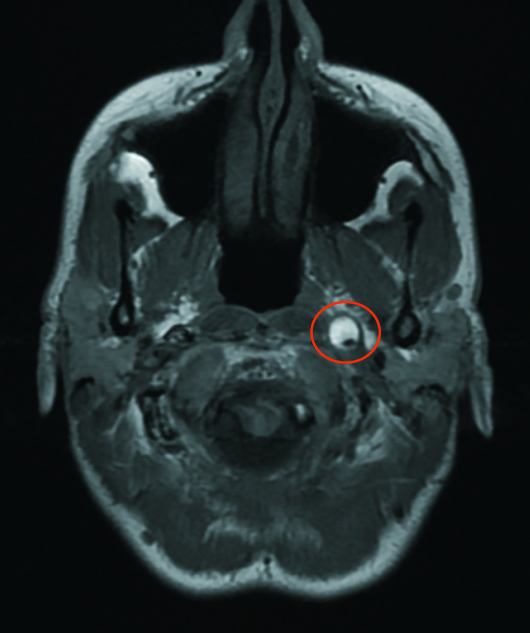 Figure 4
Diagnosis
Left ICA dissection.
Discussion
An ICA dissection is characterized by an intimal tear with blood under arterial pressure entering the media at the site of the injury and forming an intramural hematoma.
Dissections of the cervical vessels can be either traumatic—such as from motor vehicle accidents, sports related, or associated with cervical manipulation—or spontaneous.1 Spontaneous vessel dissection usually occurs in individuals with underlying arteriopathy who are more prone to injury. Connective tissue disorders associated with spontaneous ICA dissections include fibromuscular dysplasia, Ehlers-Danlos syndrome, and Marfan syndrome.2
Clinical diagnosis of an ICA dissection can sometimes be challenging with nonspecific symptoms including pain, cranial nerve palsies, or Horner syndrome. However, cervical artery dissections can also be a source of microemboli or cerebral ischemia, especially in young and middle-aged populations, and, therefore, early diagnosis and treatment is crucial.
Noninvasive imaging modalities usually used to evaluate for ICA dissections are CT angiography and/or MRI, including MR angiography. The intramural hematoma is usually isointense to surrounding structures in the early and chronic stage on MRI. Therefore, T1-weighted images with fat saturation may not be able to detect an acute carotid dissection. Between seven days and two months post injury the hematoma is bright on T1-weighted images.3
There currently is no clear consensus on the best treatment strategy for carotid dissections. Conservative treatment options include anticoagulation or antiplatelet therapy, which is often all that is required for the patient to recover. Endovascular thrombolysis, thrombectomy, or stent placement is usually preserved for symptomatic patients with ongoing cerebrovascular events or patients who failed optimal medical management.4 Surgical bypass or vessel ligation only has a limited role in today's practice.
— Anna Luisa Kuhn, MD, PhD, is a neuroradiology fellow at Beth Israel Deaconess Medical Center in Boston.
— Vladimir Ivanovic, MD, is an assistant professor of radiology at Beth Israel Deaconess.
References
1. Haneline MT, Rosner AL. The etiology of cervical artery dissection. J Chiropr Med. 2007;6(3):110-120.
2. Rodallec MH, Marteau V, Gerber S, Desmottes L, Zins M. Craniocervical arterial dissection: spectrum of imaging findings and differential diagnosis. Radiographics. 2008;28(6):1711-1728.
3. Kitanaka C,Tanaka J, Kuwahara M, Teraoka A. Magnetic resonance imaging study of intracranial vertebrobasilar artery dissections. Stroke. 1994;25(3):571-575.
4. Peng J, Liu Z, Luo C, et al. Treatment of cervical artery dissection: antithrombotics, thrombolysis, and endovascular therapy. Biomed Res Int. 2017;2017:3072098.