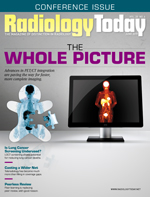 Imaging Informatics: Bold Investments in AI — The Groundwork for Radiology's Future 
By Brett Adams
Radiology Today
Vol. 20 No. 6 P. 6
The future of radiology lies in AI, and Bold Brain Ventures, LP, is banking on it. If you don't believe it, consider what 2018 RSNA President Vijay M. Rao, MD, FACR, who is not associated with Bold Brain Ventures, stated at RSNA 2018: "I believe more firmly than ever that AI has the potential to enhance our profession and transform the practice of radiology worldwide."1 Need more proof? A recent poll by Forbes asked companies around the world what key technology they feel will have the most profound effect on health care, and, after all the data were analyzed, the consensus was that AI in radiology is the most important technology and sector.2 And it's happening fast.
Bold Brain Ventures is an investment fund that places its primary focus on AI in radiology. Founded by partners Tomislav Deur, MD, and Robin Prasad, MD, in July 2018, Bold Brain Ventures' goal is to help facilitate the evolution of AI in radiology by bringing together radiologists, innovators, and capital.
"What we want to do is bring radiologists front and center into the mix," Prasad explains. "We're putting together a strategic and business structure here, where there's going to be a tremendous amount of acumen at the table to drive this whole process."
Prasad caught the entrepreneurial bug in the early 2000s when he worked for a teleradiology company and saw how technology could transform health care. He found it exciting to be working with "visionary leaders pushing the state of the art and watching the development of how technology comes in and reshapes an entire industry." Later in his career, Prasad got involved with early-stage angel investing in Pittsburgh and began to understand how the process of innovation and financing of innovation works. Prasad sees how AI has exploded on the scene and believes that, especially in radiology, the potential for growth is unlimited.
"It's like the Wild West right now. There are developers everywhere doing lots of things … it's unclear who's going to win … it's unclear how things are going to evolve. But we do know that, at some point in time in the future, AI will be completely ubiquitous in radiology. It'll be everywhere," Prasad says. "If you want to become entrepreneurial, if you want to help grow this space, this space is taking off right now." Still, he recognizes how little input future users of these innovations have.
Long-Term Plan
Bold Brain Ventures' strategy of bringing radiological advisors into the fold is somewhat of a novel idea. Prasad asks, "If you're a company and you're looking for capital, would you rather go to an investor who does not have domain expertise in radiology, or would you rather go to a pool of capital that was also backed by a network of radiologists that could help you as needed and, potentially, help you distribute the message to get out there in the marketplace?" By bringing together the components of investment, domain expertise, and the innovators themselves, the partners believe they can make more substantial and informed decisions on where to invest. With all of these components in place, Bold Brain Ventures intends to minimize risk and have a positive and lasting effect on how AI will shape the future of radiology.
Another aspect of Bold Brain Ventures' philosophy is investing in the supply chain or, as Prasad describes it, the value chain. "AI starts with data," Prasad explains. "There are strategies and companies forming around the curation of data, which is necessary to spawn the field. Then you've got algorithm development itself and data validation—how do you know an algorithm built here in Pittsburgh will work in Denver? You've got to take that stuff and validate it across different populations. And you can do that across data sets with lots of different information or across institutions."
But that's not all. "Then you've got a problem of the last mile of integration," Prasad continues. "How do you integrate it into a functional clinical system to actually make it work so it's seamless for the radiologist?" Prasad hopes that if Bold Brain Ventures and its partners can get significant exposure to the whole space, they will have a chance to help guide the evolution of AI to where it needs to be.
Currently, the managing partners of Bold Brain Ventures have individually invested in a wide range of new ideas. One company is working to use AI to optimize breast cancer screening by reducing false positives and unnecessary biopsies. Another is looking at radiomics, which has the potential to identify characteristics in imaging that the human eye cannot detect and offers the possibility of personalizing health care by relating results to an individual's history and environment. There's also a natural language processing company figuring out how to put words to images, a group trying to facilitate change detection technology, and an infrastructure company that will allow institutions to work collaboratively toward comprehensive solutions. The investment opportunities are seemingly endless, but Bold Brain Ventures is intent on helping guide every aspect of radiological AI to the next level.
Although they understand that these are long-term investments, the partners' enthusiasm for the future of AI in radiology is very real. Being able to bring radiologists, investment experts, and innovators to the table may one day lead to a better health care system.
To learn more about Bold Brain Ventures and their philosophy, visit www.boldbrainventures.com.
— Brett Adams is a freelance writer based in Pittsburgh.
References
1. Allyn J. Embracing technology will lead radiology to the epicenter of patient care. RSNA website. https://rsna2018.rsna.org/dailybulletin/index.cfm?pg=18mon01. Published November 26, 2018. Accessed February 27, 2019.
2. Das R. Top five digital health technologies in 2019. Forbes. February 4, 2019. https://www.forbes.com/sites/reenitadas/2019/02/04/the-top-five-digital-health-technologies-in-2019/#436b488b6c0f. Accessed February 27, 2019.