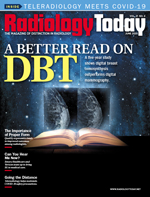 Editor's Note: Ready or Not …
By Dave Yeager
Radiology Today
Vol. 21 No. 6 P. 4
The pace of recent changes has caught most of us off guard, but change, for better or worse, is inevitable. As we settle into what many are calling "the new normal," it's worth considering whether some of the changes we're making may be for the better. I'm not advocating for pantsless meetings or DIY haircuts, but curbside pick-up is a practice that's long overdue, and sweatpants are undeniably more comfortable than business casual attire. Suffice to say, the world will not be exactly the same when the present danger has passed. In this issue, we're highlighting changes that will likely produce ripple effects down the line.
Our cover feature takes a closer look at digital breast tomosynthesis. As Beth W. Orenstein reports, several studies have found that DBT improves cancer detection and reduces false-positive results compared with standard 2D mammography, but most of those studies were based on a single screening round. A recent five-year study not only found improved screening performance for DBT, but that the improved performance was sustained over multiple years. There are still some accessibility issues to work out, but DBT seems poised to become the standard of care.
Another evolving field is ergonomics. Increasing image volumes and complex imaging studies are putting a strain on radiologists, and poor ergonomics are damaging their well-being. Better equipment, education, and reading environments can help maximize radiologists' health and productivity. Keith Loria has some straight talk about crooked posture.
Most people would agree that making new connections can enhance personal and professional goals, and when it comes to making new connections, Emory Healthcare takes the idea literally. They're partnering with Verizon on the first 5G-driven health care initiative. Dan Harvey speaks with some of the key players in this effort to find out how it will work and where it might lead. According to Scott D. Boden, MD, at Emory, the possibilities include "next-phase medical imaging."
Speaking of new connections, Kathy Hardy has a new look at a not-so-new phenomenon. Teleradiology has been around for a while, but the spread of COVID-19 has forced health care facilities to add social distancing to their list of concerns. What better way for a radiologist to social distance than to work from home? Of course, there's more to it than that, but organizations are finding that the benefits of off-site reading may well extend beyond safety.
Stay safe, and enjoy the issue.