July 2010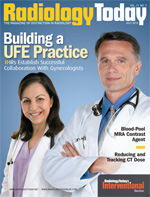 The Future of PACS and EHRs
By Jim Knaub
Radiology Today
Vol. 11 No. 7 P. 6
PACS was born in radiology, but its future potential requires more involvement with mainstream IT.
"The real issue is not trying to deliver images to radiology but throughout the enterprise," Paul Chang, MD, FSIIM, told the audience during a session on PACS and EHRs at the Society for Imaging Informatics in Medicine (SIIM) annual meeting in Minneapolis last month.
The ability to distribute images across the healthcare enterprise will ultimately mesh with their inclusion in patients' EHRs and the ability to share the data with other healthcare information systems.
Only a few years ago—when SIIM was still known as the Society for Computer Applications in Radiology—attendees discussed whether PACS efforts should be directed by radiology or IT departments. People with radiology backgrounds bring important knowledge of medical imaging into the equation but for healthcare to utilize IT like other industries already have, it will be driven by the expertise of IT professionals.
PACS needs to serve more than just the radiology department, and the future of imaging informatics is much larger than PACS. It must integrate with other healthcare IT systems. Such interoperability is beyond the capabilities of current systems. Chang and others in the field believe understanding that concept and participating in the development of these systems to achieve that objective is central to radiology groups' future success.
Immature Systems
"I maintain that both systems, what we do in imaging as well as the electronic health records, are incomplete, immature," Chang said. "They do not address what we need to do in order to do the best by our patients."
Chang offered a definition of interoperability that current systems simply do not provide: "the ability of a system or product to work with other systems or products without special effort on the part of the customer." Chang pointed out that real-world interoperability in healthcare imaging informatics is still in its early stages—certainly in terms of actual products available in the marketplace.
"The systems have to support us as well as other healthcare providers as value innovators," Chang said.
It's widely estimated that the healthcare industry is 10 years behind other industries in leveraging IT for cost savings, productivity, and added value. That lag doesn't just hold radiology back but actually threatens it.
"The fact that our systems, both EHR and PACS, are immature has actually facilitated the commoditization of radiology—to the threat of the survival of radiology," Chang said. "We need to step it up to get tools to demonstrate that radiology is not a commodity service but a value service."
Value Opportunity
Chang said the opportunity exists to demonstrate that value and combat commoditization. To do that, the imaging informatics community and the larger IT community must work together to create these effective tools because radiologists are the end users (at least one of them) of these systems.
Radiologists, Chang said, can learn from the general IT community, too. Some of those important lessons are that maintaining an enterprise perspective is important in developing systems, that formal governance and coordination is important, that sustainable and reproducible service is an absolute must, and that IT infrastructure is a commodity to be leveraged for cost savings.
The resulting systems need to serve a key objective, according to Chang: "I'm a damn good radiologist. Give me the tools to demonstrate that."
— Jim Knaub is editor of Radiology Today.