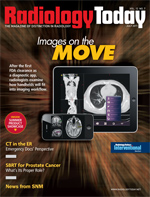 July 2011
Slow Comeback — A Recruiter's Look at the Radiologist Job Market
By Tracy Denninger
Radiology Today
Vol. 12 No. 7 P. 10
Try naming a profession that hasn't been affected by the economic downturn and you'll likely come up empty-handed. So it's no surprise that radiologist job opportunities are less than plentiful compared with several years ago.
"This seems to be about the bottom we've seen," says Chris Swab, director of the physician recruitment division at American Medical Recruiters in Fort Lauderdale, Fla., about the number of jobs open in radiology. "We got down to about 93, 94 [job openings] around November or December of last year, and we're back upwards of 120 now. So we've seen about a 25% increase from the low back in November, but that's still well below the highs of two years ago."
Swab notes that, as of late April, the ACR job board contained roughly 150 active posts, while American Medical Recruiters had roughly 100. Go back two years and the number of open positions on the ACR job board was more like 1,000, with about 500 through Swab's organization, he says.
"Right now, with the legislative changes, reimbursement issues, coding issues, and everything else that has been going on out there, groups really seem to have hunkered down [and are not hiring]," Swab says. He adds that one of the big challenges in the hiring market is that practices are examining their current needs and choosing to restructure their schedules and work with the employees already in place instead of hiring someone new.
"Everyone's just trying to evaluate what's going on, what volumes are dropping, and reevaluating needs," Swab explains. "People that were planning on retiring have decided not to retire; groups that had policies in place to have people retire are reevaluating those policies and allowing people to continue to work rather than having them retire and bring in someone new." In some cases, partners continue working as such while others choose to work as employees instead. Either way, the practice does not recruit a new radiologist.
Swab says the Deficit Reduction Act imaging cuts "kicked things off" in 2007, with the following year's economic and housing downturn creating even more problems that are contributing to the current low level of available positions.
A Possible Bright Spot
But there are some areas of optimism as far as available jobs. "We're seeing a little bit of an uptick on the IR [interventional radiology] side and also in breast imaging," Swab notes. "Those historically over the last eight or 10 years have really been the stronger subspecialties to begin with [as far as hiring], so it's not surprising to see that uptick there again."
But with the increase in open positions, Swab sees changes in the accompanying job descriptions. In IR, for example, "We're seeing a change in the dynamic of how things are set up for them [interventional radiologists] and what they're doing procedurally on the interventional side," Swab says. "For instance, practices are looking for people who are a little more flexible to read general imaging, which enables the practice to be more flexible in some regards because they're not so pigeonholed with having several interventionalists doing 100% IR."
In addition to looking for well-rounded candidates to fill newly modified positions, Swab says, "One of the things we're finding right now is that practices are really looking for people who have ties to the area [where the practice is located]. The perception is people are so interested in just finding a position right now that they will take a job just about anywhere. So groups have become more sensitive to that and are saying [to candidates], 'Why do you want to be here?' They don't want someone to take a job just for the sake of needing employment right now and then over time, as the market swings back, people would rather be somewhere else and will just leave.
"Groups don't want to be in this [hiring] position in another two years," he continues, "especially groups that are currently on the border of whether they should even hire someone or are willing to hire someone. They definitely don't want it to be the wrong person [for the job] or the person who's not going to stay. Groups are looking to minimize that turnover now more than ever."
And Swab notes there are definitely some radiologists willing to move anywhere for a position. "They're coming up on the end of their training, they don't have anything lined up, and groups haven't made decisions on officially offering jobs yet," he explains. "They know they are one of several people [for positions for which they have already applied], and there's a strong chance they may not get a job," so they're keeping their options open.
Suggestions
For radiologists currently seeking employment, Swab says it's important to have the "flexibility to do just about everything in the field of radiology, aside from some of the higher-end subspecialties. You're not really going to need to get in and be a breast imager, especially if you're doing musculoskeletal work, but you do need to be able to read breast imaging in body imaging."
Swab advises candidates to not only put together a curriculum vitae (CV) but also a good cover letter when applying for a position "because [potential employers] are not going to read through lengthy CVs and effectively screen candidates that way. In the cover letter, highlight things about you that aren't on the CV, that differentiate you from other radiologists applying for the jobs."
He adds that radiologists must dispatch their feelings of entitlement. "The entitlement attitudes have to go away right now," Swab says. "[Radiologists] can't think, 'I'm a neuroradiologist, don't make me do anything else.'"
For practices looking to hire, "Be open to multiple resources and multiple avenues for recruitment, including recruiters," Swab advises. "Just the old 'place an ad and find people' is presenting challenges. We're hearing that practices that we've worked with for many years are getting 50 to 60 applicants within the first 48 hours when they post a job on their own. Many become so overwhelmed, they're taking down the job posting because of the number of applicants, whom they can't screen effectively."
If practices do choose to work on their own when hiring, Swab encourages them to create job descriptions that detail exactly what they're looking for in a candidate. "If you want someone who is fellowship trained, say that," he says. "Groups are really looking for that 'needle in a haystack,' so to really whittle it down and get to the core of what they want in a candidate, they've got to advertise for it specifically."
Looking Up
Just as the economy experiences its ups and downs as recovery continues, so does the job market in radiology.
"I think until there is more definite resolution regarding legislation and various other economic factors that are out there currently, it's going to be slow growth; but at least it's growth," says Swab.
— Tracy Denninger is the senior production editor at Radiology Today.