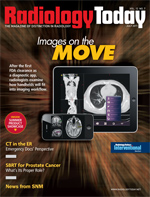 July 2011
The Message From SIIM
By Jim Knaub
Radiology Today
Vol. 12 No. 7 P. 3
As healthcare reform unfolds—and presuming the federal Patient Protection and Affordable Care Act will not be repealed in the next few years—physicians and hospitals face the difficult challenge of providing more care, higher-quality care, and more efficient care. And they will be asked to do this while containing costs.
That is a tough task.
"I believe the only way we can do this is through IT and informatics," Paul J. Chang, MD, told the audience at the closing session of the Society for Imaging Informatics in Medicine annual meeting in Washington, D.C., last month.
I'm convinced Chang is right, and he's certainly not the only person taking that position. Leveraging IT to improve healthcare efficiency and quality offers the best way to constrain costs with the least pain to the industry.
In the same session, radiologist J. Raymond Geis, MD, of Denver-based Advanced Medical Imaging Consultants, was even more blunt when talking about radiology's need to develop and utilize computer systems to better share images and information throughout healthcare.
"We need this stuff and we need it now or we're going to be working for Wal-Mart," Geis said. He didn't mean radiologists will literally end up working for the retail giant but rather that radiology groups risk losing their autonomy and their ability to compete against large, efficient, IT-enabled radiology groups that are already capitalizing on the opportunities IT offers healthcare.
One major sticking point to achieving that objective is that the IT tools needed are not widely available. These new tools also need to be better integrated into existing systems and workflows. Facilities making the most headway toward becoming tomorrow's thriving organizations tend to be the ones with the resources—both financial and in IT talent—to develop their own tools to make them the next generation of efficient, high-quality providers. Most imaging organizations do not have that in-house capability.
Whether you fill a clinical, administrative, or IT role, raise this issue with other imaging leaders in your organization. How to steer medical imaging to a more IT-enabled future—defined as efficient, quality, cost-effective care—will be the key challenge of the coming years.
Enjoy the issue.
jknaub@gvpub.com