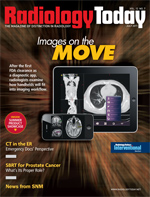 July 2011
Empowering Referring Physicians — Cloud-Based Network Lets Referrers Save to PACS and EMR
By David Yeager
Radiology Today
Vol. 12 No. 7 P. 6
These days, any technology that helps reduce the amount of work associated with patient CDs is greeted with enthusiasm in medical circles. Many facilities are considering new approaches to handle the increasing glut of discs. For example, Massachusetts General Hospital (MGH) is utilizing the Internet cloud to streamline the CD process for referrers and radiologists.
MGH is involved in a pilot project with lifeIMAGE. MGH and lifeIMAGE have set up a point-of-care option for referring physicians; currently, 400 users are involved, but Markus Stout, manager of the software engineering group at Mass General Imaging, says MGH plans to roll out the capability to the entire hospital within a few months. Clinicians can upload CDs to lifeIMAGE, look at them there, and decide whether they want to make the images part of their patients' permanent record. If they do, they can import the study to MGH's PACS where it becomes available in the hospital's EMR as well. By pushing this service out to referrers, it eliminates the need for referrers to go through radiology to get clinically important images into the system.
"They've really been struggling over the last couple of years with the volume of CDs coming in [and with] attempting to store these things in some useful way and having CDs disappear. So they are really happy with this," says Stout. "And just knowing that they have a way to store those images permanently when they want to has been something they really like."
Using only a Web browser, outside facilities can upload exams to the lifeIMAGE Enterprise product at MGH in a secure, cloud-based, hosted service environment, regardless of whether those facilities have a business relationship with lifeIMAGE. The straightforward interface allows front desk staff to handle this task, rather than physicians, if they choose.
"In five minutes, we can train front-office staff how to use the product. It's clean. It's easy," says Amy Vreeland, senior vice president of product management and cofounder of lifeIMAGE. Anyone can use it, she adds, "from the front desk clerk up to the CMIO [chief medical informatics officer]."
Rather than using virtual private networks, which require an existing relationship between a hospital and a referrer, lifeIMAGE relies on an array of security measures to protect data. Everything that's transmitted is encrypted, and all the data that are stored in the cloud are encrypted while they are at rest. In addition, there are secure methods for providing usernames and passwords, validating a user's identity, and using secure URLs to make sure people only access the system from approved interfaces.
The ability to link to the EMR was a significant factor in MGH's decision to give lifeIMAGE a try. It eliminated the need for radiologists to check different systems to view prior exams by routing them directly to the radiologist's list of priors, which also eliminated the need to alert the radiologist to the exam's presence. Besides, most of the institution is linked to the EMR, and that's where most clinicians go to look for images. Stout says it was important to make studies that were deemed important to the patient record accessible through the hospital's previously established workflow. By pushing the exam into the PACS and creating an order for it, MGH was able to use its normal process to display that image in the EMR.
Stout says storing CD images in the cloud is a more efficient way to track them. With a lot of CDs floating around, it's not too difficult to lose some. If they're always in the PACS or EMR, this problem is mitigated and patient care is improved. And with failure to look at prior images being a significant driver of malpractice lawsuits, this availability is an important safeguard.
Liability Issues
"I guess if you could say you never saw it, that's one way to avoid risk, but the reality is you can't [get away with that], and people are creating more risk with CDs that disappear because they come and they ask questions of our radiologists," says Stout. "They might take a very short discussion with a radiologist and make note of it in some patient note, and that's now part of the permanent record, but the image isn't, so we found that there was probably more risk in not being able to store these studies."
lifeIMAGE Enterprise can also be used when the images aren't being stored permanently, such as with research studies. Even though the patients aren't MGH patients, the referrers still have access to the studies. Stout says referrers have responded positively to this feature.
Although many in medical informatics are excited about the possibilities, the cloud is still forming in the field. MGH isn't the only facility to consider cloud-based services and won't be the last. Stout says in addition to streamlining workflow for MGH's radiology department, MGH's referrers have been appreciative of the flexibility this service allows. And especially during tough economic times, streamlining workflow and providing better service are keys to success.
"Hospitals are in a land grab right now to do everything they can, to get every procedure they can," says Vreeland. "And they're looking to compete with the smaller—and even [sometimes] larger—imaging centers to provide a high level of service to their referring physicians."
— David Yeager is a freelance writer and editor based in Royersford, Pa.