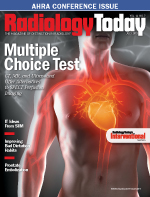 July 2013
Flexible Value — How CR Is Keeping a Place in an Increasingly DR World
By Keith Loria
Radiology Today
Vol. 14 No. 7 P. 18
Much like the boy who cried wolf, those who claim that direct DR will replace CR have found their words falling on deaf ears. While its use is changing in the United States—DR systems are replacing CR in many hospital imaging environments—CR isn't going away anytime soon.
In the United States, CR is growing in some new markets, including physicians' offices, orthopedic clinics, imaging centers, and chiropractic and veterinary facilities. Further, Heidi McIntosh, global marketing manager for Carestream Health's X-ray solutions, believes CR's greatest promise lies in its ability to offer an affordable conversion from film to digital imaging in emerging markets, including India, China, the Middle East, Russia, South America, and Africa.
"The large populations in these areas and their growing prosperity are expected to drive rapid expansion of CR deployments in the next five to 10 years," she says. "CR is an ideal technology for emerging countries since the systems are easy to use and deliver significant advantages to facilities that are converting from film-based systems."
Back in the States, smaller-volume hospital satellite facilities and imaging centers will continue to use CR because the economics of moving to DR do not make sense. Midsize and larger facilities often use smaller CR cassettes (and systems) for extremity, pediatric, and other specialized exams. Many facilities of all sizes employ CR as an affordable and effective backup for room-based and mobile DR imaging systems.
Smaller Scale
"We believe CR will be around for the next decade and beyond because of the need for this technology by smaller facilities worldwide and the exponential growth in many countries across the globe where health care facilities are just beginning to convert from film to CR to achieve digital images," McIntosh says. "CR is also likely to remain a backup for DR systems for many years to come."
Darren Werner, radiography product manager for Konica Minolta, says CR is a busy, growing area for the company. Its single-bay REGIUS Nano system can process up to seventy-six 14- X 17-inch plates per hour and features a touch screen control station.
"CR has not changed as significantly as DR has, and it's very important to a large segment," Werner says. "From a cost differential, when you go further down the medical distribution plain to the smaller clinics, the lower cost of a mature product is an advantage that enables a lot of these facilities to switch to digital or stay in digital."
"Due to the explosion of DR and flat panels and prices coming down, CR tends to be looked at as an adjunct or inferior technology to DR, mostly because of dose and speed. However, what's happening with CR is that while the actual machines or devices haven't changed much over the last couple of years, what has changed is the level of image processing," says David Hotchkiss, director of marketing for women's health and CR for FUJIFILM Medical Systems. "With Fuji, we continually upgrade and raise the bar of this image processing."
One trend Hotchkiss sees is hospitals buying physician practices that offer their own imaging. In some cases, those organizations are turning to CR systems with tabletop processors so the smaller offices can keep up with modest patient volume, Hotchkiss says. "We had a large order just nine months ago from a hospital group out west, and [CR] is still important as a backup technology. CR hasn't gone away," he notes.
The Use Case for CR
CR systems are compact, flexible, cost less than DR, and can be used in tight office and clinic spaces. In addition, some CR systems can be used for mammography, streamlining workflow and eliminating the need to maintain film and chemistry for mammography exams.
"Primarily, the variety in size of cassettes and the fact you can change pretty easily is one reason for CR technology to continue," Hotchkiss says. "We do have a scoliosis cassette for CR where one exposure can get all the data; DR has to do transition from exposure to exposure, so the CR is very convenient."
Most DR systems offer only 14- X 17- or 17- X 17-inch detectors, but if an imaging center or hospital needs an 8- X 10-, 11- X 14-, or 14- X 14-inch plate, CR may be the better option. "One of the pros of CR is its versatility as far as the imaging plate [availability] goes," Werner says. "CR offers a lot of different sizes; DR does not."
According to McIntosh, physicians' offices, orthopedic clinics, imaging centers, and other lower-volume imaging service providers frequently are interested in a system that integrates CR imaging with a mini PACS. "These CR/mini PACS systems deliver an affordable and convenient platform that allows staff members to capture, view, store, and output digital images," she says. "The mini PACS can provide specialized digital measuring tools and other features that can save time and help improve accuracy."
Carestream seeks customer feedback and continues to invest in software features that enhance image quality, workflow, and quality assurance, according to McIntosh. The company has introduced new tools within the last six months that were developed in response to requests from health care providers, she adds.
"The newest generation of CR systems offer image quality and productivity advances, and continued improvements in these areas are expected in the future," McIntosh says.
Frans Venker, global marketing lead for diagnostic X-ray for Philips Healthcare, says the company is the only large vendor with its own CR portfolio, utilizing the same back-end, user-interface, unique image processing as in DR and that can be fully integrated in the DR workflow.
"CR continues to be a viable alternative to wireless portable DR for many customers, with only an occasional need for higher projection flexibility, low throughput, etc," he says. "However, CR is also seen as a 'transitionary' technology now, at least in some markets. Increasing availability of cost-efficient DR will drive CR down but slowly."
Money Matters
The top reason administrators and facilities consider CR over DR is money. While the purchase expense of DR systems has dropped, CR can still cost significantly less.
While there's not a lot of buzz in the industry right now, Viola Fernandes, Siemens' radiography product manager, says there are some brand-new products coming out to appeal to those who remain loyal to CR. "When customers go for CR, often they have a limited budget or an infrastructure already in place and they don't want to invest in DR because it's too much," she explains. "We came out with our Multix Fusion, which can be bought as an analog or digital unit and is highly configurable, because we still see the potential of it, and it's been selling quite a lot."
Siemens does not plan to end its CR offerings, but Fernandes does believe this may change in 10 years, as the infrastructure and those with CR readers, cassettes, and other investments start to see their products wear out.
One assumption in the industry is that as this happens, CR will decrease so substantially in the market that DR will completely displace it, but according to Ron Batory, marketing manager at Konica Minolta, that idea is foolish. "I don't think CR will ever go away totally because, in some environments, total destruction of the imaging plate is possible, and they might want to use a fairly inexpensive one, compared to an expensive one, and CR would be more appropriate in that setting," he says. "Price will always be a deciding factor. DR will always cost more than CR."
Still, many in the industry see CR as a waning modality. With DR system pricing declining and the availability of more cost-effective retrofit options to upgrade existing X-ray systems, most imaging centers seriously consider switching to DR. "As providers face tighter budgets and increased demands from both referring physicians and patients, it's easy to see why digital radiography is continuing to replace computed radiography," says James Hamilton, manager of Canon Healthcare Solutions Division. "With quicker system response and no need to process cassettes, DR can greatly reduce exam times while ensuring high-quality images at lower dose are available for interpretation immediately after capture. And as health care organizations look to increase productivity, general radiography has to find ways to become more efficient."
DR does offer a bigger advantage for those concerned with dose, as detectors do use less radiation than CR machines, and also have better ways to adjust the dose parameters. That's a key issue for radiologists and patients alike. "Obviously, dose is big on everyone's mind, which is one of the main reasons [DR] detectors are being widely accepted in the market," Fernandes says. "Detectors use much lower dose compared to CR, and there's a larger movement toward dose awareness."
CR and Mammography
Konica came out with its ImagePilot CR system, which Werner says is easy to use and integrates well with most systems. Also, with its Xpress CR Digital Mammography upgrade and its Cesium Bromide mammography plate, users are assured of high-quality mammography imaging while simultaneously achieving a lower total cost of ownership than other solutions currently available.
Mammography is one important area where CR can serve well, as many organizations have widely decentralized mammography operations and the ability to transfer digital images to a mammography reading facility greatly simplifies the job compared with the alternative of transporting film to one reading site.
"To me, any discussion on CR has to include how to integrate into an enterprise or integrated health care practice," Werner says. "It has a lot to do with versatility but also total cost of ownership, managing expense vs. return. CR is a strong modality, which does offer certain performance. DR offers different performance and therefore, a different value."
Customers are telling original equipment manufacturers that they are ready for change but are looking for ways to bring CR and DR into one environment.
Like most in the industry, Hotchkiss remembers the late 1990s and all the talk of the end of CR but still sees it as being a viable option, even in the hospital space. "Looking ahead, I would say the focus will be more on the best return on investment for customers being a blending and optimizing the use of both CR and DR, with CR being more of a supplement in today's environment," he says. "Also important, regardless of what vendor you use, customers should stay up-to-date with the latest image processing because image processing and enhancement is the most relevant thing today, and it's gotten quite good. Today's customers can see more data than ever before."
— Keith Loria is a freelance writer based in the metro Washington, DC, area.