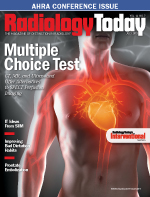 July 2013
SNMMI Reporter's Notebook
Radiology Today
Vol. 14 No. 7 P. 22
Editor's Note: This article was prepared from press materials distributed during SNMMI's annual meeting last month in Vancouver.
Image of the Year: PET/CT Shows Treatment Response
Radium-223 Dichloride Helps Evaluate Bone Metastases
An 18F-FDG PET/CT scan illustrating the effectiveness of radium-223 dichloride in treating bone metastases in breast cancer patients with bone-dominant disease was selected as SNMMI's 2013 Image of the Year.
"Radium-223 dichloride was recently approved by the US Food and Drug Administration for use in castration-resistant prostate cancer patients with bone metastases and has the potential to help other patients as well," said Peter Herscovitch, MD, chair of SNMMI's Scientific Program Committee. "This image was selected as the Image of the Year, as it shows how the combination of nuclear medicine and molecular imaging applications—radium-223 dichloride as therapy and 18F-FDG PET/CT for monitoring therapy response—can be beneficial for patients."
Up to 80% of patients with metastatic breast cancer develop bone metastases, which often result in skeletal complications, carrying a poor prognosis and significant morbidity. Radium-223 dichloride, an alpha-emitting therapeutic radiopharmaceutical, targets osteoblastic bone metastases with high-energy alpha particles with a short range, sparing healthy tissues and bone marrow. Its efficacy recently has been demonstrated in bone metastases in prostate cancer patients, prolonging survival and significantly decreasing skeletal-related events.
In the study, 23 metastatic breast cancer patients with bone-dominant disease received either four (19 patients), three (15 patients) or two (all patients) treatments of radium-223 dichloride. Imaging with 18F-FDG PET/CT was conducted at baseline, after the second treatment, and after treatment discontinuation to assess metabolic changes in target bone lesions. Target lesions were defined as osteoblastic (showing high uptake on bone scan) and having increased metabolic activity (intense uptake on baseline FDG PET/CT).
PET/CT imaging showed a total of 155 bone target lesions at baseline. After two treatments with radium-223 dichloride, 32.3% of target lesions showed significant metabolic decrease. Patients who received four treatments of radium-223 dichloride continued to benefit from the therapy, with a 41.5% response rate of target lesions. Most other analyzed target lesions showed stable disease.
"Radium-223 dichloride, administered in a preventive or micrometastatic setting, has been shown to prevent progression of breast cancer bone metastases and increased survival in a preclinical model," said lead study author Patrick Flamen, MD, PhD, from Institut Jules Bordet in Brussels, Belgium. "Response assessed with 18F-FDG PET/CT clearly shows the benefit of this therapy for metastatic breast cancer patients with bone-dominant disease, with a greater than 25% reduction in targeted bone lesions activity in a significant number of patients. The potential for this therapy to help cancer patients of all types is promising and should be studied further."
New Preclinical SPECT/MR System Introduced
A new preclinical SPECT/MR system was unveiled at the SNMMI annual meeting.
"We are pioneering simultaneous SPECT and MR imaging technologies now demonstrated in preliminary small animal studies," said Benjamin M. W. Tsui, PhD, director of the division of medical imaging physics in the department of radiology and a professor of radiology at Johns Hopkins University in Baltimore. "We have been building the technology with our industrial partner, TriFoil Imaging—formerly the preclinical business of Gamma Medica—for the past five years and have sufficient data now to show that it works. This presents a unique multimodality system that images mice down to a spatial resolution of less than 1 mm at high detection efficiency."
SPECT/MR represents a different imaging modality from other hybrid systems, such as PET/CT and PET/MR, by allowing hybrid imaging with biomarkers labeled with a wide range of radionuclides. SPECT/MR has various potential applications, including imaging for cancer, cardiovascular, and neurological diseases; thyroid and other endocrine disorders; trauma; inflammation; and infection.
To construct a SPECT insert that works in the magnetic field of an MR system, the developers integrated 16- X 16-pixel and 1.6-mm-pixel pitch cadmium-zinc-telluride (CZT) solid-state detectors that directly convert incoming photons into electrical signals that are not affected by the static magnetic field. The SPECT insert also houses a state-of-the-art multipinhole collimator that provides both high spatial resolution and capacity to detect photons from small animals injected with available or novel nuclear medicine biomarkers that use radionuclides to convey physiological body functions. Unlike PET, SPECT can detect photons of different energies from multiple radionuclide-labeled biomarkers for fully customized and application-specific multifunctional imaging.
Other major benefits of the SPECT/MR system include eliminating the CT-associated radiation dose and the much lower cost of building the technology compared with PET/MR, which costs about $5.5 million for a clinical system.
Tsui remarked, however, that the technology is meant not to supplant other technologies but rather to further diversify options for biomedical investigators and clinicians to optimize research and patient care. SPECT/MR could roll out into human trials in the near future.
"We are confident that with sufficient funding, we can build a SPECT/MR system for human brain studies in about two years and begin clinical studies by the third year," Tsui said.
PET Provides Earlier Warning Than Angiography
PET can tip off clinicians to cardiac disasters waiting to happen, including sudden death from a heart attack, better than standard angiography, according to researchers at the SNMMI annual meeting.
"Using FDG PET, we can easily detect changes that occur in the heart at the microscopic level much sooner than when changes become evident in angiography at the macroscopic level," said Arun Sasikumar, MD, MBBS, lead researcher from the department of nuclear medicine at the Post Graduate Institute of Medical Education and Research based in Chandigarh, India. "By detecting the detrimental changes in the heart at an early stage, physicians can prescribe medications that can halt disease progression, thus preventing a devastating cardiac event such as a heart attack or sudden cardiac death."
For this study, researchers compared angiography with two molecular imaging methods—exercise stress myocardial perfusion imaging (MPI) with the agent Technitium-99m tetrofosmin and exercise stress F-18 FDG cardiac PET imaging—to see which performed best for computer-aided detection (CAD). A total of 45 patients with a mean age of 51 participated in the study. Each had some suspected CAD when evaluated but no history of heart attack. Every subject was prescribed dietary restrictions and underwent exercise stress tests on separate days followed by an angiogram within a month.
Angiography was performed as a baseline imaging protocol for comparison between MPI and FDG PET. Abnormal angiograms were found for 27 patients, with at least one of their arteries narrowed by more than 50%. Disease staging was organized into three categories of single-, double-, or triple-vessel disease.
Results of the comparison between angiograms and two molecular stress tests indicated that 17 patients had single-vessel disease and were better imaged by FDG PET than by MPI. Five patients had double-vessel disease, and another five were found to have triple-vessel disease.
Results comparing MPI and FDG PET for multivessel disease detection were similar, but the latter was far superior for single-vessel disease. FDG PET was shown to have 96% sensitivity while detecting less than 50% stenosis of coronary arteries compared with about 56% sensitivity with MPI. Specificity, the method's accuracy when detecting CAD at this level was measured at 76% for FDG PET and 62% for MPI, showing that FDG PET catches earlier stages of disease.
"This research is extremely important because it opens up the possibility of using nuclear medicine in preventive cardiology," Sasikumar said.
Cardiac PET/MR Image Comparable With PET/CT
PET/MR initially was found only in research institutes, but little by little the technology is expanding into clinical practice. This is especially true for cardiac indications, for which the highly sensitive soft-tissue contrast of MR and the functional and metabolic imaging of PET can be particularly valuable. New research presented at SNMMI's annual meeting showed the value of PET/MR compared with PET/CT in cardiac applications.
PET/MR imaging techniques have advanced during the past several years, particularly in terms of disease detection and the correction of attenuation. PET/CT systems use CT to compensate for attenuation, and PET/MR employs MR. Part of this study compared the two to see how they match up.
"Our research demonstrated that cardiac PET assessment for heart muscle viability using PET/MR yielded comparable results to PET acquired using PET/CT," said principal author Jeffrey M. C. Lau, MD, PhD, from Washington University in St Louis. "It showed that MR can be used for PET attenuation correction in the same way that CT can."
Comparable attenuation correction and imaging agent uptake measurements move PET/MR forward toward important clinical applications, including the use of PET/MR for imaging heart tissue scarring and subsequent complications after cardiac arrest, with some major benefits for patients.
"Our research provides the groundwork for future research in cardiac PET/MR imaging," Lau said. "PET/MR provides powerful cardiac imaging and requires a lower radiation dose than PET/CT. Also, the MRI component, which can be acquired simultaneously, provides excellent heart muscle signal for imaging scar tissue caused by heart attacks. In particular, our group is most interested in applying the PET/MR technology to evaluate the likelihood of arrhythmia or irregular heart beat development in patients who have had heart attacks."
The study included 31 patients with no history of heart problems being screened for cancer. All subjects underwent both PET/CT and PET/MR with F-18 FDG injection administered about an hour before PET/CT and two hours before PET/MR. Attenuation correction with MR was made possible by a specialized dual-echo MR sequence that orders radio-frequency magnetic fields interacting with atomic nuclei in the body to "see" differentiation between water and fat. FDG uptake in the myocardium was measured by looking at a cross-section of the left ventricle, which empties oxygen-rich blood into the aorta. The average measurement of FDG uptake in the left ventricle was nearly identical: 4.68 for PET/MR and 4.62 for PET/CT. This research also has implications for future studies into ischemic cardiomyopathy.
"Our hope is that, in the future, PET/MR will become the imaging modality of choice for certain cardiac diseases," Lau said. "One potential use of cardiac PET/MR is to guide the patient selection process when deciding if patients who have suffered ischemic cardiomyopathy are good candidates for cardiac defibrillator implantation. We hope that a better understanding of the metabolic and anatomic correlation of PET/MR in the myocardial scar and scar border can provide more insight into arrhythmias that lead to sudden cardiac death."
Further studies are needed to continue providing information about the benefits and appropriateness of PET/MR in clinical practice.
Seeking Alzheimer's Evidence Before Cognitive Decline
Many studies have linked Alzheimer's disease to amyloid plaque buildup in the brain, but new research has found a common thread between amyloid burden and lower neuron metabolism in certain areas of the brain associated with Alzheimer's disease, even for people with no sign of cognitive decline.
"This study shows that there is an association between hypometabolism and amyloid in the brains of normal people," said Val J. Lowe, MD, a professor of radiology at the Mayo Clinic Cancer Center in Rochester, Minnesota. "Previous studies indicate that hypometabolism of this same pattern is present in patients who have abnormalities of the gene apolipoprotein E, or APOE. The hypothesis is that people who have these genetic abnormalities tend to have hypometabolism and are on the trajectory toward developing Alzheimer's disease. Hypometabolism does appear to be an early harbinger of the disease before dementia sets in."
The research is a part of a longitudinal multiphase study called the Mayo Clinic Study of Aging, which includes 2,500 patients, with 4,000 projected for the next phase. For this imaging study, 617 cognitively normal subjects underwent two separate PET procedures. Each subject was imaged with an amyloid-binding radionuclide imaging agent, C-11 PiB, produced at the Mayo Clinic. An hour later, all patients were imaged again using the same scanner and a different radionuclide agent, F-18 FDG.
Results then were analyzed via quantitative analysis and reviewed. Researchers found significant hypometabolism in brain regions classically associated with Alzheimer's disease, including the angular gyrus and posterior cingulate. Even the PiB PET scans that were deemed barely positive for amyloid were partnered with FDG PET scans that showed corresponding hypometabolism.
"In general, these findings were groupwide," Lowe said. "We now need to parse the data down to an individual subject level to see what is driving this relationship. As we follow these subjects long-term, this relationship will be important because if people have amyloid in their brain and survive without Alzheimer's disease despite amyloid, we want to know why."