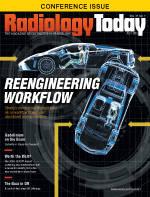 July 2016
Worth the Wait?
By Kathy Hardy
Radiology Today
Vol. 17 No. 7 P. 16
The 2016 USPSTF breast screening recommendations are a cause for anxiety, but a two-year moratorium raises hope.
The clock is ticking on a two-year moratorium on changes to insurance coverage for breast cancer screening, as outlined in the US Preventive Services Task Force (USPSTF) 2016 final draft recommendations. For private insurers, this means they will continue to follow the task force's 2002 recommendations, which state that women 40 years of age and older should undergo screening mammograms every one to two years. For women, this move keeps the window open for more accessible screening mammography.
With one eye on their stopwatches, breast imagers are considering what could happen during this two-year period to further demonstrate that the benefits of breast cancer screening for women in the 40- to 49-year age range outweigh the risks of false-positive findings and overdiagnosis, concerns stated in the 2016 task force recommendations. This reprieve could mean more time for data gathering, more opportunities to measure the benefits of new technologies, and the chance to further educate physicians and women on what's best for their health needs.
"This two-year period gives us the opportunity to preserve the right of women to get a mammogram at age 40, if that's what they want," says Debra Monticciolo, MD, FACR, section chief of breast imaging at Baylor Scott & White Health in Temple, Texas. "There is a 30% to 40% reduction in mortality with early breast cancer screening. If insurance coverage for breast screening is gone, many women may not have access to a tool that could save their lives."
With the Affordable Care Act's (ACA's) grading scale for private insurance coverage, procedures given a grade of "A" or "B" by the USPSTF are covered with no copay. Medicare determines coverage separately. The 2016 USPSTF final recommendations for breast cancer screening assign a grade of "C" to routine screening of women ages 40 to 49, and a grade of "B" only to biennial screening for women ages 50 to 74. Therefore, women in the 40 to 49 age range who want to have a mammogram may not be guaranteed coverage under the ACA, if the 2016 USPSTF recommendations are adopted. The same is true for women ages 50 to 74 who prefer annual screening.
"Moving away from yearly screening in women 40 and older endangers women, would cause needless death and disfigurement of women, and would simply not be good breast cancer screening policy," says Monticciolo, who is also chair of the ACR Commission on Breast Imaging.
False Positives vs Early Detection
The moratorium came about with the passage of the Protecting Access to Lifesaving Screenings (PALS) Act, part of the Consolidated Appropriations Act that was approved at the end of 2015 to fund the US government for one year. Congresswomen Debbie Wasserman Schultz (D-FL) and Renee Ellmers (R-NC) introduced the PALS Act in the US House of Representatives, with similar legislation introduced by Senators Kelly Ayotte (R-NH) and Barbara Mikulski (D-MD) in the US Senate. These bills were designed to "protect access to screening mammographies for women, ages 40 to 74," by imposing a two-year moratorium on implementation of the latest USPSTF breast cancer screening recommendations.
"We are grateful for Congress' foresight to include legislative language from the PALS Act in the Consolidated Appropriations Act," says Elizabeth Morris, MD, FACR, chief of the breast imaging service at Memorial Sloan Kettering Cancer Center in New York. "Clearly, they agree that women ages 40 to 49, 50 to 74, and 75 and older who want annual mammograms should be covered for and have access to these lifesaving exams."
The task force recommends biennial screening mammography for women aged 50 to 74 years, saying that women in this age range who are at average risk of breast cancer gain the most benefit from screening at this frequency. The only reference to screening recommendations for women in the 40 to 49 age range is in the case of women with a family history of breast cancer, saying they "may benefit more than average-risk women" from beginning screening at an earlier age.
As stated in the task force's recommendations: "While screening mammography in women aged 40 to 49 years may reduce the risk for breast cancer death, the number of deaths averted is smaller than that in older women and the number of false-positive results and unnecessary biopsies is larger. The balance of benefits and harms is likely to improve as women move from their early to late 40s."
The task force also uses short-term anxiety resulting from mammography results as justification for its recommendations. Supporters of the less restrictive recommendations contend that any anxiety over mammography results or recalls is normal but short-lived and has no lasting effect on women's health.
"Short-term anxiety from test results and the comparatively small number of mammography false-positives do not outweigh the thousands of lives saved each year by mammography," Monticciolo says. "Mammograms can detect cancer early, when it is most treatable and can be treated less invasively. This not only saves lives but helps preserve quality of life."
"This is based on a fear factor of finding things that aren't cancer," adds Jean Weigert, MD, FACR, director of breast imaging with the Hospital of Central Connecticut. "Do women get anxious? Yes, but they would be more anxious if we didn't find cancers early."
Weigert says that she talks to her patients to help alleviate any anxiety they might have regarding the results of their mammograms.
The task force also cites overdiagnosis as a basis for its recommendations: "All women undergoing regular screening mammography are at risk for the diagnosis and treatment of noninvasive and invasive breast cancer that would otherwise not have become a threat to their health, or even apparent, during their lifetime (known as 'overdiagnosis'). Beginning mammography screening at a younger age and screening more frequently may increase the risk for overdiagnosis and subsequent overtreatment."
End the Confusion
Professional organizations including the ACR, the Society of Breast Imaging (SBI), and the American Cancer Society (ACS) have issued their own statements regarding guidelines for breast cancer screening. The ACR and SBI recommend that women at average risk for breast cancer get yearly mammograms beginning at age 40. Women at increased risk for breast cancer should begin yearly mammograms by age 30. Annual screening should end when a woman's life expectancy is less than five to seven years, on the basis of age or medical conditions. The ACS guidelines recommend that women with an average risk of breast cancer undergo regular screening mammography starting at age 45. Women aged 40 to 44 should have the opportunity to begin annual screening mammography. Women aged 45 to 54 years should be screened annually, while women aged 55 and older should undergo biennial screening or have the opportunity to continue annual screening.
With differing recommendations throughout the breast imaging community, there's bound to be confusion on the part of referring physicians, OB/GYNs, and patients regarding the best time to begin mammography and how often women should be screened.
"Gynecologists are confused, and they're the ones who talk to patients and help them make decisions regarding their breast health," Morris says. "There is a lot of complicated information and statistics, and not everyone is trained to understand what they mean. We can use this time to help make the picture clearer."
To that point, the SBI created a website within the society's overall site—endtheconfusion.org—that can be used as a resource by physicians and patients.
"Women need a clear idea of what they're choosing. They shouldn't have that decision made for them by a task force that is out of touch," Morris says.
Breast imagers, who screen women on a daily basis, can weed through the data and see the benefits of regular mammograms.
"There is no confusion among the people who understand the data," Monticciolo says. "The data [are] clear. Even the American Cancer Society report shows this. The confusion is among people who want to pick and choose isolated studies when making their recommendations."
Morris, president of the SBI, says the USPSTF is relying on 30- to 40-year-old data from randomized studies, rather than observational studies. She says they model the older data and then reexamine their findings.
"They ignored studies that show improvements in technology over what was used 30 years ago," Morris says. "We have more accurate technology now that decreases recall rates and increases detection rates."
New Developments
One such technology is digital breast tomosynthesis (DBT), also referred to as 3D mammography. Emily F. Conant, MD, division chief of breast imaging at the Hospital of the University of Pennsylvania in Philadelphia, believes that this delay in the 2016 USPSTF recommendations could allow for more time to gather and publish data on the benefits of DBT, particularly in the areas of finding more cancers in younger women and reducing the number of false-positives.
"Tomosynthesis is an evolving technology in breast cancer screening," Conant says. "It's been shown to find more invasive cancers, which have the potential to metastasize."
Conant was a contributing author to a study published in 2014 in The Journal of the American Medical Association, which concluded that the addition of DBT to digital mammography was associated with a decrease in the recall rate and an increase in the cancer detection rate. She was also involved in a 2013 study by the University of Pennsylvania that concluded that 3D mammography found more breast cancers and led to fewer callbacks, compared to conventional 2D mammography. In addition, the cancer detection rate increased in women ages 40 to 49.
"Cancer in younger women is more aggressive and grows faster," Conant says. "We need to keep improving screening techniques, and we can do that with tomosynthesis."
Earlier this year, Conant published data in Breast Cancer Research Treatment from a multi-institutional study with 198,881 women showing the effectiveness of DBT compared with digital mammography. Looking at three years of screening data, researchers found an increase in cancer detection and a "significant" recall reduction rate in DBT screening outcomes, as compared with digital mammography, including for women in the 40- to 49-year age range.
Research is another evolving area where Weigert sees promise for new developments in the next two years. In her setting in Connecticut, she sees the potential for gathering a history of risk assessment by looking at patient demographics and evaluating that data to identify patterns of screening methods that have worked best for women in all age ranges. She hopes to see some academic centers begin conducting dedicated research to help pinpoint best breast screening practices.
There is also some hope in the breast imaging community that this two-year moratorium will allow for some vetting of how the USPSTF operates, an area where some breast imagers believe there's room for input from a more relevant knowledge base. The task force comprises 15 members, none of whom represent the radiology or oncology specialties.
"I understand the desire to eliminate any bias within the task force when it comes to making recommendations," Monticciolo says. "However, I believe they're eliminating knowledge by excluding specialists who know the field. The people on the task force don't fully understand the literature on the benefits of early breast cancer screening."
Morris says she would like to see a dialogue between the task force and societies that deal with breast imaging.
"We need to come to some conclusions," Morris says. "We understand that breast screening isn't perfect, but it should be made available to all women if they want it."
— Kathy Hardy is a freelance writer based in Phoenixville, Pennsylvania. She is a frequent contributor to Radiology Today.