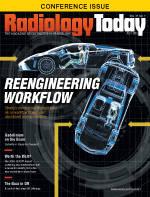 July 2016
The Buzz in DR: A Look at the Latest DR Offerings
By Keith Loria
Radiology Today
Vol. 17 No. 7 P. 24
Over the past decade, a great percentage of hospital purchases for new X-ray equipment have gravitated toward DR. Industry insiders say this shift is expected to continue, especially now that DR detectors have become more portable, wireless, lighter in weight, and less expensive.
Tsuneo Imai, president of Virtual Imaging, Inc, and vice president and general manager of the healthcare solutions division in the business imaging systems group of Canon USA, Inc, notes that he sees multiple new offerings in various configurations and price points on the horizon because DR is a fast-moving market that is transforming patient care.
"Today's health care customers are asking for cost-effective ways to bring their radiography rooms up to today's technology without sacrificing image quality and low dose," Imai says. "Health care providers and hospitals are also looking to streamline their imaging operations; they want everything all in one."
Rob Fabrizio, Fujifilm Medical Systems' director of strategic marketing for digital X-ray and women's health, says the consolidation of hospitals' and integrated delivery networks' imaging purchasing decisions are increasingly being decided based on nonclinical operational and financial values and by nonclinical decision makers in the hospital.
"This paradigm shift changes how buyers evaluate DR equipment and how manufacturers promote and design features moving forward, and this is something we all need to understand better," Fabrizio says.
Brandon Shelly, Toshiba America Medical Systems' X-ray product manager, notes that the latest trends in the industry can be summed up with one word: flexibility.
"Facilities are looking for innovative solutions that allow them to do more with less. They are looking for imaging solutions that provide them with the flexibility to satisfy their needs and their patients' needs today, as well as for the future," Shelly says. "If you look at the market, you will see a number of flexible DR solutions being offered to facilities."
For example, some facilities are using multiple wireless DR panels across several different imaging devices, providing a cost-effective and flexible solution across multiple rooms. Portable X-ray device technology has advanced to the point that portables are now being utilized with DR panels to a greater degree than traditional fixed X-ray systems. Additionally, digital upgrades are now available to expand the range of clinical procedures and extend the life of imaging systems.
Manufacturers are developing more versatile and automated DR systems to support a wide range of clinical procedures as well. Viola Fernandes, product manager for radiography at Siemens Healthineers, USA, notes that customers are strongly interested in having wireless detectors with the ability to use them in more than one room.
Heidi McIntosh, Carestream's worldwide product marketing manager for global X-ray solutions, notes that, when it comes to detectors, people are looking for durability and portability.
"They're subjected to some pretty harsh environments, [such as] exposure to liquids or dropping them because they're carrying them with the portables," McIntosh says. "From a trend perspective, we see that customers are looking for these detectors to really stand up to heavy usage."
Regarding equipment, McIntosh sees an increase in interest in the premium level of DR, with many facilities looking for fully automated systems or highly agile portables.
Lowering dose is still among the most important topics that Agfa HealthCare is working on, according to Lenny J. Reznik, the company's vice president of marketing in North America.
"We have done a number of studies, and we can reduce dose by up to 60% [compared with some other DR systems]," Reznik says. "What's also important is not solely lowering dose but right-sizing it for the patient, and we have a lot of dose management tools on board the DR itself."
What's New?
Canon invests more than $3 billion a year in research and development for new imaging technologies and has several new DR offerings available.
"[Our] RadPRO products … are all powered by the Canon CXDI line of detectors," Imai says. "Within the CXDI software is Enhanced Visualization Protocol, which allows technologists to view [peripherally inserted central catheter] lines, catheters, and other fine lines within X-rays."
Another product from Canon is its RadPRO DELINIA 200 Digital X-ray Acquisition Cart, which is compact and mobile, allowing transport of the detector to various rooms throughout the hospital or health care facility.
In July, Fujifilm will release its FDR D-EVO GL, the world's only single-exposure long-length DR detector for scoliosis, long leg, and other orthopedic studies, according to the company.
"Immediate DR exam acquisition shortens the time for the patient to remain still, reducing discomfort, [which is] especially helpful for imaging surgery patients," Fabrizio says. "Instant acquisition also means less [need] for retakes from patient movement between exposures, compared to a typical multiexposure DR exam. And compared to a CR long-length exam, DR can achieve 40% to 50% lower dose. Dose can further be lowered with Fujifilm's new Virtual Grid image processing, which eliminates the need for a physical grid."
Another new product line from Fujifilm is the FDR Clinica, a customizable family of X-ray components for cost-effective rooms to address the outpatient market; it is scheduled to launch this summer.
Siemens just launched the Multitom Rax, which Fernandes says does more than plain radiography.
"It can do fluoroscopy [and] basic angio, as well as, eventually … real 3D imaging," Fernandes says. "So that's something extremely exciting within Siemens that we're moving from just a traditional rad room to [a hybrid type of] room that can do more than one kind of examination."
The RADREX is the latest DR system from Toshiba. The system comes standard with a 600-kHU X-ray tube, a table with a 600-lb patient weight limit, and an 80-kW generator allowing customers to support a larger patient population, according to the company.
"The RADREX also features RexView with Image Preview Display," Shelly says. "With this display, a user can return to the patient's tableside and accept or reject the image at the X-ray tube, [allowing them to better] focus on what is truly important—[the] patient."
At last year's RSNA, Carestream introduced its new fluoro room.
"What we're seeing is [that] fluoroscopy sort of died off a little bit and, now that you have the ability to do digital fluoroscopy, what [customers] want is a dynamic detector/flow-based system that not only [provides] the ability to do fluoroscopy but can also be set up for general radiology," McIntosh says. "So, in essence, it allows them to have a two-in-one room and, therefore, maximize their investment and reduce their downtimes."
Agfa HealthCare is touting its DR portable unit, the wireless DX-D 100, which Reznik says features FreeView Technology for better maneuverability and ease of use by offering a telescoping column for an unobstructed view while driving and positioning the mobile DR system.
Reimbursement Matters
On December 18, 2015, President Obama signed HR 2029, the Consolidated Appropriations Act. This means that Medicare will be reducing payments for film-based radiography tests beginning next year, with payment reductions for CR equipment to follow the year after that.
"This will result in health care facilities seeing decreased reimbursements for using film and CR technology," Imai says. "However, most hospitals unquestionably are continuing their use of existing CR and converting to DR in steps."
The new law reduces Medicare reimbursements for the technical component of X-rays taken using film by 20% beginning in 2017, and reduces the reimbursement for the technical component of CR exams by 7% for years 2018 through 2022.
In light of the Consolidated Appropriations Act, Agfa HealthCare is using its Fast Forward to DR program to help health systems using film and CR cost-effectively upgrade their facilities to DR and avoid Medicare reimbursement reductions on outpatient film in 2017 and CR exams in 2018.
"Starting in 2023, the reduction in the reimbursement of the technical component of CR exams will increase to 10%," Reznik says. "Agfa HealthCare is matching the government's aggressive reduction plan with its own aggressive program to help health systems raise the bar on imaging innovation and productivity."
Fabrizio says the biggest buzz in DR today concerns reimbursement cuts and whether providers are aware of the latest appropriations legislation.
"They have already been feeling the pain of cuts systemwide from the Affordable Care Act, and with this new legislation they are more directly threatened with cuts in reimbursements to medical imaging," Fabrizio says. "In the past year, we have already seen lots of signs [of] struggling availability for budgets through an increase in the number of purchases delayed due to budgets being cut, delayed, and canceled. This new legislation is now causing hospitals and outpatient facilities that are aware of it to begin to take notice of their aging imaging equipment and budget for new."
What hasn't gone unnoticed by the many financially struggling hospitals and outpatient centers is the fact that there were no funding or tax incentives included with this new mandate to transition to DR. There have been a wide range of reactions: Some are looking for lowest possible cost to upgrade, some are looking to upgrade entire systems, and some are unaware of the legislation.
Looking Ahead
One thing the experts agree on: The future of DR is wide open.
"Beyond dose issues, most customers' checklists of needs focus on three points: extremely reliable direct DR solutions, flat-panel detectors providing excellent image quality, and systems with flexible usability," Imai says. "Hospitals and health care facilities are looking to be more efficient and to keep patients moving, which is where we see a growing market for mobile solutions and all-in-one units."
McIntosh adds that there will be increased frame-rate and detector capabilities and more software functions with the detector being brought into the general radiology environment.
"Over the next few years, what they're really looking for is more utilization in leveraging the equipment that they have in place to do more things," McIntosh says. "So the radiology department has to become more competitive and be able to do more things for their doctors, and I think you'll see that over time."
In the near future, Shelly believes DR upgrades will soon be available for multiple imaging labs utilizing a common server, instead of multiple individual consoles for each room.
"Currently, DR upgrades are offered as an enhancement to a single X-ray room and often include a single DR panel and console. However, facilities normally have multiple X-ray systems, so purchasing multiple upgrades can add up quickly," Shelly says. "I believe X-ray departments will soon be able to purchase multiple DR upgrades, including multiple DR panels, but utilize several receivers and a central server instead of multiple consoles, which will reduce the overall costs for facilities to upgrade multiple systems while still allowing a single panel type to be used across multiple systems."
Fernandes theorizes that doing more with less is what facilities will aim for more in the next five to 10 years.
"The radiology department will be forced to minimize the actual equipment costs and try to increase the actual asset utilization and department utilization of a particular system," Fernandes says.
Fabrizio believes the future of DR is rapidly heading toward features and products that articulate value-based, cost-measuring, and patient-centric benefits.
"[It] is important that we begin to realize the significance of access and ease of access to data that is also evolving," Fabrizio says. "DR will need to become more data driven and data intelligent to gather and track these benefits, quantifying savings in costs, time, patient dose, retakes, mistakes, and every measure that benefits patient outcomes and satisfaction and the hospital's bottom line."
— Keith Loria is a freelance writer based in Oakton, Virginia.