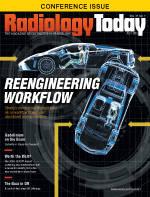 July 2016
Imaging Informatics: MACRA Economics — Proposed Rule Sets Guidelines for Radiology Reimbursement
By Dave Yeager
Radiology Today
Vol. 17 No. 7 P. 8
The passage of the Medicare Access and CHIP Reauthorization Act of 2015, or MACRA, made long-awaited changes to Medicare reimbursement. The new legislation created a Quality Payment Program (QPP) that ended the widely loathed sustainable growth rate formula for Medicare payments to health care providers, established a reimbursement framework that begins to reward quality of care, and combined and renamed existing quality reporting programs, such as the physician quality reporting system (PQRS) and meaningful use, into one system. On April 27 of this year, the Centers for Medicare & Medicaid Services (CMS) issued a Notice of Proposed Rulemaking that brings some of the goals of that legislation into focus. The 60-day comment period for the rule ended on June 27.
The proposed rule sets guidelines for the QPP and establishes a Merit-Based Incentive Payment System (MIPS) and an Alternate Payment Model (APM). In addition to proposing a framework for physician-focused payment models and a Physician-Focused Payment Model Technical Advisory Committee to provide comment and recommendations for these models, it includes a proposed acronym list for terms relating to the rule. Geraldine McGinty, MD, MBA, FACR, vice chair of the ACR's Board of Chancellors and former chair of the ACR's Commission on Economics, says although the rule could be improved, it recognizes radiology's value to health care.
"It's a big, complex program. Do we love everything about it? No. There are areas where we feel that there's room to improve, but the good news is, really from the day the legislation passed, we've been actively engaging with CMS and working collaboratively with them," McGinty says. "I think you see a lot of that in the proposed rule. They get that [radiologists] are delivering value, but sometimes the way we deliver value is different from other specialties, and [CMS needs] to find ways to recognize that."
Recognizing Quality
The MIPS program combines some aspects of quality performance with the traditional fee-for-service model; it has four main categories: Quality, Advancing Care Information, Cost, and Clinical Practice Improvement Activities. The Quality category replaces PQRS and the quality component of the Value Modifier Program. It allows clinicians to choose six reporting measures, as opposed to the nine required by PQRS, and provides a range of options to accommodate differences in specialties and practices. The Advancing Care Information category replaces the Medicare EHR Incentive Program (also known as meaningful use). It allows clinicians to report customizable measures of how they use EHRs and does not require the quarterly reporting that the meaningful use program requires. The Cost category (also called Resource Use), which replaces the Value Modifier Program, is based on Medicare claims and requires no reporting. The Clinical Practice Improvement Activities category is new and rewards practice activities based on care coordination, patient safety, and beneficiary engagement. It provides more than 90 activity options to match practices' goals and provides credit for participating in APMs and in patient-centered medical homes.
Each category will be scored, and the aggregate score will determine whether a radiology group receives bonus payments or makes penalty payments. For the first year, Quality will count for 50% of the score, Advancing Care Information will count for 25%, Clinical Practice Improvement Activities will count for 15%, and Cost will count for 10%. Those proportions will change in later years. The first payment year for MIPS will be 2019, but payments and penalties will be based on 2017 performance. Initially, McGinty expects most radiologists to participate in the MIPS program.
"The alternative payment model program is for those physicians who are in an entity like an accountable care organization, which assumes responsibility for a population and assumes financial risk for the care of that population," McGinty says. "CMS, I think, is certainly hoping to move people more towards the alternative payment model track but recognizes, and certainly the numbers they quote in the proposed rule recognize, that the vast majority of physicians are still in fee-for-service, so I think MIPS is going to be the program that most radiologists will find themselves in."
There will be some hybrid models, as well. Whichever model radiologists find themselves in, McGinty says the ACR's Imaging 3.0 initiative can help them with the transition. She says radiologists should be thinking about how to connect more effectively with patients, referrers, and health system communities. As part of that initiative, the ACR has developed tool kits and resources, such as the free Inpatient Cost Evaluation Tool (ICE-T) that allows radiology practices and hospitals to compare internal costs against national benchmarks to decide whether to pursue bundled payment for a particular service. ICE-T is available through the ACR's Harvey L. Neiman Health Policy Institute.
McGinty also recommends that radiology groups begin planning for clinical decision support (CDS), if they haven't already. She notes that, although guidelines for CDS have not yet been released, the program is expected to be implemented in 2017. Importantly, CDS can help radiologists demonstrate appropriate imaging use, which will help to demonstrate the value of radiological services.
"If we go to the very core of what we do, imaging and the way we interpret imaging, there's a huge amount of value there," McGinty says. "What we've transitioned more recently to doing is understanding how we can be stewards of appropriate imaging to maximize the value [of what we do] because even the very best imaging study, if it's not done appropriately, has no value. So we start with a core value of imaging, clearly, but what we realize we need to do is utilize that imaging appropriately, and that's where we're layering value on top of value."
— Dave Yeager is the editor of Radiology Today.