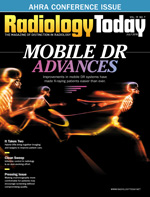 Pressing Issue
By Beth W. Orenstein
Radiology Today
Vol. 19 No. 7 P. 14
Making mammography more comfortable for patients may encourage screening without compromising quality.
Breast cancer is the most commonly diagnosed cancer and the second leading cause of cancer death among women in the United States, according to the National Breast Cancer Foundation. Each year, nearly 253,000 women in the United States will be diagnosed with breast cancer and more than 40,500 will die, the foundation estimates.
Breast cancer is treated more successfully when it's detected in its early stages, before it has spread. Routine screenings with mammograms offer the best chance to detect the disease in its early stage, yet surveys show that one in four women avoid scheduling their annual mammograms because they fear the exam will be painful or, at the very least, uncomfortable, says Agnes Berzsenyi, president and CEO of GE Healthcare's Women's Health business.
"Clearly, a lot of women use pain and discomfort as an excuse for putting off or avoiding their screenings altogether," agrees Pam Cumming, senior director of product marketing/women's health for Siemens Healthineers North America. The perception of pain may be worse than the reality, she says, adding that if a mammogram feels painful when the breast is compressed, it's only for a very brief time. Manufacturers, however, have embraced the idea that mammograms should be as comfortable as possible for the patient, to ensure that the technologist can get the highest quality image. 
Relaxing Protocol
In the past few years, the conversation about more comfortable mammograms has become "quite topical," Cumming says. It has become its own #MeToo movement in a way, but it is not new, she says. She notes that, over the past decade or so, Siemens Healthineers and other manufacturers have taken a number of steps to make certain the mammography experience is as comfortable as possible.
"At Siemens Healthineers, we believe it starts with the way the room is lit when a patient enters. Our MoodLight feature bathes the room in soft pinks, whites, or blues, which has a very calming effect," Cumming says. When the exam room is warm and welcoming, "the woman can walk in and feel relaxed right away."
Relaxing is important because it enables the technologist to more easily place the woman's whole breast in the proper position on the detector plate. If the patient is tense, her muscles are tight, and it is harder to get the breast positioned, especially around the edges. Dean R. Ball, DO, a diagnostic radiologist at Tiffany Breast Care Center in Youngstown, Ohio, which uses Fujifilm mammography equipment, finds that when women are more relaxed, "we see a little more posteriorly," and that's often where masses can hide.
To make the exam more comfortable, manufacturers also are paying attention to the design of the detector itself. Fujifilm has made sure its detectors are a comfortable temperature for the breast and have no sharp edges.
"If the detector plate is not too hot or too cold, it helps improve the woman's whole experience," says Robert Fabrizio, director of strategic marketing for DR and women's health at Fujifilm. And if it has no sharp edges, the woman can stand closer to the breast platform, meaning more of her breast can be placed in the field and imaged, he says.
Focus on Paddle Design
When it comes to comfort, however, the biggest focus of late has been on the design of the compression paddles. Paddles on standard equipment have historically been rigid and often one-size-fits-all. Today, manufacturers are making compression paddles from softer, more forgiving plastic so that the compression isn't as harsh, and they can accommodate all breast sizes. Fujifilm's paddles are softer "so women are better able to tolerate the compression," Fabrizio says.
Hologic's SmartCurve Breast Stabilization's paddles "have a proprietary curve that mirrors the shape of a woman's breast," says Tracy Accardi, Hologic's global vice president of research and development for breast and skeletal health solutions. As a result, "you get an even distribution of force over the entire breast, and women can tolerate the compression much better."
The SmartCurve Breast Stabilization paddles received FDA clearance in March. Because every woman's breasts are different, Hologic offers a range of paddle sizes. According to Accardi, radiologists have reported that they can't tell the difference when looking at images that were acquired with the curved compression paddles vs standard flat paddles. While making the exam more comfortable, Hologic did not want to do anything to compromise image quality, workflow, or dose, Accardi says. Whenever something changes the way a radiologist is used to reading the image, "You run the risk of making them concerned that they may be missing something," she adds.
Siemens Healthineers offers an intelligent breast compression solution on its mammography systems called OpComp, which was introduced in 1994. More recently, it introduced SoftSpeed, an automated, two-speed compression paddle movement. Together, OpComp and SoftSpeed make sure the woman's breasts aren't compressed unnecessarily harshly. With SoftSpeed, the compression paddle comes down fast at first. As soon as it touches the breast, SoftSpeed detects the force that is being applied to the paddle and slows down.

"When it determines that the breast is taut and immobile, it stops moving," Cumming says. Technologists have the option to tweak the compression to get the best possible image. Cumming says the results are highly reproducible over time. Radiologists look for breast screening mammography changes from year to year, and any changes can be key findings, she says.
GE Healthcare has also made changes to its mammography line to make the exam more comfortable. "We got rid of the old-fashioned arm handles that women were holding too tightly to," Berzsenyi says. "When they held tightly, they would tense their muscles, making it more difficult for the technologist to capture enough tissue." The newer designs have an arm rest that patients lean against, which allows them to be much more relaxed, Berzsenyi says.
But what GE is really excited about is its wireless, patient-assisted compression remote control device that allows the patient to adjust the compression herself, Berzsenyi says. The FDA approved GE's Pristina Dueta patient-assisted compression device for Senographe Pristina 2D mammography in September.
"The idea is that if you pinch yourself, it doesn't hurt as much as if someone else pinches you because you know what to expect," Berzsenyi says.
Once the patient is positioned and initial compression is set by the technologist, the patient is given a wireless remote and can increase or decrease the compression levels depending on what she can tolerate. Then the technologist checks the applied compression and breast positioning and makes the final decision on whether the compression is adequate or needs to be adjusted.
Feedback on the system has been positive, Berzsenyi says. When GE conducted a satisfaction survey of 315 patients across two European sites, in Italy and France, 83% of patients scanned on the Senographe Pristina rated their experience as better than with traditional mammography systems. Seventy percent noted that it was more comfortable, and 66% perceived the exam to be shorter.
Less Compression, Fewer Views? 
It's long been held that compressing breast tissue is necessary to get quality images. Compression helps to avoid movement and thus image blurring as well as reduce overlap, where lesions may hide. When the tissue is spread out more evenly, so is the radiation dose. Because it's the compression that causes the pain, it has been the focus of making mammograms more comfortable.
Research shows, however, that, with current imaging technology, the breast may not have to be compressed as much as previously thought, and the images will still be as valuable, especially when using 3D digital breast tomosynthesis (DBT). In a white paper, Andrew Smith, PhD, vice president of image research breast health at Hologic, says DBT reduces overlapping breast structures so the requirement for compression isn't as important as it is for 2D imaging. When most breast imaging was analog, the breast needed to be of uniform thickness so that the exposure on the image receptor was consistent. Digital detectors now have a wide dynamic range, making breast compression less relevant, Smith says.
Cumming adds that, with DBT, women may not need as much compression to get the same quality images. "We are finding on tomosynthesis that you can reduce compression force up to 50% without compromising sensitivity and specificity," she says. Results from a small preliminary study at Stony Brook University School of Medicine in Stony Brook, New York, "shows we're walking in the right direction with less compression," Cumming says. "Indeed, some of the masses look better on tomosynthesis with less compression than with more."
Radiologists also are looking at whether they can get all the information they need with fewer views from DBT. Typical digital mammography is two views. One view would shorten imaging time and mean less dose and less discomfort, Cumming says. A study in Sweden of 7,500 women published in European Radiology in January 2016 concluded that one-view DBT may be feasible as a standalone screening modality.
"With 3D, maybe you don't have to do it the same way, and maybe the compression force isn't necessary on the tomosynthesis suite," Cumming says. "It's very promising."
Screening Is Key
Stamatia Destounis, MD, FACR, FSBI, FAIUM, is a radiologist specializing in breast imaging at Elizabeth Wende Breast Care (EWBC) in Rochester, New York; a member of the Public Information Advisors Network for RSNA; and a member of Radiology Today's Editorial Advisory Board. In her 25 years at EWBC's outpatient community practice, where they take care of more than 100,000 patients a year, she's seen many women get anxious about having a mammogram—for various reasons.

"They worry about breast cancer, about how soon they will get results from their mammogram exam, whether they have to pay anything for the test, about the radiation associated with the mammogram," Destounis says. "And some women may have anxiety about breast pain."
Destounis has found that comfort paddles with curved edges can lessen a woman's anxiety without sacrificing image quality. But, she says, the key to the issue may lie in impressing on women the importance of screening mammograms. They must be made to understand that the benefits of screening mammography far outweigh any minimal discomfort they may feel.
"The anxiety and fears surrounding mammography have been exaggerated by many who don't support screening mammography for breast cancer detection," Destounis says. "However, screening mammography is the only proven test that has reduced breast cancer deaths by 30% in the last four decades, and it is a lifesaving test that should be offered and made available to all women."
— Beth W. Orenstein of Northampton, Pennsylvania, is a freelance medical writer and regular contributor to Radiology Today.