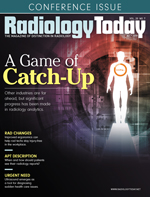 Urgent Need
By Kathy Hardy
Radiology Today
Vol. 20 No. 7 P. 24
Ultrasound emerges as a tool for diagnosing sudden health care issues at urgent care centers.
When sudden health care issues occur, patients may have some uncertainty about where to go for care. Level of care differences between hospital emergency departments (EDs), urgent care centers, and walk-in clinics aren't always spelled out.
EDs, open 24/7, are prepared with staff and tools for the most complex medical cases. They are fully equipped to diagnose broken limbs, a ruptured appendix, and stroke symptoms. They're not meant to take the place of primary care physician visits but can fill that void when an office visit is not possible.
Urgent care centers are medical clinics with expanded hours, specially equipped to diagnose and treat an array of nonlife- or nonlimb-threatening illnesses and injuries. While urgent care is not meant as a replacement for emergency care, it does provide a timely alternative for medical conditions that need to be treated immediately, such as sprains, vomiting, and shortness of breath. Symptoms such as these can be evaluated at an urgent care facility, with the patient being sent home with crutches or referred to a hospital ED for further diagnosis. Increasingly, urgent care centers are filling the gap when a primary care physician is not available.
Natural Transition
An increasing number of urgent care facilities are using ultrasound to assist in the diagnostic process. Considered a first-line diagnostic tool, ultrasound has the potential to become as much of a go-to tool as the stethoscope in an urgent care environment.
"Ultrasound is used to rule in or rule out certain problems," says William Gluckman, DO, MBA, FACEP, CPE. "Then, you can move on to the next appropriate diagnostic step for that patient, based on what the ultrasound finds or does not find."
Gluckman, who has more than 20 years of experience in academic emergency medicine and urgent care, is president and CEO of Fast ER Urgent Care in Morristown, New Jersey. He recently presented on the role of ultrasound in urgent care at the Urgent Care Association (UCA) 2019 meeting, sponsored by Konica Minolta Healthcare. He says adding ultrasound to the diagnostic tool kit of an urgent care facility can lead to improved patient outcomes and drive practice growth. In his experience, urgent care centers often see patients who return numerous times with worsening conditions. These repeat visits can be stressful on patients and taxing on a center's resources.
"In these situations, ultrasound is an ideal first-line diagnostic tool for clinical applications such as soft tissue evaluations, vascular access, obstetric assessments, and cardiac and abdominal scans," Gluckman says. "Ultrasound is a cost-effective, nonionizing, point-of-care imaging modality that enables clinicians to noninvasively visualize numerous clinical conditions and diagnose with confidence."
Gluckman, who serves on the editorial board of the Journal of Urgent Care Medicine and previously on the UCA board of directors, finds "vast utility" for ultrasound in an urgent care setting. He says the modality is relatively easy to perform, and is a safe, noninvasive diagnostic tool that can be used quickly and without radiation.
"We have a great degree of patient satisfaction with ultrasound," he says. "We can obtain a diagnosis that we trust much faster."
 The idea of incorporating ultrasound into urgent care centers, in addition to existing digital X-ray capabilities, came from the growing use of ultrasound in EDs, Gluckman says. Patients presenting with abdominal pain, for example, could undergo an ultrasound of the gall bladder or urinary tract, turning up areas of concern, even locating kidney stones.
"It was a natural transition for ultrasound to go from use in the ED to use in urgent care," he says. "You're often working on similar cases in both locations. Ultrasound could be used to locate foreign bodies or to detect a build-up of fluid in joints."
Considerations for Adoption
When it comes to workflow, Gluckman says that adding ultrasound to urgent care settings can reduce wait times. In addition, incorporating the diagnostic capabilities of ultrasound creates a platform for clinical collaboration with colleagues and builds patient trust.
"A physical exam alone can lead to misdiagnosis, resulting in incorrect or delayed treatment," he says. "In some situations, this can result in a patient's worsening condition and repeat visits. By providing immediate views of pathology in real time, ultrasound can deliver the information clinicians need for a confident diagnosis, improving patient outcomes and driving growth to their practices."
One thing to consider when introducing ultrasound to urgent care is who will be performing the scan. Emergency medicine physicians can complete ultrasound training as part of their education, Gluckman says. In the urgent care setting, ultrasounds are usually performed by physicians. However, physician assistants and nurse practitioners can undergo training.
"Most clinicians will not perform at the level of an ultrasound technologist or radiology specialist, but there are courses available where medical professionals can gain ultrasound training and become confident at obtaining good images and interpreting them," he says.
The cost of adding ultrasound to urgent care is a serious consideration, as well, with facility operators analyzing benefits to patients and their business.
"Return on investment depends on a few factors," Gluckman says. "Some insurances will cover ultrasound in urgent care, if you have a fee-for-service contract. If you have a global contract with payers, you're not getting any reimbursement unless you get a 'carve out' for this service. Despite issues regarding reimbursement, it could still help to build patient loyalty by offering ultrasound."
Another factor to consider is whether insurers would start requiring urgent care clinicians to undergo a particular ultrasound training and/or credentialing process in order to receive reimbursement. According to UCA, 93% of urgent care centers use X-ray or radiologic technologists to operate their X-ray equipment. While training is important, Gluckman notes that any additional protocols such as this would increase the cost of adding ultrasound to a practice.
Reducing Variability
Due to its handheld nature, ultrasound scans can vary slightly, depending on the technique of the person holding the transducer. Interpreting ultrasound images is another area where variability can occur. To help address variability, DiA Imaging Analysis recently launched a cardiac AI solution designed to help clinicians quickly and accurately interpret ultrasound images and assess heart functionality in patients suspected of suffering from acute coronary syndrome, a reduction in blood flow to the heart caused by coronary blockage. Called LVivo SAX, this technology uses AI to analyze segmental left ventricle motion using the parasternal short axis view, which is a common cardiac view used in point-of-care ultrasound settings; it provides views of cardiac tissue supplied by all three major coronary vessels and is considered easy to acquire without manipulating the patient.
"This tool is designed to provide clinicians with varying levels of cardiac ultrasound training with the ability to automatically measure, track, and evaluate cardiac functions and to detect abnormalities," says company CEO Hila Goldman-Aslan. "Analyses of ultrasound images are often dependent on the clinician's level of training and experience. As an integrated part of an ultrasound and IT system, our solution uses AI to bring objectivity to the process, providing an automated assessment of left ventricular function and segmental function."
LVivo SAX gathers intelligence based on recognition from considerable existing cardiac ultrasound data, with AI-based algorithms that automatically and objectively analyze the ultrasound images.
"This makes ultrasound accessible to all clinicians in all levels of experience with ultrasound analysis," Goldman-Aslan says.
As DiA's CMO, Eran Feldhay, MD, explains, patients complaining of chest pain can have inconclusive electroencephalograms and blood tests. The next step is an ultrasound of the heart, with a view of the heart muscle that reveals where potential blood vessel blockages could occur.
"Our technology provides analysis that helps the doctor to obtain more data and make better decisions," Feldhay says. "They can expedite the patient's treatment, do more tests, or, if nothing is found, send the patient home."
While this decision support tool is currently used in cases of cardiac distress, Goldman-Aslan says the company is looking to expand the offering to other point-of-care ultrasound uses.
"Regardless of the point of care, AI provides good analysis," she says. "Physicians don't have to just rely on visual opinions. It's not always radiologists or echo cardiologists who use ultrasound, so image interpretation can vary. An AI tool helps clinicians decide what they should do next."
Urgent Care Growth
According to UCA, there are about 7,600 urgent care centers in the United States. In most locations, diagnostic imaging is available on site, with many centers still transitioning from nondigital to digital X-ray options. Although most centers refer patients out for more advanced imaging, such as ultrasound, a few centers, such as Gluckman's, provide this service in house.
Gluckman's move into the urgent care space came after becoming an emergency medicine physician and working on the academic side of medicine. After catching the "entrepreneur bug," he pursued his MBA and made the move to urgent care from the hospital ED setting.
"I love working in urgent care," he says. "It's a growing niche that fills an important role in the continuum of health care. Urgent care is a more challenging setting than the ED. In urgent care, you have to decide 'do we take care of this medical situation here, do we send the patient to the ED, or do we refer the patient to their doctor for follow-up?'"
Gluckman says ultrasound can be a differentiator in an urgent care center, particularly with a certain demographic.
"The younger generation wants care on demand," he says. "There are no walk-in hours at the primary care doctor's office, but they don't want or need an emergency room visit. With ultrasound within urgent care, the patient doesn't have to call an imaging center to make an appointment. We can give patients good care in a shorter amount of time, on demand. That's a win-win."
Results of a 2018 benchmarking report from UCA, reported earlier this year, support Gluckman's findings, showing that patient populations utilizing urgent care centers are evolving, with millennials at the head of the pack in driving demand and increased utilization.
In addition, urgent care centers are continuing to expand their scope of services, incorporating occupational medicine, pediatric care, and telemedicine. The UCA's benchmarking report also found that 1.7% of nearly 300 respondents indicated that they are providing diagnostic ultrasound in their urgent care centers. Gluckman believes that use could increase as the modality matures.
As patients decide where to go with their sudden health care needs, urgent care clinicians are looking for tools to aid in the diagnostic process and enhance their service offerings. Ultrasound could be the differentiator in that decision-making process.
— Kathy Hardy is freelance writer based in Phoenixville, Pennsylvania. She is a frequent contributor to Radiology Today.