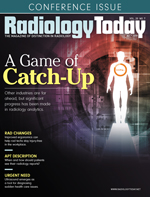 Editor's Note: Some Catching Up to Do
By Dave Yeager
Radiology Today
Vol. 20 No. 7 P. 3
No matter how we try, we all fall behind from time to time. Whether it be keeping up with office duties or chores at home, there are times when we realize that we're simply not up to speed. And that's OK, because it offers an opportunity to reflect on how we can improve our processes and get where we want to go. This month's issue offers a range of topics that deal with process improvements and ways to move in a positive direction.
Our cover feature delves into radiology analytics. As Dan Harvey reports, radiology has some catching up to do compared with other industries that use analytics to improve their service offerings, but it's not an insurmountable task. Harvey talks with a couple of leading voices in radiology—Paul Chang, MD, from the University of Chicago and Michael Recht, MD, from NYU Langone Health—to find out where radiology is with respect to analytics and what they foresee in the years ahead. One piece of advice: Get started. Now.
Another area where radiology needs to catch up is ergonomics. The challenges associated with radiology reading and workflow have been well documented, but what about the people who obtain the images? Radiological technologists are constantly bending, twisting, and stretching to get the views radiologists need for optimal reading, and that can take on toll on their bodies. Keith Loria looks at some of the ways to reduce physical stress on rad techs so they can keep delivering valuable service.
While we're on the subject of workflow, let's take another look at radiology reporting. Although patients are entitled by law to access their personal data, there are questions about the most effective means of communicating those data. Should patients receive the exact same reports as referring physicians? Or should radiologists create patient-friendly reports? There are solid reasons for both scenarios, and Beth W. Orenstein has a rundown of the challenges involved with each option. She speaks with several people who have pondered the matter to pick up some tips for giving patients what they want.
Speaking of options, a growing number of people are opting for urgent care centers over physician offices, and a growing number of urgent care centers are opting for ultrasound as a frontline diagnostic tool. Kathy Hardy reports on the trend and how it may affect patient care going forward.
Enjoy the issue.

david.yeager@gvpub.com