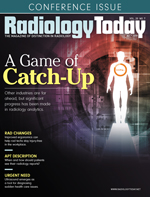 Machine Learning: Fresh Perspective
By Pamela Q. Fernandes, MD
Radiology Today
Vol. 20 No. 7 P. 8
A 13-year-old science ace identifies a new way to track cancer cells.
Rishab Jain introduces himself as a 13-year-old student from Oregon. There are no airs about him, as he talks about what he likes to do in his free time.
"I do programming projects," Jain says. "I'm a cross country track and field runner. I do science competitions like quiz bowl and science bowl, and I like Rubik's speedcubing."
As is apparent, Jain has been hooked on finding a problem and dedicating his time to finding a solution since fourth grade when he first started at the science fair. That dedication seems to have paid off, as he took home the 2018 Discovery Education 3M Young Scientist Challenge. He won $25,000 in prize money.
The inspiration for Jain's project was born in the summer of 2017 when he went to visit his brother in Boston, and he learned about pancreatic cancer research. "I learned pancreas cancer has a low survival rate of 1% after 10 years, and I was curious about the reasons," he says. "I did my own research and found that, for the past 40 years, the survival rates didn't go up."
That summer Jain started experimenting with AI, something he hadn't done before, since he was mainly involved in general programming. But he was intrigued enough to run every possible experiment on it and learn how it worked. "I was also looking for my next project," he says. "So I thought, why not combine these two areas of interest and help solve a problem and find a solution?"
After beginning in the summer of 2017 and developing the basic idea, Jain started working on his first prototype in the winter of 2018. He then entered the 3M contest, which allowed him to work with a mentor over the summer, and continually improved the tool until it was highly accurate. He says working with a mentor was very important, especially for someone like him who didn't have any experience in engineering design. He credits his mentor with helping him with the engineering process and furthering his development as a scientist and engineer.
Promising Results
So what did Jain create for pancreatic cancer cell tracking? "I developed a tool called pancreatic cancer deep learning system, which in short is called PCDLS. It is an artificial intelligence–based system, and its goal is to improve pancreas tumor tracking during radiotherapy. Currently, when radiologists use radiotherapy, the pancreas undergoes anatomical changes as it moves due to breathing, and this causes errors. The therapy is not as effective as it should be."
The PCDLS narrows down and focuses on the pancreas in real time. Jain explains how it's done: "By taking images of the abdomen and transforming that into a mask of where the pancreas is located, the radiotherapy is applied more accurately. I was able to develop a model and continually improve the efficiency and accuracy of the tool so it can get better at narrowing down the pancreas. AI and deep learning helped because normal algorithms can't perform such complex tasks in real time. I had to experiment with a lot of types of algorithms, but deep learning really worked the best. I also experimented with various types of machine learning classifiers as well, but found that deep learning created the most efficient and best working pipelines. As soon as an image is fed into the tool, it can instantaneously provide an output as to where the pancreas is."
Does Jain think a similar model can be created for other organs and tumors? "My tool is fine-tuned for the pancreas," he says. "The pipeline and architecture are focused on the pancreas. However, a similar methodology, by applying the same deep learning network and creating an architecture to work on segmentation of a tumor from another organ, is possible."
A major concern when it comes to AI in the medical field is replicability. Jain believes the best way to address that concern is to share the research. "I can write a research paper, display how the architecture works—how it takes an input and the various layers I used in between—and how I fine-tuned it," he says. "AI is having a huge boom in medicine, but there's not a lot of documentation and research right now. More research papers would be helpful for those replicating and improving the results."
Jain plans on becoming a surgeon but also wants to work on research. "I want to continue working in the area of pancreas cancer and AI," he says. "There are different problems in this area. Radiotherapy had great results, so I want to address other problems in pancreas cancer. I'm working on another project which applies radiomics to patient tumor slides from biopsies and uses that to extract valuable genomic data, like somatic mutations from tissue slide scans."
What is this 13-year-old genius' advice to radiologists looking to jump into AI? "Work on bringing new technologies to the field, especially in AI, because there's a lot of promise, and proven studies have shown that such technologies can be used to tackle complex problems," he says. He encourages the medical community to work and address the problems of the future by embracing AI instead of fearing it.
Although AI does show much promise, there are challenges in creating a tool like his. "It does take a lot of time, resources, and effort," Jain says. "After three years of research, I've come this far. I've created a five-year plan to continue working on the clinical technology and bring it to application in a clinical study but, in the end, it will take a decade to perfect it and bring this technology to the market. A lot of these problems require research, and that takes a lot of time and resources. It's frightening for those who want to conduct new research. Everything comes with such a cost and possible implications."
Despite the challenges, Jain still thinks that the medical community should embrace AI because he believes it can solve many of humanity's problems. And he hopes he can inspire many more people to do just that.
— Pamela Q. Fernandes, MD, is a doctor, author, and medical writer who specializes in new breakthroughs in medicine. More information is available at www.pamelaqfernandes.com.