August 2010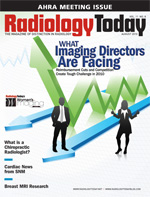 What is Chiropractic Radiology?
By Peter Hildebrandt
Radiology Today
Vol. 11 No. 8 P. 20
There are approximately 150 of them in the United States, but chiropractic radiologists are little known to most people in medical imaging.
Mention chiropractic radiology on an online message board or to a group of medical radiologists, and you'll likely be met with questioning looks. But Doctors of Chiropractic (DCs) regularly use imaging technologies in their practices.
In most states, plain film radiography is within a chiropractor's scope of practice, and many states allow a chiropractor to order and even interpret advanced imaging if they have the proper training and credentials, according to American Chiropractic College of Radiology (ACCR) President J. Todd Knudsen, DC, DACBR. Some larger chiropractic offices, especially those integrated with other healthcare professionals, may have diagnostic ultrasound or other imaging modalities available for their patients.
Though laws vary by state, chiropractors are often free to order advanced studies such as CT, MRI, or ultrasound, according to Gary A. Longmuir, MAppSc, DC, DACBR, of Diagnostic X-Ray Consultation Services in Arizona.
Many chiropractors rely on a chiropractic radiologist such as Longmuir to read and interpret films for them. According to the ACCR, there are approximately 150 chiropractic radiologists in the United States, with another 50 outside this country.
Chiropractic radiology is a specialized branch of chiropractic healthcare. Similar to medicine, there are generalists and specialists in chiropractic, according to Knudsen. Most chiropractors are generalists, and most specialties in the field require additional training in the form of postgraduate seminars or full-time residencies—as is required with chiropractic radiology—and then board certification examinations to earn diplomate status. In the case of chiropractic radiologists, the examining board is the American Chiropractic Board of Radiology (ACBR), widely considered the most stringent of the specialty boards in chiropractic. Chiropractors who pass this certification process and maintain their continuing education requirements may use the designation of diplomate of the ACBR (DACBR).
According to Knudsen, chiropractic radiology consists of interpreting, and sometimes performing, imaging exams such as plain radiographs, MRI, CT, and diagnostic ultrasound. Chiropractic radiologists are chiropractors who may own and operate consulting practices, treating practices, and/or imaging centers or teach in chiropractic or other colleges.
"The main difference between chiropractic radiology and medical radiology is in the areas of emphasis," says Knudsen. "Chiropractic radiologists are more like neuromusculoskeletal radiologists, and most medical radiologists are generalists. Another obvious difference is the fact that we are chiropractors and they are medical doctors."
Training and Certification
Chiropractors complete 300 to 400 hours of training in chiropractic school to learn about acquiring and interpreting plain film radiography, with some rudimentary training in advanced imaging—more for the recognition of imaging type and to have a better understanding of reports they may get from a radiologist, according to Knudsen. Chiropractic radiologists complete approximately 4,000 hours of training in practical and didactic training during their three- to four-year full-time residencies, and they are certified by the ACBR, an autonomous examining agency not affiliated with the American Chiropractic Association Council on Diagnostic Imaging or the College of Radiology. This way there is no conflict of interest or undue influence, according to Longmuir.
Chiropractic radiology residencies are conducted by schools accredited by the Council on Chiropractic Education (CCE). "The residencies themselves are not currently accredited; however, CCE has been discussing this possibility for years," says Knudsen.
"The chiropractic community has stayed current with imaging technology and is fluent in our ability to do the interpretation," says Longmuir. "Medical doctors in patient practice are exposed to diagnostic imaging as part of their undergraduate curriculum and do rotations in diagnostic imaging as part of their internship and residency. Radiologists in a medical community must do a four-year specialized residency in diagnostic imaging and then have to sit for a series of qualifying examinations. It is the same for chiropractic radiologists."
Chiropractic undergraduates take classes in pathology, soft tissue x-ray, bone x-ray and pathology, MRI, CT, and sonography. If they want to become certified in radiology, that residency lasts for three or four years. For the duration of the residency, those training for this career must learn radiation health safety, bone pathology, chest imaging, gastrointestinal imaging, genitourinary imaging, and MRI.
The certification exam consists of several days of testing before candidates are admitted to the ACBR and permitted to use the initials DACBR after their name.
"I know of a number of DACBRs who have gone to medical school in addition to all the training I've just discussed," says Longmuir. "These individuals have gone on to become medical radiologists or into specialized occupations in internal medicine, including a number of state radiation regulatory agencies.
"Chiropractic radiologists are diagnostic in nature," he continues. "We interpret plain film, CT, and MRI just the way medical physicians do. We are, however, predominantly bone and joint radiologists. We do read chest films and do gastrointestinal studies as well, but overall our forte is musculoskeletal studies."
Longmuir has a full-time practice and a large number of doctors, including chiropractic, medical, and osteopathic physicians, for whom he reads studies. Typically a courier picks up and drops off imaging studies to his office that have been taken at chiropractic clinics in and around his area. He also has film studies sent by mail and DICOM files sent via the Internet or on CDs.
Formal reports are dictated in the same manner as medical radiologists complete theirs, according to Longmuir. "We then provide these to the referring doctor, make recommendations, and answer questions on the phone. I'd be hard-pressed to find differences between us and regular medical radiologists. It's an integrated practice in which I interpret CT/MRI bone and joint radiology or musculoskeletal radiology, reading not just for chiropractors or DOs, but also for some MDs or even the occasional veterinarian in the area."
Scope of Practice and Reimbursement
A chiropractic radiologist's scope of practice is the same as it is for every licensed chiropractor in each state. They have additional training in radiology, but they practice under a chiropractic license.
Each state's law defines the scope of practice for any chiropractor licensed in that state. Chiropractors in all 50 states can take x-rays and may refer those exams for interpretation, according to Longmuir. The scope of practice also permits them to order advanced imaging studies; whether a third-party payer provides coverage is a separate matter.
Chiropractic radiologists are reimbursed by cash, lien, or insurance—like other chiropractors. "When it comes to billing, we can either bill for the primary read (the professional component of the x-ray services) or a second opinion," says Knudsen.
Chiropractors who do not have imaging equipment in their offices order the exam to be performed at an imaging center. Longmuir notes that his office is located above an MRI clinic. He interprets spinal and appendicular MRI studies for the facility, along with MRI studies from outside sent via the Internet, including international studies from places such as France, India, and Mexico. Each week, Longmuir catches roughly two fractures and one tumor in his work.
"The best advertising you can have is your reputation," says Longmuir. "If you are viewed by the referring doctor as a reliable source of diagnostic information, I think that is the best situation for someone in this field. This is what we all try to do."
Still, there is some criticism from medical radiologists that films from a chiropractor's office are poor quality, usually because older machines are used. Tracy G. Hoyt, DC, DACBR, of Hoyt Chiropractic in Murrieta, Calif., believes the quality of chiropractic radiology film is improving, though there are still challenges.
"I feel if the insurance companies were to reimburse us a little better for such tests as this, it would go a long way for us," says Hoyt. "We typically get $38 for the taking of an x-ray. How is a doctor going to keep his equipment updated with that amount?"
Seeking Common Ground
Asked how chiropractic radiologists may be viewed by the medical radiology community, Hoyt says, "I think medical radiologists don't have concerns regarding chiropractic radiologists—mainly because I don't think they know, for the most part, that we even exist. There are only about 200 of us. My guess would be that if those in medical radiology did have some concerns, it would be that we in chiropractic radiology would extend out beyond those areas that we are well versed in. But I don't think that the medical profession at large knows that there is such a thing as chiropractic radiologists."
That anonymity may change as chiropractic radiologists seek opportunities to share common ground with the medical radiology community in hospital and research space.
For example, Terry Yochum, DC, DACBR, FACCR, served as vice president and president of the ACBR for seven years. He is currently director of the Rocky Mountain Chiropractic Radiological Center in Denver and an adjunct radiology professor at Southern California University of Health Sciences, a chiropractic, acupuncture, and oriental medicine school. He has been on staff at the University of Colorado School of Medicine's radiology department as a skeletal radiologist since January 1991.
Yochum says imaging centers to which chiropractors refer their patients often use chiropractic radiologists to assist them in interpreting studies along with the medical staff. He says it is beginning to happen around the country that a chiropractic radiologist may work in conjunction with a medical imaging center to assist in referrals and interpretation of exams for chiropractors. Still, it's true that there simply aren't that many chiropractic radiologists around.
In New York, Jean-Nicolas Poirier, DC, DACBR, and Chad Warshel, DC, DACBR, recently earned clinical teaching privileges in the Canandaigua VA Medical Center. They will teach radiology to chiropractic students and residents as part of the college's master's program in diagnostic imaging residency. They are the first doctors credentialed by the VA to do so. New York Chiropractic College interns and residents will be given the opportunity to view a broad variety of radiographs and advanced imaging of the VA's chiropractic patients.
One question asked in the medical radiology community is how well can a chiropractic radiologist interpret images? While plain radiography of the spine is an established part of chiropractic practice, few studies have been done to indicate chiropractors' ability to read plain radiographs.
On their websites, many DCs refer to a study by de Zoete published in Spine Journal in 2002 and conducted at the radiology department at the Medical Center Alkmaar in the Netherlands. Five chiropractors, three chiropractic radiologists, and five medical radiologists read a set of 300 blinded lumbosacral radiographs, 50 of which showed an abnormality. The researchers found "small differences with little clinical relevance. All the professional groups could adequately detect contraindications to chiropractic treatment on radiographs. For this indication, there is no reason to restrict interpretation of radiographs to medical radiologists. Good professional relationships between the professions are recommended to facilitate inter-professional consultation in case of doubt by the chiropractors."
Stephen Perle, DC, a professor of clinical sciences at the University of Bridgeport College of Chiropractic in Connecticut, is the ethics columnist for Dynamic Chiropractic and the American Chiropractic Association's ACANews. On his blog, he wrote, "Lindsay Rowe, DC, MD, DACBR, taught me this 'technique' to deal with medical prejudice towards chiropractors. He said that to many MDs you are stupid until proven intelligent if they know you are a chiropractor. So prove you are intelligent and then let them know you are a chiropractor. I've used it often to great effect."
— Peter Hildebrandt is a freelance writer based in Rock Hill, S.C.

What Is Chiropractic?
According to Healthwise, as available on WebMD…
Chiropractic is a hands-on therapy based on the theory that subluxations in the spine may cause many medical disorders (especially disorders of the nervous system). Chiropractic medicine originated in the late 1800s in the United States.
Chiropractic treatments usually involve adjusting the joints and bones in a person's spine using twisting, pulling, or pushing movements. Some chiropractors use heat, electrical stimulation, or ultrasound to help relax the person's muscles before doing a spinal adjustment.
The primary theory behind chiropractic therapy is to help the body heal itself by correcting subluxation of the joints, particularly the bones of the spine (vertebrae).
What is chiropractic used for?
Research has shown chiropractic therapy to be effective in treating low back pain and to be helpful in treating neck pain and headaches. The effects of chiropractic treatment on nonspinal conditions, such as high blood pressure or asthma, have not been scientifically proven.
Is chiropractic safe?
Discuss with your chiropractor any potential risks associated with chiropractic treatment. Side effects may include minor pain or discomfort at the point of manipulation, headaches, and fatigue. Most of these effects go away within a day.
Rare but serious problems, such as a herniated disc and cauda equina syndrome, may occur when chiropractic therapy is used to treat back pain. These conditions can cause pain, weakness, and numbness in the buttocks and down the legs. And they may affect bladder and bowel control.
Rare but serious problems, such as a stroke or a tear in the artery in the neck, can occur when chiropractic therapy is used to treat neck pain.
Chiropractic students must have a minimum of 3 years (90 credits) of undergraduate study before applying to a chiropractic college. After completing a 4-year program, the chiropractic student receives a Doctor of Chiropractic (DC) degree. Chiropractors are licensed in every state and must pass a four-part exam with the National Board of Chiropractic Examiners.
Always tell your doctor if you are using an alternative therapy or if you are thinking about combining an alternative therapy with your conventional medical treatment. It may not be safe to forgo your conventional medical treatment and rely only on an alternative therapy.
— Reprinted with permission from WebMD