August 2010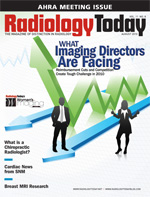 Hope to See You at AHRA
By Jim Knaub
Radiology Today
Vol. 11 No. 8 P. 4
AHRA is holding its annual meeting in Washington later this month. Radiology Today certainly will be there, so please stop by booth 335 to introduce yourself—if we haven't met—or to catch up since we last spoke. I plan to be at the booth during virtually all exhibit hall hours and would love to casually chat about what you're seeing in your hospital or imaging center that might generate a worthwhile story. One thing I know after years in the magazine business is that you never know where the next good story idea will come from. Radiology Today readers have provided excellent story ideas and tips in the years I've been with the magazine and website. Part of my plan is to collect some of your good ideas from talking at the booth, develop them into stories, and share them with our readers—you and your colleagues.
And this is a great time for the next good idea. Imaging directors are facing demanding times. Just running an efficient, quality imaging department doesn't seem good enough anymore. Reimbursement cuts are hitting everyone in radiology, and in many places the problem is compounded by soft exam volume from some combination of competition, the sluggish economy, and payers' attempts to curb utilization. Slipping reimbursement and volume packs a nasty one-two punch.
There's a lot going on in imaging. How is your hospital's relationship with the radiologists interpreting studies? Is it working for both sides? What is your competition up to, and how are you responding? We'd like to know what your biggest staffing challenges are in this environment, or how your staff is handling growing preauthorization requirements. But the biggest thing I'd like to accomplish is just meeting readers to develop a clearer sense of how we can serve you better. Don't be shy; stop by.
Enjoy the issue.