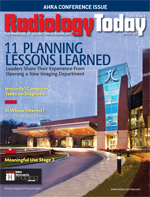 August 2011
Lessons Learned
By Jim Knaub
Radiology Today
Vol. 12 No. 8 P. 4
When the brand-new Meadows Regional Medical Center opened earlier this year, the people of Vidalia, Ga., and its surrounding communities welcomed a modern 57-bed hospital—including a new digital radiology department. Meadows' director of radiology, John Harrell, RT(R), talked with Radiology Today associate editor Juliann Schaeffer about what he and his team learned during the transition from the old hospital's radiology department to the new facility. The resulting article, "11 Planning Lessons Learned," appears on page 12.
What I found most interesting about the lessons is that the good people at Meadows were willing to point out some things they didn't get right the first time so Radiology Today readers can benefit from their experience. That reflects a commendable—and somewhat uncommon—candor for a hospital organization. Harrell's key suggestion was to think hard and often about patient workflow. Investing the time in reviewing and practicing patient flow can spot problems earlier, when it's much easier to correct them. Their experience should prove valuable to many of our readers who work with the approximately 45% of U.S. hospitals with less than 100 beds.
Also in this issue, contributor David Yeager offers an interesting look at PACS without RIS as an option for practices offering primarily teleradiology services. It's not so much about going RIS-less as it is about a modified reporting and communication package that's designed for this type of practice rather than using a full-blown RIS that may provide more than a practice really needs.
And there's an interesting look at IBM's Watson computer and its foray into medical diagnosis. After smashing Jeopardy! legends Ken Jennings and Brad Rutter in a three-day match, Watson is turning its computing attention to sifting through piles of medical information and using it to make a diagnosis. It's interesting stuff.
Finally, stop by our booth (#305) at the AHRA annual meeting in Texas later this month.
Enjoy the issue.
jknaub@gvpub.com