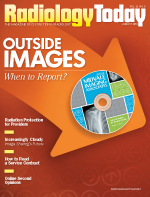 August 2013
How to Read a Service Contract — Take a SMART Approach to These Important Documents
By Jennifer Daugherty
Radiology Today
Vol. 14 No. 8 P. 8
You can't effectively run a hospital imaging department or imaging center without maintaining its equipment. That means understanding the warranty and service contract that come with new equipment or that you purchase after a warranty expires. Contract language can be ambiguous and perplexing, making the buyer question whether it intentionally was written that way.
Because the consequences of not abiding by the contract requirements could cause your business financial harm, you never should skim briefly over the terms and conditions then skip straight to the signature page. A signed contract becomes a binding agreement, and your power to negotiate more favorable terms and conditions essentially is eliminated.
Contract Details
An equipment service contract defines the terms under which the manufacturer or service provider agrees to perform maintenance and/or corrective repairs to the equipment for a specified amount of time at an agreed-on price. Services may include on-site repairs, depot repairs, planned maintenance, replacement parts, loaner units, and consumables. The buyer must understand that there are different types of equipment service contracts available, such as full service, preventive maintenance only, inspection only, depot service, labor only, and calibrations only.
Equipment service contracts come in all shapes and sizes: long, short, 10-point type, three-point type, terms and conditions at the beginning, terms and conditions at the end, and so on. Not reading and understanding this important document could be detrimental to your business. Management needs to extract and understand the key parts of a service contract before signing on the dotted line. To do this in an efficient, thorough, and effective manner, consider reading equipment service contracts the SMART way, focusing on these five components:
1. Service period. Coverage start and stop dates should easily be identified within the contract and prominently located somewhere near the beginning of the document. The dates can be listed as the contract coverage term, service start/end date, validity, and contract duration period, among other titles. This is important information, and you should fully understand when your service contract begins and when it ends. If you cannot locate these dates, contact your sales representative and get both of these dates from the company in writing. It's also important to know whether you are signing a multiyear contract or whether the contract automatically will be renewed year after year.
2. Maintenance services. As you read through a service contract, be on the lookout for the important terms "included" and "excluded." A thorough understanding of what is included or excluded as part of the contract will minimize unexpected expenses and help navigate future service issues. If you are unclear about any of the services provided under the contract, ask the provider to explain them in detail and get any clarifications in writing.
Most equipment requires some form of preventive maintenance, so you need to know whether this is covered under the contract and how many maintenance visits are allowed annually. You also want to know what services are completed during a preventive maintenance visit.
In addition, determine the answers to questions such as these: What service hours are covered under the contract? Does service mean 24/7 coverage or some other defined set of business hours? Are weekends considered part of business hours? Will there be extra charges for service after hours, on weekends, and on holidays? Are parts, labor, and travel included in the charges? Are there other restrictions? Are glassware and consumables covered? Is there a clear definition of what is considered a consumable? Will the provider supply loaner equipment if your facility's will be out of service for an extended period of time? Will you be responsible for shipping charges?
Beyond the hardware, you need to understand any software issues. Are software updates and/or upgrades covered? If the vendor guarantees its service response times, will refunds or credits be applied if they are not met? Is telephone support included?
3. Additional coverage. Any additional coverage or supplemental coverage will increase the contract price, but it is important to get this on the table before signing the contract to eliminate any misunderstandings about what is included or excluded. If you believe your equipment requires an additional preventive maintenance visit or if you notice that glassware is excluded under the standard coverage, you can ask to have that added to the contract. Once again, it is important to get everything verbally promised to you in writing.
4. Replacement parts. Are replacement parts included in the contract price? It's also important to know whether the parts used will be new or refurbished. In some cases, replacement parts may be provided on a new or refurbished basis at the manufacturer's discretion as long as they meet original equipment manufacturer standards as a new part. Are shipping costs included or will you be billed? Are the shipping terms standard or overnight?
5. Termination of contract. Never presume that you can terminate or cancel a service contract before the expiration date without having to pay a fee, which can be costly. Manufacturers will penalize the customer anywhere from 25% to 50% of the remaining contract charges. Often, long-term or multiyear contracts will not provide an out clause for the customer but will permit the service organization to terminate the contract for any number of reasons. You want to make sure that you understand what circumstances would cause the service provider to prematurely terminate the contract.
Get SMART
After reading several equipment service contracts the SMART way, you should find it easier to identify important contract clauses no matter how they are written. It also helps to make a list of what your center requires, equipment usage, age of the equipment, and your budget. There also are third-party companies available to analyze your equipment service contracts and provide an unbiased assessment.
— Jennifer Daugherty is a business development coordinator for Remi, which provides equipment maintenance and management programs for health care, government, and other industries.