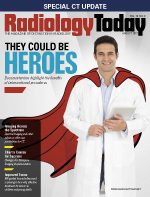 They Could Be Heroes
By Jeannette Sabatini
Radiology Today
Vol. 18 No. 8 P. 12
Documentarians highlight the benefits of interventional procedures.
This is the story of today's real superheroes … the inspired doctors who are saving lives and treating clots, cancers, disease, stroke … all without a scalpel.
That's the excerpted intro to Without a Scalpel, a documentary series about patients undergoing minimally invasive, image-guided procedures (MIIPs) and the "superhero" interventional radiologists who treat them. Cocreators Susan Jackson, RT(R)(CV), a former interventional technologist with an MBA and a marketing background, and Isabel Newton, MD, PhD, an interventional radiologist, started the nonprofit organization to raise awareness about MIIPs and the interventional radiologists who perform them. They say the organization's mission has been successful, which is especially important since many people remain clueless about MIIPs as a treatment option, including patients, referring physicians, and hospital executives. In the words of Gregg Alzate, MD, an interventional radiologist who is featured in the first episode of the series: "No one can figure out what I do!"
The organization, called the Interventional Initiative (II), has drawn attention to the advantages of MIIPs through engaging and user-friendly educational tools, including the documentary series, a website, social media channels (Facebook and Twitter), and video podcasts that teach the value of individual MIIPs with quick yet personal patient stories. The series is currently distributed via on demand platforms (Amazon Video, Vimeo Films, Tubi TV, realeyz Indie Films) through Kinonation, a digital distribution firm based in Santa Monica, California. The II partnered with a production company called Evolve Media Production to make the series. Jackson is cofounder and CEO, and Newton is cofounder and chairperson of the board. Newton also is a physician-scientist practicing in the field of IR at the VA San Diego Healthcare System and the University of California, San Diego.
Small Miracles
Since the II's inception in 2015, teams of professionals on both the medical and creative sides have worked hard to accomplish what Alzate says has been needed for years: "to restart the rebranding of what [interventional radiologists] do." What interventional radiologists do is explained this way in the documentary: "Traveling through the blood vessels like highways, they penetrate the microcosmos of human anatomy, offering big solutions without big incisions, expanding the realm of the possible, giving hope where there was none."
A basic, though less poetic, explanation is offered on the II's website: "By using medical images like X-rays to see inside the body, specialized doctors can treat major diseases through a pinhole." These diseases and conditions include those that affect the brain, lung, chest, liver, gallbladder, stomach, intestines, kidneys, back, bones, legs, stomach, and intestine. They also can be used to treat health conditions that affect women (eg, infertility, fibroids, bleeding after childbirth) and men (eg, infertility, enlarged prostate).
"There are so many advantages to MIIPs," Jackson notes. "These procedures often offer lower complication rates and a shorter recovery time. They get people back to their normal lives quicker."
Newton adds: "People leave with a Band-Aid. You can cure cancer in an hour or less and take somebody who is completely incapacitated and make them walk again. It is nothing short of small miracles."
With so many benefits, one would expect to see MIIPs featured in articles published by other radiology organizations or in the mainstream press, but that is rarely the case, says Alzate, who is the chief of vascular radiology and IR at Sharp Memorial Hospital, San Diego Imaging. For that reason, he is excited about the II's work, including the Without a Scalpel documentary series. In his 30 years of practice, Alzate says this is the first time he has witnessed the production of something as important as this, the "simplest visual example of what we do."
"We needed to do something that nobody else was doing to get the attention of health care consumers," Jackson says. "It had to be entertaining and engaging. So we started making the documentary series."
The Human Side of IR
Two of many planned episodes are now available, and a third is in the production stages. Episode 1: Bloodless, focuses on the stories of three women who suffer from blocked blood vessels; Episode 2: The Cancer Snipers, released in May, features the story of cancer patients; and Episode 3 will focus on women's health, featuring procedures such as uterine fibroid embolization and conditions such as pelvic congestion syndrome.
"Our goal for making the documentary was to use the vehicle of compelling patient stories to educate the public," explains Newton, who serves as director and a contributing writer. "People connect with these stories in a palpable way. The episodes will depict the gamut: people with rare diseases who have been told that they have no other option, people who are facing amputation who leave on their own two feet, patients who are struggling to preserve their quality of life in the face of a difficult cancer diagnosis."
The documentary also portrays the human side of being an interventional radiologist, which serves to personalize the overall experience of undergoing a MIIP. In the first episode, viewers see the personal side of Alzate and one of his patients, Margarita. Viewers are taken to Margarita's bedside in the hospital. Her leg is raised, and her toes are exposed; they have gone black from gangrene. Her daughter rubs her hand in an effort to calm both of their fears, since such cases typically require some form of amputation.
Later, we join Alzate on the job at Sharp Memorial Hospital. He is performing a MIIP to treat Margarita's blocked blood vessels. We watch the same screen he watches as he uses an angioplasty catheter to perform the MIIP that will save Margarita from an amputation.
Eventually, we join Margarita at a ceremony within a large auditorium filled with cheering people. Her daughter tells us that within a week of her MIIP, Margarita was well enough to go to the ceremony, where she became an American citizen.
Putting a Face on Radiology
Usually unrecognized by the public, interventional radiologists have long been working in the shadows, but Without a Scalpel is trying to change that. This effort benefits diagnostic radiologists, too, Newton says: "Good interventional radiologists are focusing more on complete patient care, and many see this as a way of bringing a face back to radiology. By personalizing the services we provide, we add value, and patients are less likely to be sent out to remote sites where services are less expensive. I think this is the key to the continued success of IR, and radiology in general. We have to provide more personalized care to our patients."
Although better recognition could bring more business to interventional radiologists—and that is a good thing—that end result is not the reason the II does what it does, Newton and Jackson say. "I am not lining my pockets," Newton says. "The goal of the II is not at all self-serving. We do this as a nonprofit. It is entirely a public service-type mission because patients actually do worse when they don't understand their options."
Jackson adds: "We are not telling people that this is the choice they should make. We are just saying, if patients have this information, they can make a better choice for themselves or for their family."
Patients who are better informed should be able to discuss MIIPs with their referring physicians, but referring physicians do not always know enough about MIIPs, according to an II survey. "Some of that [lack of awareness] is due to the fact that this is one of the most rapidly innovating fields of medicine, and it has been for decades. Even primary care physicians have trouble keeping up with the breadth of diseases that can be treated in this way," Jackson explains.
The survey also proved that hospital executives need to know more about the procedures. "If they do know that IR exists, they couldn't tell you the breadth of procedures or the value of those procedures to the hospital, and they certainly don't use those value points to market their hospital systems and their centers of excellence," Jackson says. "To me, as a marketing professional, that is a miss."
Not the Last Resort
Alzate believes some professionals put their own financial gain first before suggesting MIIPs as an option. "If general surgeons insisted on exploratory laparotomy for cancer diagnosis, there would be a raging scandal. They gave that up in the face of a MIIP called percutaneous biopsy, which is highly effective and efficient and saves countless lives," he explains. "They gave the money up for collective health."
Professionals should never play dumb for their own financial gain, Jackson and Newton stress. "The truth of the matter is informed consent means that these physicians are obligated to discuss all options with patients so that patients can be informed to make their own decisions," Jackson says. "But, unfortunately, that does not always occur when it comes to these minimally invasive procedures."
Surgeons may worry that MIIPs will put them out of business, but Newton says that is not likely to happen. "Everything can't be solved with one tool; you can only treat people by having the full complement of tools in your toolbox," she says.
Jackson adds: "It's not an either/or kind of thing; minimally invasive procedures sometimes complement surgery or are sometimes done pre- or postsurgery."
According to Newton, many professionals know about MIIPs and their advantages but still do not make room for them at the treatment table. "We are basically the S.W.A.T. team that gets pulled in, do our thing, and then we get out. We are not there for the glory, but when we get called in at the 11th hour every time to do the really difficult thing, why shouldn't we be called at the first hour to do it when it's easy?" Newton notes. "When you do something and it can really help someone in dire circumstances, it shouldn't be the option of last resort."
Fortunately, medical students will come out of school with a better understanding of MIIPs since Newton, who serves as program director for the research residency, also conducts lectures at medical schools. In addition, medical students seem to have taken a liking to the documentary. "Through social media, we have gotten feedback saying that medical schools have had watch parties where they viewed Without a Scalpel or the trailer," Jackson says.
The II was started with little funding and continues to rely on support to fund its many projects. "We are not trying to promote any particular physician or trying to sell products; we are trying to educate the public," Newton says. "That gives us a lot of moral responsibility and artistic license, but it also makes it difficult because it makes us dependent on donations and successful fundraising."
According to Newton, the II has had enormous support from the worldwide IR community. The documentary is supported by the Western Angiographic and Interventional Society. "Because we are recognized by those who support our mission, it deepens the value of what we are doing," Newton says. "This is a passion project supported by a lot of people."
— Jeannette Sabatini is a freelance writer based in Malvern, Pennsylvania.