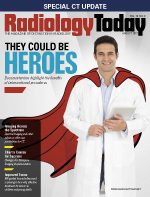 Imaging Across the Spectrum
By Keith Loria
Radiology Today
Vol. 18 No. 8 P. 16
Spectral imaging and other advances offer new possibilities for CT.
The CT market is stable, if not growing, in 2017. Hospitals will continue to invest in CT technology, as imaging use increases and CT is used as a first-line imaging device, especially in emergency departments. CT scanners are fast, continue to offer lower doses, and can prove to be total-cost-of-ownership solutions to providers. Dose reduction is still key, but image quality, resolution, and improvements in workflow are becoming more important to customers.
Matthew Dedman, marketing director for CT at Siemens Healthineers North America, sees a great deal of CT industry interest in dual or multienergy—also called spectral—CT, which allows for more confident diagnoses by delivering functional and quantitative information from traditional CT scans, and new workflow concepts, including technology that will bring significant efficiencies and standardization of results to CT imaging. He has also seen interest in mobile stroke imaging that equips ambulances with hospital-quality CT scanners.
The gradual shift from fee-for-service to value-based payment systems is driving a shift in the industry to focus more on improving clinical and economic outcomes for customers and patients. Health care providers want to be able to diagnose patients the first time they scan them. When they choose CT for their imaging needs, they want to be able to determine what the next steps in a patient's treatment should be. This is one reason why spectral/multienergy technology, which can reduce indeterminate findings, is getting a lot of attention from the CT community.
"Because spectral results bring new layers of clinical information and better characterization of diseases for a more definitive diagnosis, this technology has moved past the academic level on a path to becoming a standard of care for CT imaging," says Lakshmi Gudapakkam, general manager of diagnostic imaging at Philips.
In addition, Jamie McCoy, GE Healthcare's molecular imaging chief marketing officer, has seen a lot going on in the digital space—what he calls a cross-imaging opportunity for community-based care to be shifted into clinics.
"We think there will be a 50-times data growth in health care by the year 2020, and there's a lot of buzz about the role digital offerings will play in diagnostic imaging," McCoy says. "There's a lot of activity in artificial intelligence and deep learning, and we expect to see more of that in the imaging space." He adds that a number of trials have revealed some compelling outcomes around CT for cardiac use, and he thinks those studies may drive growth in the cardiac CT space.
A Spectrum of Choices
Here is a look at what some of the major manufacturers currently have available:
Carestream
Helen Titus, Carestream's worldwide marketing director for ultrasound and CT, notes that the company has recently introduced its Carestream OnSight 3D Extremity System, which uses cone beam CT technology originally developed for the dental and ear, nose, and throat markets, to provide 3D imaging of extremities.
"It's designed for use by orthopedic specialists who can now capture 3D images, diagnose the condition, and consult with patients in the same office visit," Titus says.
Technological advances for Carestream's OnSight 3D Extremity System include metal artifact reduction software, iterative reconstruction that helps improve image quality, and the ability to offer a significantly lower dose than traditional CT systems. It also includes a streamlined diagnostic process.
"The OnSight 3D Extremity System equips orthopedic specialists to care for a wide range of diseases and conditions that occur in an aging population as well as recreational and professional athletes who suffer injuries," Titus says. "This system also avoids the need for a whole-body CT scan that is more expensive and delivers a higher radiation dose to patients."
GE Healthcare
GE Healthcare's McCoy says the company offers the Revolution CT with GSI XTream, which provides clinical capabilities through the convergence of coverage, spatial resolution, temporal resolution, and spectral imaging. The GSI Xtream extends GE's Revolution CT platform with its wide collimation and 50 cm field of view to deliver the only volume spectral CT. McCoy says this technology has significantly improved Revolution CT's workflow.
"We're seeing [the] clinical impact of being able to detect smaller lesions as well as to add [the] additional information that GSI or dual energy brings by also being able to characterize the lesion," he says.
Philips
While conventional images often produce ambiguous data that can require additional testing, spectral images provide a more in-depth look at pathology, often helping to increase diagnostic accuracy. Gudapakkam says the Philips IQon Spectral CT provides on-demand spectral results through its proprietary detection-based solution, meaning clinicians don't have to select whether they want spectral results for a patient up front.
"Spectral results are available for every patient scanned on the IQon, which helps to increase diagnostic confidence [and reduce] the need for downstream testing," he says.
The IQon Spectral CT reconstructs data by capturing high and low X-ray energies at the same time and in the same space—breaking down energy-specific information into slices that highlight specific materials contained in tissues. Additionally, the IQon Spectral CT is equipped with the Spectral Diagnostic Suite, which includes a Spectral Magic Glass and Magic Glass on PACS app.
"While Spectral Magic Glass allows you to view and compare several different spectral results at the same time for a specific region of interest, the Magic Glass on PACS app provides the ability to review and analyze spectral results from anywhere in the organization via an organization's PACS system," Gudapakkam says. "On the IQon, spectral results are always on and can always be reviewed and analyzed on-demand on PACS, anytime, anywhere."
Siemens Healthineers
Siemens Healthineers recently launched its SOMATOM go. CT platform, which for the first time brings a mobile, tablet-based workflow to the operation of a CT scanner. Dedman notes that this drastically changes the historic CT technologist workflow that involves spending a majority of time in the control room at the CT console.
"Now, the technologist can spend the majority of the time in the scan room, tableside with the patient, walking them through what's happening with the procedure, what the breathing commands will sound like, what the IV contrast will feel like when it comes in, and just comforting the patient throughout the exam," he says.
Additionally, with a wide detector that provides up to 64 slices, the SOMATOM go.Up offers faster scanning and tin filtration, which is particularly important for lung imaging, eg, to screen for lung cancer. It also uses some of the lowest radiation doses achievable for a CT of this class.
Toshiba
Toshiba Medical launched its Aquilion ONE GENESIS Edition at RSNA 2016—a compact premium scanner with sharper resolution and First MBIR, which can improve high-contrast spatial resolution up to 129% while reducing radiation dose up to 85.3%.
"The system is fast, with reconstruction times up to 80 images per second, and small, fitting into a footprint of only 204 square feet [19 square meters]," says Tim Nicholson, senior manager of market development for the CT business unit at Toshiba America Medical Systems.
In April, Toshiba Medical also launched its newest midtier-value CT solution, the Aquilion Lightning 80, with slice flexibility ranging from 40 to 80 to 160. Further rounding out its platform, less than a year ago, Toshiba Medical launched the Aquilion Lightning 16/32, an entry tier solution.
"Customers are wanting high-end technology advancements on all their CT systems," Nicholson says. "For instance, SEMAR [Single Energy Metal Artifact Reduction], iterative reconstruction, and workflow enhancements are all things that our customers are asking for and that we have made standard across our product line of CT systems."
Impact of Recent Legislation
Starting in 2018, the Centers for Medicare & Medicaid Services (CMS) has mandated appropriate use criteria and clinical decision support when ordering Medicare outpatient advanced imaging. This is expected to dampen CT procedures modestly in the long term, but it helps establish radiology as a leader in promoting evidence-based imaging care and patient safety while demonstrating to the C-suite and CMS/Medicare that radiology is doing its part to control costs and increase collaboration.
"However, the current uncertainty surrounding health care legislation and the potential for fewer insured citizens has caused concern amongst providers," Nicholson says. "Patients will still need imaging exams, but without providers knowing how they'll be paid, vendors will be pressured to offer a total-cost-of-ownership solution that can help decrease operational costs."
But, because of CT's critical use as a first-line imaging modality, Dedman thinks proposed legislation probably won't have a significant impact on the industry.
"It is ingrained into so many care pathways, particularly for those patients who come into the emergency department," Dedman says. "If anything, I think recent legislation has increased the utilization of CT. In 2013, for instance, it was recommended for low-dose lung cancer screening, opening up the modality to screening procedures for the first time. We've seen that trend continue more recently with the recommendation that CT be used for colon cancer screening as well."
The Future of CT
Most agree that the market will continue to grow in the future. Carestream's Titus believes future imaging systems may include new features like data analysis tools and automatic measurements, and, in the coming years, she expects to see an increased volume of extremity exams, as musculoskeletal conditions and injuries affect patients of all ages.
Moving forward, Gudapakkam believes spectral/multienergy technology will continue to evolve, providing the ability to obtain more information from images—an important factor as the industry shifts to population health management.
"Spectral detector CT will be able to routinely deliver anatomical information as well as the ability to characterize structures based on their material makeup, within a single scan," he says. "This will change and improve clinical pathways to personalized medicine."
Many also anticipate that the biggest change in CT will be driven by artificial intelligence, computer-aided diagnosis, data integration, and expanded analytics for both clinical purposes and productivity.
"Vendors will continue to develop solutions for lower dose, improved resolution, and improved workflow that will remain important in busy environments in which CT systems are typically found," Nicholson says. "Additionally, using big data and artificial intelligence, [the utility of] CT exams will continue to grow, and the market will see improvements on how big data is used to change clinical pathways and improve care."
— Keith Loria is a freelance writer based in Oakton, Virginia.