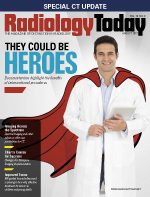 Chart a Course for Success: Strategies for Enterprise Imaging Implementation
By Kathy Hardy
Radiology Today
Vol. 18 No. 8 P. 20
An Enterprise sailed the seas during WWII, flew into orbit as the first space shuttle, and carried Captain Kirk to the final frontier. In health care, clinical specialists and executives are now using a different type of enterprise to chart a course of unified data collection, storage, and sharing. With images being generated in radiology and beyond, medical facilities are developing and implementing comprehensive enterprise imaging strategies that will lead them to consolidated patient data.
"Imaging is not just for radiology," says Eric Rice, chief technology officer of Mach7 Technologies. "You need to also consider the specialties where images are generated by patient encounters: dermatology, endoscopy, or wound care. Any clinical media generated via patient encounters across all specialties create the complete imaging picture. All should be included in the consolidation of patient data within an enterprise imaging strategy."
Need a Good Map
As with any successful voyage, it all begins with a map. In the case of an imaging enterprise, the route provides details for what needs to be linked.
"It's not about the size of the facility but, rather, the number of areas being linked together that determines the project size," says Paul Shumway, senior vice president at Novarad. "The area to be navigated could be a large organization with many sites to link together or a small organization with many departments that need to be connected."
As Rice notes, an enterprise strategy needs to travel "deep and wide" to serve the specific needs of each site. Strategies need to account for not only cross-department consolidation but also singular departments which may span sites, as well as disparate information systems accumulated from mergers and acquisitions.
Shumway believes some people are being misled about where to start. "People often think it's more about the archive than the workflow. You need the archive, but it's not everything to just get a VNA [vendor neutral archive]. You need to address workflow."
Logistics aside, those with experience in establishing an imaging enterprise say it's vital to create a governance and policy strategy. Consider who is going to be involved in defining and managing the enterprise imaging strategy. While there is an expectation that there will be points of debate during the process, defining a strategy for how questions will be resolved helps planners reach consensus.
"Create a council with key leaders throughout the enterprise to guide the project, provide oversight, communicate with decision-makers, and coordinate with other projects related to enterprise imaging," says Louis Lannum, senior strategic solutions consultant with Agfa Healthcare. "This team of champions also helps support and obtain buy-in throughout the organization."
An enterprise imaging plan impacts all specialties that function within a health care organization, as well as all facilities associated with that group. Resistance can develop as individuals from different groups bring their own department biases with them. With that, it's vital to build a governance program around the entire entity, which includes thought leaders and decision-makers who are willing to be governed, to come up with one strategy that serves the imaging and data needs of the collective group of health care providers.
Oftentimes, members of the governance team look to radiology as a mature imaging department. With that, best practices used by radiologists can be modified for use in the enterprise. As Lannum describes it, radiology, teamed with image-dependent cardiology, working in conjunction with IT, can bring enterprise proponents from other departments to form a team of individuals who can visualize a system that melds together all data and imaging within a health care organization.
"Your governance reflects the culture of your organization," Lannum says.
Learn by Example
While director of enterprise imaging at Cleveland Clinic, Lannum oversaw the incorporation of the facility's enterprise imaging system. The project began with a VNA that was purchased for radiology storage. By increasing storage and adding a workflow engine, they began integrating with departmental systems. In the end, all images were captured in the VNA and users could access them through an image viewer that integrated with the clinic's EHR system. Point-of-care imaging programs were also added to the enterprise.
"You can have over 70 departments producing some type of image in a large medical facility," he says. "You need to do an assessment of your imaging processes. Look at who captures images, how those images are being stored, how departments and facilities are sharing images, and whether metadata is being collected."
Managing Workflow
The next step is to select the architecture. This is where the parties involved need to consider how they manage workflows. In radiology, nothing happens without an order. Other departments capture images as the result of a procedure.
"Regardless of how you capture the image, you need to have a workflow that will mesh with data already contained in your [EHR]," Lannum says. "When you have an image-capturing event, it's not always front of mind what data you want to associate with that event."
Standardization
When developing a strategy to consolidate imaging, Rice says there needs to be consistency in the data that are collected. Things like the number of digits in a patient ID number, procedure descriptions, prior hospital visits, and how billing is handled all need to be localized across the enterprise—department to department and facility to facility.
When talking about standards for an enterprise imaging system, Lannum says it's about the metadata. Each department or facility within a hospital network is collecting the same data. However, they're labeling those image capture events differently.
"In an enterprise imaging strategy, you need to develop standards on nomenclature, anatomy, etc," he says. "It's extremely important to standardize all aspects of image and data naming. Not only is this helpful in diagnostics, but capturing enough of the metadata can also help to drive business analytics down the road."
When to Start
A good time to start the process is when a hospital is installing or upgrading an EHR system or PACS replacement. Users are already demanding access to images and other data. Including an enterprise imaging system helps make more data available to physicians.
"The conversation starts with the specialist or specialty IT departments, often radiology, and from there, up through to the CIO," Rice says. "Some hospitals have formed enterprise imaging departments with a director that reports up through the CIO. The CIO defines the strategies with the director of enterprise imaging."
Making the Pitch
Getting buy-in from the C-suite can be a challenge, Shumway says. It comes down to showing the value of an enterprise system.
"Maintaining little archives of images throughout the hospital is costly," he says. "You can show them how consolidating imaging from all aspects of the patient care process reduces costs. It helps with CPT codes. It also helps with reimbursement, as physicians can better diagnose patients' conditions with access to their entire image history. Better diagnosis also leads to fewer readmissions."
Much of the cost-savings comes from operating multiple image storage mechanisms throughout one hospital, as well as among multiple facilities within one health care organization. Consolidating image storage and sharing cuts down on printing costs, as there is no longer a need to pass along hard copy versions of images. The same can be said for the elimination of burning CDs or saving images on SD cards.
Lannum recommends taking a clinical approach when pitching the benefits of enterprise imaging. It should be part of a larger EHR strategy.
"Sixty percent to 70% of the data that doctors need in the [EHR] is missing, and images are a big part of that," he says. "With an enterprise imaging system, you're driving data downstream to clinicians who don't have access to all the data they need to make the best decisions for their patients."
Business Impact
Enterprise imaging strategies should also tie into a medical facility's business strategy, according to Ambra Health CEO Morris Panner. Current health care industry trends reflected in enterprise imaging strategies include consumerism and payment models. Patients are increasingly acting like consumers who have a choice in their health care options, trying to make the best decisions for quality and cost, just as they do with any other commodity. High deductibles leave patients paying out of pocket for their medical care. They're questioning decisions regarding their care, as well as the data doctors use to come up with their medical diagnoses. Data tie all that together.
"Enterprise imaging should be a C-level priority, tied to the organization's business plan and core imaging strategy," Panner says.
He says using the cloud enables better collaboration among specialists and is particularly helpful in second-opinion programs.
"The cloud is the key to accumulating data and enabling productivity," Panner says. "Even those installing software on desktops need a cloud strategy to optimize interoperability and collaboration"
New England Baptist Hospital (NEBH) in Boston implemented a cloud-based enterprise imaging solution in 2015 in an effort to reduce the surgery center's multiple PACS. The facility is unique in that more than 95% of its associated physicians are private practice physicians. As a result, NEBH deals with a large number of disparate systems that exist in separate silos.
Rowing in One Direction
Tyler Martin, MHA, executive director of ambulatory network operations at NEBH, leads and implements patient-centered programs and initiatives across radiology, pain management, spine center, occupational medicine, outpatient physical therapy, and sports performance. He spearheaded efforts to adopt an enterprise imaging strategy at the facility.
The goal of implementing an enterprise imaging system at NEBH was to optimize image and data workflow. Planning began at the time the facility was going through a full RIS and PACS upgrade. "We needed a solution for use by physicians who work external to the hospital," Martin says.
The hospital's initial solution involved supplying physicians associated with the hospital with PACS workstations, either on site or off site. This approach was expensive and inefficient, Martin says. In addition, most practices didn't have IT support staff, leaving physicians to take on the tech support role.
The same team—hospital personnel and physician stakeholders—working on the RIS/PACS upgrade also took on the enterprise imaging piece. Those same people were also a part of the request for proposal [RFP] development process and participated in vendor interviews.
"Anyone who would ever touch the system was seen as a champion for the project," Martin says.
Centralized Access
At NEBH, patients are first seen at a physician's office outside the center. Someone else, a primary care physician, has already ordered the imaging before the patient is referred to the orthopedist. After they see the orthopedist, the patient comes to NEBH for surgery or other treatment.
"Without an enterprise imaging network, images would need to be saved onto a CD and delivered by the patient to the specialist, then to the surgery center," Martin says. "Then you have the issue of managing the CD. Does the patient want it back? Does it go back to the primary care physician?"
Now, the patient's image is stored in the enterprise system. Patients can access their own images remotely, as can any of the physicians involved in their care.
"We are working with our partners to be able to transfer images electronically to our doctors or even other hospitals," Martin says. "If a patient needs to go to a rehab facility after surgery, we can push images out to that facility. Patients no longer have to carry their images with them everywhere."
The Sky's the Limit
Martin believes that when working on an RFP for an enterprise imaging system, facility leaders shouldn't limit their list of needs. Consider all possibilities.
"Don't get bogged down in the restraints of your current system," he says. "Use this as an opportunity to shoot for the stars. If it's something that's mission critical [and] that enhances the patient experience, then don't rule it out."
— Kathy Hardy is a freelance writer based in Phoenixville, Pennsylvania. She is a frequent contributor to Radiology Today.