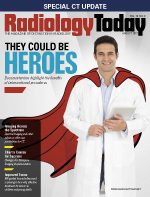 Editor's Note: Innovative Approaches
By Dave Yeager
Radiology Today
Vol. 18 No. 8 P. 3
Progress takes many shapes, especially in the field of medical imaging. Sometimes, it can take the form of a technological advance. Other times, it can be the refinement of a process. Occasionally, it's just a matter of presenting an existing entity in a new way. In this month's issue, we present a little of each.
First up, Jeannette Sabatini reports on an interesting project that was started by an interventional radiologist and a former IR technologist. The project, called the Interventional Initiative, produces documentaries and other promotional materials about IR to raise awareness of the specialty. As Gregg Alzate, MD, says in one of the documentary episodes, "No one can figure out what I do!" but the Interventional Initiative is trying to change that.
Also, Keith Loria looks at the latest trends in CT. While dose reduction is always on the agenda, advances that promise better visualization without added radiation are generating interest. With the pay-for-performance movement gaining steam and hospitals increasingly using CT as a first-line modality, better visualization will be at a premium in the coming years.
Next up, Kathy Hardy asks imaging informatics experts about their thoughts on the most effective ways to implement enterprise imaging. Her article about enterprise imaging strategies provides a road map for these efforts as well as some real-world examples. As access to images becomes a must-have in today's health care environment, even organizations that aren't ready to take the enterprise imaging plunge need to start thinking about it.
Finally, Beth Orenstein looks at research efforts to evaluate the use of MR-guided focused ultrasound in pediatric patients. MRgFUS is already approved for uterine fibroids, pain related to bone cancer, prostate cancer treatment, and essential tremor, but proponents believe it can have much wider applicability. Because it doesn't emit ionizing radiation, it may prove to be especially useful for treating pediatric patients.
Enjoy the issue.
david.yeager@gvpub.com