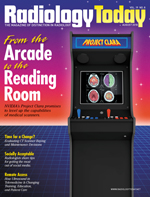 Socially Acceptable
By Gail Snyder
Radiology Today
Vol. 19 No. 8 P. 20
Radiologists share tips for getting the most out of social media.
When she was a radiology resident in 2009, Tessa S. Cook, MD, PhD, signed up for a Twitter account. Her goal was to use the social media platform for personal use only, so she chose @asset25, her first name spelled backwards, as her handle. Five years later, the assistant professor of radiology at the Perelman School of Medicine at the University of Pennsylvania in Philadelphia had an epiphany. "I started to realize that there was a significant radiology community and presence growing on Twitter that was using it for professional reasons. So, it was at that point I started tweeting at radiology meetings," she says.
Cook, who is also a member of Radiology Today's Editorial Advisory Board, quickly morphed from using Twitter as an information-gathering tool to joining in the conversation and mining Twitter's potential for collaboration with colleagues far removed from her everyday world. Today she has more than 2,500 Twitter followers.
Using social media for professional development as Cook does is an important part of its allure. But it is not the only draw: Alexander Towbin, MD, is using a variety of social media platforms to promote the accomplishments of the radiology and informatics departments at Cincinnati Children's Hospital (CCH), where he is associate chief, clinical operations and informatics, and Neil D. Johnson chair of radiology informatics. Although he works with a dedicated social media team, he is the guiding force behind the department's popular CincyKidsRad blog, Facebook page, YouTube channel, and Instagram and Figure 1 accounts. The department's social media efforts started in 2012 with the creation of a Facebook page and Twitter account. Additional social media platforms were added when it became clear that each was capable of reaching different audiences. From early on, social media was embraced as a way for the department to become better known for its services to patients and the people of Cincinnati as well as to attract applicants to its fellowship program.
"We think we do a lot of things very well in our department and informatics team," Towbin says. "We go to meetings like RSNA and SIIM, and we see we are on the cutting edge in so many categories. But we struggled with how we could let people know about all of our innovations. Compared to other large academic radiology departments, we are part of a small hospital, and the thought was that social media was the way that we could advertise."
As Towbin does, Sumer Sethi, MD, uses multiple forms of social media, often to educate medical school students. Among his platforms is Sumer's Radiology Blog, which he has been writing from his home base in New Delhi, India, since 2004. Sethi says it is one of the oldest continuously running radiology blogs in the world. With 14,087 page views in the United States and India alone, the blog discusses cases and images that relate to neuro, chest, musculoskeletal, gastrointestinal, and genitourinary radiology. Sethi, who is managing director of Delhi Academy of Medical Sciences, CEO of Prime Telerad Providers, and editor-in-chief of Internet Journal of Radiology, also has 100,000 Facebook followers. His YouTube channel is followed by more than 65,000 viewers, and his video on chest X-ray basics has been viewed more than 135,000 times.
"Social media platforms enable you to connect with more and more like-minded people and flatten the world, where opinions can be exchanged and problems can be solved," he says. "Social media is all about connecting, being a part of the world beyond your immediate surroundings."
Cook, Towbin, and Sethi are all part of the changing world of radiology, in which the specialty is putting itself out front instead of functioning behind the scenes. Once known for performing their work quietly, often in locked rooms out of sight, radiologists are publicly embracing their role by using social media to build their brands, interact with patients, and exchange research and new concepts with their peers.
Still, some radiologists have yet to embrace social media or to use it to its full potential. There are many reasons for this: lack of time, lack of information, and uncertainty of where to start among them. For those who want to get started or learn more, Cook, Towbin, and Sethi offer some tips.
Start Small
Getting started can be as simple as signing up for a Twitter account and following people who are doing interesting things, Cook says. She points out that it is fine to read other people's posts without commenting on them, a nonintimidating way to ease into doing more. She suggests striving to connect with radiologists and others whose interests and knowledge will expand your professional view, while paying attention to whom they are following.
"The really powerful thing about social media is there are people who might not otherwise find each other, within different areas, who might potentially collaborate," Cook says. "Broaden your horizons and look to others for inspiration and education. The easiest way to find it is to follow people who are doing things similar to you, and I can almost guarantee you that they will lead you to other [interesting] people."
For instance, Cook uses Twitter to keep up on the latest developments in machine learning that are expected to affect radiology. In particular, she caught up on a Twitter Journal Club about AI that brought participants together from all over the world. The authors of a paper on the topic described their work and answered questions. An independent third party who reviewed the paper was also part of the Twitter discussion.
"These are things you could not have done 10 or 15 years ago, except if you all sat down in a big meeting that would require travel and time and expense; and now these are discussions you can have with just a week or a couple of days' notice that can really be very educational and very informative," Cook says.
Tweet at Conferences
Cook calls herself a "fair-weather tweeter" because she does the most posting when she is at radiology conferences and has the time and attention span to devote to Twitter. "I have great respect for people who manage to be active in social media at all times from a professional standpoint, but when I'm not traveling, I feel like I can't do both of those things at once—and I would like to do both of them well," she says. "So when I am at meetings my attention is less fragmented … I'm at the meeting either speaking [she gave a talk on social media at last year's Association of University Radiologists meeting] or attending sessions, and I find it is easier for me to participate in a meaningful discussion on social media when I'm not drawn by 10 different things at once."
Keep Privacy in Mind
Sethi often uses patient X-rays in his social media postings, but he does so with great concern for patient privacy. "My tip to radiologists using social media is first be careful about removing patient identification on images you are sharing," he says.

When he was devising CCH's Instagram strategy, Towbin sought legal counsel to determine whether it was necessary to get patients to sign a consent form. He was advised that it was not necessary, as the images were to be used in a manner similar to that of a case report, educational poster, or book chapter—endeavors which do not require additional consent at his hospital.
"At the same time, we go to a higher standard than when we are publishing in those medical areas. We avoid patient ages, we avoid detailed clinical history and focus instead on disease or process, not on the therapy that one patient gets or the way one patient was managed," Towbin says. "We talk about some rare diseases but try to avoid newsworthy cases. There are some patients who become celebrities because of certain advocacies … we will never post that person's image.
"We may post around it," Towbin continues, "if there is a celebrity in the news. For example, when John McCain was diagnosed with a brain tumor, we posted about pediatric brain tumors to take advantage of people's interest in learning about the topic. We are always trying to maximize the educational impact."
In addition, anyone who posts on social media has to keep their own privacy in mind. "It is important when you do start engaging on Twitter or another social media platform to remember that no matter how private it seems, nothing is truly private on social media," Cook says. "Even if you think you are only talking to one person, you probably aren't—all of that is probably discoverable, so let that guide your behavior."
Share the Workload
With its extensive commitment to social media, CCH's online presence requires many hands. Although every tweet and Facebook post is Towbin's, everything that happens on Instagram, Figure 1, and the blog is a true team effort.
Staff for the blog, whose audience is mostly parents of children who need radiological services, essentially consists of everyone in the department including radiologists, technologists, nurses, and fellows, all of whom are asked to contribute posts. The most popular posts answer common radiological questions. For example, there have been more than 80,000 views for the post that explained the difference between general anesthesia and sedation.
Six editors are tasked with double-checking each post's accuracy and adherence to style. Editors attend weekly meetings and devote about two hours a week to the blog, Towbin says. As each blog post must include at least one photo, a media specialist is tasked with selecting them and shooting videos. For example, the images that accompany the blog's Meet Your Radiologist feature mimic actual TV interviews that enable patients and families to get to know radiologists and other staff members better. Towbin says photos that work best are colorful and feature many smiling people.
For Instagram—CCH radiology's most popular channel with 27,000 followers and whose content is shared on Figure 1—there are four radiologists who gather the medical cases and images and write the captions that accompany them. A fellow handles the daily postings. Towbin says that, for education, Instagram is better than Twitter because it allows longer captions. The department uses daily themes for its Instagram posts such as #MusculoskeletalMonday and #TummyTuesday. Friday is always quiz day.
"Every case involves pediatric radiology," Towbin says. "Some are basic cases for beginning learners, some for advanced learners, and some for specialists. We share images that illustrate specific points and a mix of modalities so people can see that the things you learn in adult radiology apply to kids. It's not just basic imaging; we also show off the cutting-edge things we do."
Stockpile Content
In order to attract followers, it is vital to have regular content for them to access. When posts are sporadic, potential followers may grow frustrated and lose interest. Keeping that in mind, Towbin and crew waited to launch their major channels until they had a month's content in hand as a cushion against vacations and other times when the department would be busier than usual. The rollout for their Twitter account was deliberately timed to coincide with the RSNA meeting, when more eyes would be on it.

"Our department always has a big presence [at RSNA]." Towbin says. "Lots of lectures and posters. There's a lot to promote there. In the early days of Twitter, we could participate in every conversation in a meaningful way. Anytime one of our radiologists was presenting, we would tweet about it to promote the work we are doing."
Have Fun
If taking full advantage of the power of social media sounds like a lot of work, it is, but it can also be fun, according to Cook, Sethi, and Towbin. It's fun to reach out to people who are interested in learning and discussing radiology cases, Sethi says, and to use Twitter to create live hashtag discussions with physicians after he gives a lecture. Meanwhile, Towbin seems to relish engaging children with the CincyKidsRad blog.
"In radiology, you can do that and be really cool," he says. So, on Halloween, there were X-rays of candy bars and for the holidays, X-rays of menorahs and holiday ornaments. There was also a contest that let kids invent their own holiday, which the department then celebrated in person and on the blog.
"I think it has been helpful for us that we do not take ourselves too seriously," Towbin says. "Especially on Twitter, we can afford to be goofy. I like to tweet out GIFs of certain things and use movie culture references. I'm not afraid to try to be funny."
— Gail Snyder is a freelance writer based in Chalfont, Pennsylvania.