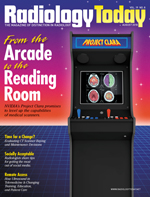 Remote Access: How Ultrasound in Telemedicine is Changing Education, Training, and Patient Care
By Keith Loria
Radiology Today
Vol. 19 No. 8 P. 24
Advancements in telemedicine technology have greatly increased its use over the past few years, as more physicians and clinicians are finding new ways to utilize remote diagnosis and provide interactive care through telecommunications.

One modality that has seen a large uptick in telemedicine usage is ultrasound, as experts are able to access ultrasound exams from all over the world at any time. Whether from the back of an ambulance, the site of a natural disaster, or simply as a means to teach medical residents, this new technology is revolutionizing ultrasound training, education, and patient care.
Gigi Sorenson, RN, MSN, chief clinical officer for GlobalMed, the telehealth provider to the White House, the VA, and the Defense Health Agency, says the rise in use of ultrasound through telemedicine is something to which everyone in the industry should be paying attention.
"Due to limited resources available to remote or small facilities, having the capability of such a basic diagnostic tool available in real time or needed time frames is critical to delivery of quality care," she says. "Being able to do the ultrasound and render a diagnosis or treatment plan in real time without having to transport a patient, delay care, or spend resources and finances on additional unnecessary tests is a win for patient, provider, and payer."
New to Market
Philips Ultrasound and Innovative Imaging Technologies (IIT) recently introduced Lumify with Reacts, the first-ever integrated teleultrasound solution powered by IIT's Reacts collaborative platform, which connects clinicians around the globe in real time by turning a compatible smart device into an integrated teleultrasound solution.
"By connecting physician to physician or connecting a Philips person to a customer who owns a Philips ultrasound product, we'll have a live interaction, improving our service of that product as well as helping them deliver some unique training experiences," says Randy Hamlin, Philips' point-of-care business leader. "Our plan is to continue to evolve this idea, connecting individuals across our portfolio, so Lumify is just a start."
The system combines two-way audio-visual calls with live ultrasound streaming. Hamlin explains that clinicians can begin their Reacts session with a face-to-face conversation on their Lumify ultrasound system and then switch to the front-facing camera on their smart device to show the position of the probe.

"Both parties are simultaneously viewing the live ultrasound image and probe positioning, while discussing and interacting at the same time," Hamlin says.

Butterfly Network Inc, recently introduced a novel augmented reality telemedicine technology on Butterly iQ, the world's first whole-body ultrasound imager, which clinicians can utilize to remotely acquire ultrasound scans.
"The device is the first-ever full-body imaging ultrasound on a silicon chip, so it can be used on a phone or other application," says John Martin, chief medical officer for Butterfly Network. "This helped us accomplish two important things: We dramatically reduced the cost of it and enhanced the versatility of the device so we can scan from low to high frequency and re-create any other form factor. So we can replace the multiple probes that are typically on an ultrasound system with a single probe that can scan the entire body and move from application to application easily."
Other key elements of the system are that it's a web-based application, so the cloud can be used for image sharing and storing, and it has deep-learning algorithms that allow the user to capture and interpret an image using AI.
"An expert at a remote site can log in onto a computer to connect with the person actually doing the ultrasound exam and then, using augmented reality, will be able to see the very same thing the user is seeing on the device," Martin says. "Using the heart as an example, the probe can be placed on the left side of the chest, the user and expert will see the same thing, and the expert will guide the user on how to move their hand to get the correct image. That remote guidance will get the insight needed."
An example of where that can apply, he offers, is when a cardiologist is at home and a hospital is struggling to get a good image on a patient who may or may not be in heart failure. The cardiologist can log in, saving a trip to the hospital and keeping this important exam from being delayed.
"You can also imagine a scenario in the developing world, to have someone over in Africa, for instance, where ultrasound imaging is still in its infancy and machines are not readily available," Martin says. "The ultimate goal from our perspective is expanding the expertise and availability of people doing ultrasound examinations."

Earlier this year, Henry Schein Medical's Emergency Medical Services business teamed with Terason to distribute uSmart 3200T NexGen, a portable ultrasound device that enables emergency responders to perform exams in emergency medical transport vehicles and aircraft. A result of the partnership was Terason being integrated into Medpod, a telemedicine solution that integrates medical devices with software, allowing remote physicians to control and capture clinical data.

"Terason provides comprehensive tools and an interface that allows for the same level of control and capture of images, video, and data as Medpod, making it a natural fit for Terason to integrate to the Medpod platform," says Todd Stack, senior director of Medpod, Henry Schein Inc.

Remote physicians only need a Chrome browser, internet connection, and a computer or laptop with a webcam. The onsite provider utilizes a Medpod Cart or MobileDoc equipped with uSmart 3200T NexGen, which is exclusively distributed by Henry Schein.
"The onsite provider performs the ultrasound scan under the direction of the remote physician who controls the settings and image/video capture of the Terason unit remotely," Stack says. "All data captured via the Terason is fed back through the Medpod encounter to the patient's EHR."
In Use
One place that shows the practicality of "this wonderful" technology, Sorenson notes, is in an emergency or trauma care situation where immediate assessment is needed.
"Being able to use ultrasound for a variety of applications on a patient (eg, to identify impact of trauma, source and extent of injury, impact of treatment rendered) and then put together a plan for whether the patient will need to be transferred to a higher level of care or can remain in their home community, is vital," she says. "It also can then be used as an educational tool for the remote provider for that case, as well as future patients/cases."
Stack notes that any soft tissue exam where a physician would traditionally touch and feel the patient lends itself to teleultrasound, as it allows remote physicians to see what they cannot feel. A great use case for this technology is in medical training; Hamlin says there's been a rise of medical schools adopting ultrasound programs in the first year, and they are gravitating from textbooks to hands-on instruction, so students can see the modality in use on a patient.
"We then see the programs with third-year medical students get deployed out into the clinical field and, often, they are separated from their instructors, some deployed at a hospital as much as 100 miles away," Hamlin says. "Some medical schools are using this technology to connect the instructor to the student in a way they have never been able to do before."
Another use case that is gaining prominence, Hamlin notes, is prehospital ambulance techs who can connect to the emergency department so information can be sent in advance of the patient arriving. In this scenario, the ultrasound can be used to examine key areas, so action can be taken immediately, such as to identify a punctured lung after an auto accident.
"Those are really important when you look at long transit times, especially in the rural parts of America, where it can be an hour ambulance ride or helicopter ride," he says.
Some other examples where this capability is useful are a midwife in a remote location calling an obstetrician to receive perspective and guidance, discussing the ultrasound exam as if they were in the same room, or a doctor consulting with a colleague using live streaming ultrasound.
Defining the Parameters
Identification of use cases for the types of ultrasound that will be needed sets standards by which staffing, equipment, and protocols can be put into place.

"Identification of who the interpreting physician will be and the associated protocols for notification, review, report generation, documentation, billing/contractual needs, and metric generation and analysis are broad critical areas of need to be identified and defined to allow for successful implementation of the program," Sorenson says.
Hamlin said that the Lumify is compatible with any laptop device, allowing connection to any imaging ecosystem, which is critical for workflow to be successful. This compatibility allows anyone to use it.
"We're taking the paradigm of separating consumer technology from health care technology, so no one is forced to buy a new camera or microphone; the solution is in their hand, and all they need to do is download the software," Hamlin says.

According to Sorenson, as the technology continues to advance, those utilizing ultrasound equipment in telemedicine will confront some challenges and issues.

"A few of the biggest challenges surround having the appropriate equipment available that can store and transmit the images in the quality needed and, just as important, having a qualified technician or provider to perform the scan," she says.

Looking ahead a few years, Stack sees telemedicine transforming the environments where ultrasound can be performed, expanding access to care across a wide spectrum of markets including home care, long term care, assisted living, school sports, community health centers, and rural outreach.
"While still in its infancy, ultrasound via telemedicine has wide applicability across multiple segments of the market, including OB/GYN, cardiology, and vascular," he says. "The biggest challenge will be educating providers on the benefits of using ultrasound via remote use."
Hamlin feels that ultrasound in telemedicine will enhance care delivery by bringing even more confidence to ultrasound clinicians and removing longstanding barriers in education, support, and training.
At Butterfly, the company believes that in the far future—whether that's two, five, 10 years or more down the line—these devices will go home with patients and help guide them to get images and connect back to clinicians. But, Martin notes, this telemedicine technology is important in ultrasound today.
"This is an incredibly valuable information tool," Martin says. "Its greatest penetration, initially, will be in education and training, and the tail of this will be in the clinical arena as the expertise expands into more and more people gaining the use of these devices."
— Keith Loria is a freelance writer based in Oakton, Virginia.