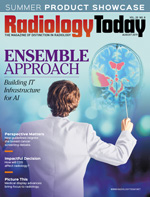 Managing to Succeed: A New Lease on Technology — How to Finance With a Payment Structure That Guards Against Obsolescence
By Kim Montgomery and Justin Tabone
Radiology Today
Vol. 20 No. 8 P. 10
Technology in the health care industry is rapidly evolving. This accelerated pace of change has no doubt improved patient outcomes, but it has also put additional pressure on providers to stay up to date and refresh their technology more frequently. To deliver the best patient outcomes and remain competitive in this environment, hospitals and imaging facilities need to keep abreast of new developments.
Being stuck with obsolete equipment can cost facilities in a couple of critical ways. First, obsolete equipment may not provide the best standard of care. Speak with any radiologist or technologist, and they will tell you that using outdated imaging equipment makes their work more difficult and less efficient. Second, the cost of maintenance can increase and revenues can decline as equipment becomes older.
Upgrading equipment will always be on the to-do list, and it's not simply a one-time consideration for facility leaders. They must be aware of the best time to upgrade equipment and the best financing structure to meet the facility's business goals and budget. The ever-changing technology and competitive environment create pressure to add innovative technology, but it's up to the leaders themselves to be strategic when it comes to technology acquisition plans. By considering the right financing structure, business leaders can use foresight and knowledge to plan for these changes before they're actually needed.
Financing Structures
Financing can help relieve stress by providing structures that offer the flexibility needed to protect against obsolescence or facilitate ownership for equipment with low obsolescence risk. Two main categories of finance structures are fair market value (FMV) leases and $1 leases.
FMV Leases
An FMV lease offers the lowest payment option and the most flexibility. At the end of the lease term, the customer has the option to upgrade, purchase, or return the equipment or renew the lease on a month-to-month basis. This gives the customer the opportunity to evaluate available technology enhancements at the end of the lease, rather than making that decision at the start of the lease. Due to its flexibility, this is typically the best structure to guard against technology obsolescence.
$1 Purchase Option Lease
Customers typically choose a $1 purchase option lease when ownership is the top priority and the life of the technology will extend well beyond the term of the lease. This structure has a higher payment because the full cost of the financing is captured over the chosen lease term.
Many Options
If you're interested in new equipment but have an existing lease, there may be options available. It may be possible to arrange a trade-in of the old equipment, carry over the remaining balance into a new lease, and extend the term to maintain, or even lower, your prior payment and potentially receive a more attractive interest rate. Often, a new lender can buy you out of an existing lease; however, it's generally more efficient to establish a long-term relationship with a lender to seamlessly negotiate upgrades.
Above all, it's critical to seek out a financing program that provides you with the flexibility to seamlessly and cost-effectively implement the latest technology so you can deliver the best standard of care. In addition to speaking with your supplier, you may want to consult a financial advisor, tax attorney, accountant, or other trusted professional to help you make the best choice for your situation.
— Kim Montgomery is the vice president, health care originations leader for TIAA Commercial Finance, Inc. She has worked in the health care equipment finance space for more than 20 years, developing finance solutions to facilitate implementation of health care technology.
— Justin Tabone is the senior vice president, originations group leader for TIAA Commercial Finance, Inc. He has more than 20 years of experience in the equipment finance industry.