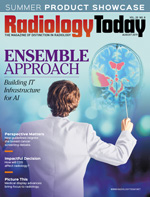 Picture This
By Keith Loria
Radiology Today
Vol. 20 No. 8 P. 24
Medical display advances bring a sharper focus to radiology.
Recent technological advances have increased the number, size, and variety of medical image types, heightening the requirement for displays with functions that help to improve reading efficiency, says Jennifer Beaumont, vice president of IT for Radiology Partners. She adds that some of the newest features include software, servers, and integrated calibration sensors for simple and easy quality control of medical displays and space-saving, compact designs with thinner bezels.
Today's displays also have the ability to read all medical modalities on a single model. Large-format options in a variety of resolutions are now available for those users wanting one display vs two.
"We are looking at the use of multimodality color displays, which can view multiple medical images on one screen," Beaumont says.
Recent software advances allow more in-depth testing, reporting, and configurable alerting functions. On the hardware side, LED-backlit displays are providing higher contrast and brightness levels with longer life and higher resolution.
"Photosensors built into the displays for autocalibration are more accurate and used in conjunction with sophisticated calibration software. Monitor gray levels and colors are calibrated more accurately to much tighter tolerances and enable enterprise management," says Tara Neill, director of sales and marketing for Double Black Imaging. "With the rise of color use in [graphic user interfaces] as well as with multimodality imaging, the market has seen a shift from monochrome to color displays."
Following are some of the latest medical display upgrades.
EIZO
Thomas Waletzki, president of EIZO, notes that the latest buzz in medical displays is the use of built-in functionality. "With added functionalities such as a [keyboard, video, and mouse] switch, picture-in-picture capabilities, and 'point and focus,' EIZO helps save desktop space, eliminates the need for an extra monitor or other hardware devices, and creates functions that help the reader focus and read faster and accurately," he says.
The company's latest displays are the 3-megapixel color display, RadiForce RX360, and 5-megapixel monochrome display, RadiForce GX560. EIZO was the first in the industry to introduce low-temperature poly silicon (LTPS) LCD panels with both of its newer medical monitors. LTPS panels are mainly used in mobile devices such as cellphones, and the benefits include higher panel reliability, higher resolutions, narrow bezels, and lower power consumption.
"The newer LTPS panels allow the GX560 to have the highest contrast ratio in the industry," Waletzki says. "Our greatest display is the 8-megapixel color display RadiForce RX850, which rounds out our monitors for multimodality on single display."
Waletzki notes that today's newer displays have added functionality to maintain optimal workflow. For example, the Hybrid Gamma PXL function allows both monochrome and color images to be displayed on the screen at the same time, in the appropriate grayscale and gamma curve. Previously, the color mode had to be changed depending on the image being read; color and monochrome images could not be compared simultaneously.
"With the Switch-and-Go function, USB switching is done within the monitor. This enables users to use a single keyboard and mouse across two PCs," he says. "Users can work on either PC by moving the mouse cursor across the screens."
Additionally, the Hide-and-Seek function enables users to hide the picture-in-picture window that is not being used and reopen it as needed by moving the mouse cursor to the edge of the screen. This eliminates the need for an extra monitor, while still allowing simultaneous viewing of reports, patient charts, and other information.
Barco
Lynda Domogalla, Barco's vice president of product marketing, health care division, says today's medical displays need to support more efficient workflow and healthy ergonomics to address ever-increasing workloads, challenges with ergonomic stresses, and radiologist burnout.
"Barco's color fusion-format displays allow radiologists to bring together images from all modalities onto one workstation," she says. "All our display systems come with clinical workflow tools that allow radiologists to see more details in an image, boost brightness, and optimize contrast in a region of interest."
Barco's Coronis Uniti display system supports multimodality breast imaging as well, bringing together 2D mammography, breast tomosynthesis, breast MR, and breast ultrasound on one display. The Coronis Uniti also incorporates features to improve reading ergonomics, bringing the full screen into the natural field of vision to reduce neck strain and adding ambient light to reduce eye strain.
"Today's displays are brighter, allowing radiologists to see more details with less windowing and leveling adjustment and reduced eye strain," Domogalla says. "With a brighter display, details can be identified more quickly, reducing read times and also ergonomic strains. Barco's displays also have technology to run [quality control] checks and calibration without intervention."
The company conducts site assessments with health care organizations to help them see a clear overview of their medical display systems. "Some displays may no longer calibrate to a luminance which meets ACR guidelines; some may be close to the end of their useful lifetime, and some may still be using grayscale display systems," Domogalla says. "We also find that some institutions still invest a lot of effort in quality management of their workstations, which is especially challenging when managing more remote locations. If they aren't using a [quality assurance] software to manage the quality and compliance of their workstations, it is time to start taking advantage of this capability."
LG
Stephen Hu, director of sales, IT, and the national solutions provider sales team for LG Electronics USA, says the company's advances include larger screen size, multimodality displays with LCD technologies that offer enhanced brightness levels, and an increased contrast ratio.
"The LG 8MP Clinical Review Monitor is a 27-inch [in-plane switching] monitor driving 3840 X 2160 pixels," he says. "The monitor is DICOM compliant [and] is equipped with backlight stabilization technology to guarantee stable luminance levels." Hu adds that these features are critically important to ensure color accuracy.
Double Black Imaging
Double Black Imaging offers a range of diagnostic, mammo/tomo, clinical, and surgical displays, according to Neill.
"We work to ensure the solution we provide fits the specific site need [because] large enterprises differ greatly from doctors doing home reads for smaller enterprises," Neill says.
All of the company's diagnostic displays are autocalibrating, and its enterprise management tools include automatic testing, reporting, and alerting. Today's models have higher resolutions, are LED backlit, and have higher brightness and contrast.
"[These] features allow for better quality control when it comes to the image the radiologist is reading, extend the life of the display, and enable the radiologist to read everything from CT to mammo at the same station with our multimodality displays approved for mammo and tomo," Neill says.
Neill adds that the software incorporates shortcuts to view areas of interest, reduces ambient lighting from worklist displays, and streamlines cursor behavior. The company also incorporates its display solutions into ergonomic workstations.
New Views
Displays used in primary interpretation have a usable lifetime. This lifetime is primarily based on the displays' ability to output adequate brightness. The easiest way for a hospital or imaging center to know when it's time to update its medical displays, Hu says, is when they're no longer capable of achieving DICOM-calibrated review/diagnostic brightness guidelines.
Waletzki says EIZO has a reporting tool that helps users predict when monitors will no longer support the recommended brightness. "These reports are based on the monitors' actual performance and ability to display sufficient brightness, not a prediction based on end of warranty or support," he says.
Double Black Imaging's CFS software suite automatically calibrates and tests for conformance to ACR and DICOM compliance. "Users are proactively informed of display issues that cannot be 'autohealed' by our automated system," Neill says. "Typically, displays are upgraded when the display no longer meets ACR recommendations or DICOM compliance."
Technology in the commercial display and TV market is constantly changing and evolving, and many of those advances will be seen in the medical display market in the years ahead. As we enter the age of precision medicine, the number and variety of medical image types will become massive, leading to an ever-growing demand for faster and more accurate processing of image data, Waletzki says.
Beaumont also expects the number and variety of medical image types to grow. "It is not impossible to meet this growing demand with hardware," she says. "It must be met through a total solution encompassing not just hardware but also software and networks."
Neill anticipates the incorporation of organic and quantum dot LED technology into medical displays, which will raise brightness while enhancing black and white levels, without compromising the color values.
"Displays will also follow their commercial counterparts, providing higher resolutions, thinner and sleeker footprints, with even longer lifespans," she says. "Software tools will further advance productivity. Service, support, and understanding the unique nature of each medical imaging environment will increase in importance, continuing advancements in medical imaging."
Hu says, in the next five to 10 years, medical technology will continue to become more portable, lightweight, and durable with embedded AI tools to aid in diagnosis.
"AI is an important new technology that has far-reaching benefits," Hu says. "[We are] excited to see AI adoption growing so rapidly in home appliances and consumer electronics."
— Keith Loria is a freelance writer based in Oakton, Virginia.