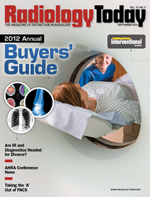 September 2012
Headed for Divorce?
By Beth W. Orenstein
Radiology Today
Vol. 13 No. 8 P. 22
Their lives can be very different, and some radiologists expect separate futures for interventional and diagnostic practices.
Sometime late next year, the interventional and diagnostic radiologists at a large hospital not far from Detroit will no longer practice together because the interventional radiologists will establish their own clinical practice.
In the split, Mark Weiss, MD, an interventional radiologist and president of Radiology Business Solutions in Flint, Michigan, sees the leading edge of a trend he expects to become common practice in another 10 years. "Interventional radiology [IR] has matured to the point where it may no longer be part of radiology but part of medicine at large … and interventional radiologists are looking to build clinical practices," he says.
To others in radiology, those are fighting words. They believe it would be a mistake for interventional and diagnostic radiologists to separate and hope that Weiss' prognostications are wrong.
"I am unequivocally opposed to a separation of interventional radiology from diagnostic radiology," says Paul Ellenbogen, MD, FACR, chair of the ACR Board of Chancellors and a radiologist with Radiology Associates of North Texas. "I believe we are all better when we work together. Combined relationships work to the benefit of the patients and for the benefit of ourselves."
"At this point in time, the big picture approach from the Society of Interventional Radiology standpoint seems to remain that there is value in maintaining diagnostic and interventional radiology within one house," says Gregory Soares, MD, director of IR at Rhode Island Hospital, medical director of the Rhode Island Vascular Institute, and an associate professor of diagnostic imaging at Warren Alpert Medical School of Brown University in Providence.
And then there are those who take a middle ground. "There are some groups where interventional radiology is going to have to be separate from diagnostic radiology and be in other groups where they can work together," says George Fueredi, MD, FSIR, president of the medical staff at Aurora Memorial Hospital of Burlington in Wisconsin and an interventional radiologist with the imaging division of Aurora Medical Group. "There has to be flexibility."
Rad Onc's Path?
The idea of IR and diagnostic radiology divorcing isn't new or unprecedented, as radiation oncologists were once part of general radiology but have since largely broken out on their own. "Fifteen years ago, I remember diagnostic radiology and radiation therapy was under one department," Weiss says. "Today that's rare." (While radiation oncology is still part of the ACR, in 1988, the society now called the American College of Radiation Oncology was founded in New Orleans to more actively pursue the interests of radiation oncologists.)
The separation of IR and diagnostic radiology has been 20 years in coming, Weiss says. "I've been hearing the conversation for years," Ellenbogen confirms.
Numerous factors have accelerated the discussion of late, including dwindling reimbursements for imaging, the emergence of teleradiology services, advances in and growing demand from patients for minimally invasive procedures, and increasing competition among medical specialties for interventional procedures. Other specialists, including cardiologists and vascular surgeons, provide some of the same image-guided procedures as interventional radiologists, particularly angioplasty and ablations.
A lot of the issue is economics, says Daniel Corbett, RT, CPC, cofounder and chief of business development for Radiology Business Solutions. "Everyone wants his share of the financial pie, but the financial pie in imaging is shrinking," he says.
The imaging industry has seen significant cuts in reimbursements over the last five or six years, and the trend isn't likely to be reversed any time soon, if ever. IR is expected to take even bigger hits in reimbursements as more procedures are bundled in the hospital, Corbett say, As a result, he thinks new practice arrangements will need to be developed. These new arrangements may mean more freestanding IR clinical practices dedicated to peripheral vascular disease, he says. Interventional radiologists also may join cardiologists and vascular surgeons at outpatient-only vascular centers where they each do their own interventional procedures.
Running the Clinic
Starting independent clinical IR practices can be risky, Corbett says, "but they can be very rewarding if you have good business skills and a tolerance for risk." The demand is there "as more and more minimally invasive advanced procedures are being developed and patients prefer them."
Corbett says cardiologists and vascular surgeons have taken the majority of particularly lucrative interventional procedures from interventional radiologists. For radiology groups and their interventional radiologists to retain their share of these procedures—procedures interventional radiologists have invested a lot of time and effort in learning and like to do—Corbett thinks they may need to establish clinical practices and compete. "And if they want to grow and develop interventional practices, they can't be tied to the radiologists' reading room," he says.
Weiss says clinical IR practices are time consuming. "It means office hours, examining patients, following up patients, and dealing with comorbid conditions … basically being a doctor, not just a technician." But, he says, interventional radiologists who want to do interventional procedures know it's different from interpreting imaging studies and don't mind. "It is difficult to compete in interventional radiology without doing clinical. Vascular surgeons and cardiologists may be providing better service. If you're an interventional radiologist and you don't compete, you may fail because you're not playing by the same rules," he says.
Diagnostic radiologists often see the time and money put into operating a clinic and building an IR practice as resources that drain the group. They feel the doctor's time would be better spent generating revenue for the practice in the reading room.
Reasons to Stay
Weiss believes more interventional radiologists haven't broken away and established their own clinical practices because they want to retain diagnostics as a fallback. "It can be scary when you don't have diagnostics as a safety net," he says.
Soares and Ellenbogen contend there are equally valid reasons for practices to continue to offer both IR and diagnostic radiology under one roof. Soares says they create a synergy, with diagnostic imaging generating referrals to interventional radiologists and vice versa. "Very often, a partner from my diagnostic group or another big diagnostic group will call me as an interventional radiologist and say, 'Patient X has an aneurysm. Can you help with the aneurysm repair?'" he explains. "Or they know we're involved in cancer care, and they'll call and say they have a patient who has multiple hepatic metastases and the patient may be helped by focused ablation of the tumor as opposed to surgical interventions, can we help?"
Likewise, interventional radiologists can be a source of outpatient referrals to the hospital or diagnostic radiology group when their patients need follow-up care, Soares notes.
Having clinical interventional radiologists in the radiology group also can provide job security for everyone involved. Today, any imaging study can be "put on a PACS system and read in New Delhi and not necessarily in Rhode Island," Soares says. "But that doesn't apply to interventional radiologists who have to get to know and touch their patients."
Corbett agrees: "The interventional radiologists provide a connection to the medical staff that diagnostic radiologists need. The hospital can say, 'If all you're doing is reading images, what difference does it make if you're here or not?'" Having interventional radiologists in a group can help it maintain a hospital contract because someone (typically an interventional radiologist) has to do the hands-on procedures, the radiologists concur.
Ellenbogen, who specializes in sonography, says the practice of IR needs to stay within diagnostic radiology because there's strength in numbers. He says radiologists will have a stronger voice before the Centers for Medicare & Medicaid Services and federal rule makers who set healthcare policy and determine reimbursements "when we speak together rather than fragmented areas." Radiologists have enough difficulty fighting the challenges from colleagues who want to perform imaging—the urologist, the neurologist, the orthopedist. "We are better able to deal with these issues as a combined entity rather than as separates," he says.
Referral Synergy
Keeping everyone together also facilitates referrals, Ellenbogen says. "If I see an abscess on a CT scan and feel the patient would be best served by having it drained rather than [undergo] a surgical procedure, I'll tell my interventional radiologist that this is someone they ought to know about," he says. "By having everyone in the same group, you're not concerned about who is stepping on whose toes, who is higher or lower in the pecking order, and what the economic benefits are of who does what."
Yet another reason interventional radiologists shouldn't separate is that they need to keep their diagnostic skills sharp, Ellenbogen says. "Part of being an interventional radiologist is reading and interpreting what disease looks like on CT or a PET scan or ultrasound," he says. "If the interventional radiologist is only taking a very few seconds on the PACS to get an idea how big is the tumor, he'll lose his ability to interpret those scans." As technology advances, "as we go from 3D to 4D, they have to stay up-to-date … and the way to do that is by reading cases."
Ellenbogen doesn't believe a group's interventional radiologists should be required to do "barium enemas on Tuesdays and pediatric CT scans on Fridays and interventional radiology only on Thursdays. That is not in anybody's best interest," he says. But if part of the interventional radiologists' duties "include looking at a number of cross-sectional imaging studies and reporting them out, most would relish the opportunity," he says.
On that point, Weiss agrees: "Many interventional radiologists have no interest in practicing 100% IR and enjoy being general radiologists."
Ellenbogen says he doesn't want to see a world "where you have interventional radiologists and CT radiologists and nuclear medicine radiologists all in their separate little silos not talking to each other and not working together as a unified team."
Fueredi says the appropriate division of labor is probably more of a challenge for smaller facilities than larger, academic centers where everyone—diagnostic and interventional radiologists alike—has more than enough of the kinds of cases he or she wants to keep busy. "I work for a large healthcare system," Fueredi says. "There are about 60 radiologists in our division of which nine, including myself, are interventional radiologists."
Fueredi does mostly IR, but when he's not doing procedures or seeing patients in the clinic, he's happy to jump in the healthcare system's PACS and read studies. "I can pick up all kinds of things and read them," he says. "That's what my idea of a day's work is. I can help with diagnostics, and that's what being a colleague is all about." If the interventional radiologists were a separate group, there wouldn't be that give and take, he says.
But Fueredi recognizes that what works for him and his practice may not be ideal for every group. He expects that as the debate whether interventional and diagnostic radiologists should separate continues, different solutions will be found.
Different Paths
If IR is going to remain in traditional group practices, Corbett believes groups should build systems to take advantage of the interventional radiologists' skills "and maybe build clinical practices."
"What the future holds, we don't know," he says. "But we are working with hospitals and groups to devise new methodologies and models that are flexible and that offer security for all parties. The solutions we find will maximize the strengths of the clinicians involved and offer superb outcomes."
— Beth W. Orenstein of Northampton, Pennsylvania, is a freelance medical writer. She is a frequent contributor to Radiology Today.