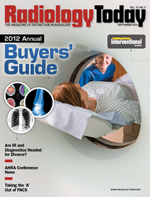 September 2012
Taking the 'A' Out of PACS
By David Yeager
Radiology Today
Vol. 13 No. 8 P. 26
Vendor-neutral archiving shifts control of data from vendor to facility and from radiology to IT.
Peak performance tends to favor specialization. While the Olympic decathlon champion is called the world's greatest athlete, there are other athletes who can run faster, jump higher, or throw a javelin farther. A similar paradigm seems to be at work in the evolution of PACS.
Ever since PACS were developed, the clinical workstation and the image archive have been linked. That is still the case, although increasing interest in vendor-neutral archives (VNAs) is changing the way healthcare organizations think about archiving. The rapidly expanding volume of medical image data—and other types as well—and the need to share those data across the healthcare enterprise are forcing decision makers to reconsider archive strategies. More and more, those decision makers believe data storage and management are best handled by enterprise IT departments rather than within the imaging department.
"Hospitals have taken that archive function—the 'a' in PACS—and made that an IT function," says Gregory Strowig, vice president of client services for TeraMedica, an informatics company that offers VNA services. "And they do that whether they have a VNA or not. With a VNA, it's even more significantly an IT function, and VNAs typically are not decided upon by individual clinical departments; they're chosen by the CIOs [chief information officers]. We're also seeing people leverage the use of a VNA and its control of the management of its data so that the PACS themselves are being evaluated purely on their workflow and visualization capabilities."
Shifting Leverage
Most PACS effectively create a proprietary database by virtue of the way they store metadata in the DICOM header, which makes switching vendors inconvenient and expensive. These proprietary databases often make it difficult to share medical images among different clinical systems, allowing vendors to wield a great deal of control over an organization's data, making it more difficult for facilities to sever the vendor relationship. VNAs, which can resolve the idiosyncrasies in the DICOM header, are increasingly seen as a way to loosen the PACS vendor's control of the data, allowing facilities to store and manage their data in a neutral format with more efficiency and lower costs.
Because VNA purchasing decisions are made on a much longer time scale than PACS decisions, a facility may go through a few PACS before it has to do significant maintenance on its VNA, eliminating costly and stressful PACS migrations. As terabytes of data grow to become petabytes, reducing storage costs is no small concern. Strowig says interest in VNAs has grown significantly over the past three to four years, and he estimates that close to 10% of all large facilities are using one.
The cost and aggravation of data migrations has been one of the most common (and loudest) complaints about PACS over the years. With a VNA in place, facilities don't have to run two PACS systems simultaneously and create an interim workflow as they switch from one PACS to the other. Removing data migration from the equation lifts a significant burden from the PACS evaluation process.
That's important for a couple of reasons. The first is that it removes control of the data from PACS vendors, which increases facilities' bargaining power when it's time shop for the next PACS. The second is that it allows facilities to base their PACS decisions primarily on workflow and viewing features.
As PACS was introduced, radiology became the keeper of the archive. While this outgrowth of responsibility was natural, it no longer makes sense as more data are shared among more places. Multiple departments and referrers use medical images, and organizations need to be able to distribute them. With many facilities adopting EMRs, documents from other departments are needed to compile a patient file. Multiple data silos throughout an organization lead to duplication of studies, misfiled reports, and inefficient workflows. VNAs are not the reason that radiology is losing control of the archive, but they could hasten the shift to an enterprisewide archiving strategy.
That's not necessarily bad since PACS were designed with departmental workflows in mind, not the needs of an entire enterprise. They're not an ideal place to store all non-DICOM content, such as lab results and patient identification information, which many facilities are in the process of digitizing.
"VNAs should drive a more appropriate solution for the customer around what's being serviced within the department," says Shannon Werb, chief operating officer and chief strategy officer of Acuo Technologies. "PACS systems shouldn't have to worry about beta storage, information life cycle management, enterprise availability of content, or management of non-DICOM content. The PACS system should be procured with the assumption that it's tying in to a VNA."
Archive vs. Clinical Repository
No one questions that the days of radiology controlling the archive are fading, but there are plenty of questions about how that's going to affect PACS. How that question is answred may depend largely on how fast and efficiently VNAs are able to retrieve images. The rise of VNAs, although still in the early stages, has the potential to allow each tool to specialize in what it does best. But whether that potential will be fully realized—and how soon—are separate matters.
As a long-term disaster recovery archive, VNAs work well. But if a facility wants to use its VNA to provide clinical care, the degree of difficulty increases dramatically. Although it's generally agreed that PACS will shed some archiving capability, the amount it will need to retain is far from certain.
Currently, Werb recommends that his customers retain at least one or two years' worth of imaging data in their PACS cache. For a large integrated hospital network, that could amount to 30 to 50 TB, but saving those data over a decade would run into the hundreds of terabytes, if not petabytes. In the future, however, he believes a PACS equipped with a workflow solution, a worklist, quality control functions, reporting capability, and possibly dictation software will be able to access images quickly and directly from a VNA. Werb says that type of model could become widespread within the next three to five years.
There are a few PACS right now with capabilities similar to that. Archive-neutral vendors (ANVs), as radiologist and imaging expert Paul Chang, MD, dubbed them, have PACS that are interoperable with any archive solution. Rather than relying on the archive to deliver images, ANVs can put an image file into an archive, remember where it is, and retrieve it in a clinically acceptable amount of time, but they still require a local storage cache. Many people in the industry believe that type of PACS model will gain traction in the next few years.
However, it will be more difficult to develop a PACS with no storage of its own that can comfortably use enterprise storage and deliver clinical speeds for interpretation, metadata, workflow, and business intelligence. The development of a universal viewer that renders images within the VNA server and delivers them to a facility's EMR portal would make that possible. A universal viewer has a lot of appeal for organizations looking for ways to distribute data throughout the enterprise, and it has the potential to reduce PACS costs.
"If your vendor-neutral archive concept embraces and/or includes a universal viewer, the viewer that the [EMR] portal users are going to access, that's even less of a PACS system you're going to buy," says Michael Gray, principal of Gray Consulting. "You don't need the clinical license. You don't need to interface your EMR to your radiology PACS and your cardiology PACS and any other PACS; you only need to build one interface to a viewer that can grab all the data that's consolidated in your VNA."
A universal viewer would reduce the manpower needed to build and maintain multiple interfaces and allow resources to be allocated more efficiently. Using one interface, instead of many, also would streamline data management and free PACS from its image distribution responsibilities. Gray notes that since the VNA would be the legal archive as well, it would remove PACS' burden of keeping redundant copies of every imaging file, as mandated by HIPAA, for disaster recovery and business continuity purposes, allowing facilities to repurpose some of their existing PACS storage and eventually buy a smaller PACS.
Smaller PACS Archives
As facilities scale down their PACS archive, Gray says they could realize significant savings. However, the degree to which a universal viewer is practical depends largely on the degree of compatibility between the PACS and the VNA. R. L. "Skip" Kennedy, MSc, CIIP, technical director of imaging informatics for Kaiser Permanente medical centers in northern California, believes it may take awhile before the universal viewer is a viable option.
"Right now, [universal viewers] are competing with PACS systems that, from an EMR, will launch a CT scan in 3 to 4 seconds. And that's the expectation. It's like YouTube, and [clinicians] want to see images at YouTube speeds," Kennedy says. "Can the VNA vendors do that with standard protocols like DICOM or WADO [Web access to DICOM objects] services? If they can, I think the universal viewer starts to become a very attractive option. But as long as archives are doing 30 to 45 seconds to a minute, in terms of retrieval, no one's going to have a universal viewer based on a 30-second view cycle."
Kennedy has seen few universal viewers that are advanced enough to completely replace existing technology. While IT departments can often make a persuasive business case for using the archive as primary storage, he says the clinical case is different. The bottom line is radiologists are being asked to read more studies in less time, and any new technology has to either fit seamlessly into their workflow or provide significant time savings.
If referring physicians were to switch to universal viewers, while radiologists remained on PACS viewers (both thick and thin clients), it would introduce a division of the respective workflows that could potentially hinder clinical collaboration. It's unclear how PACS' collaboration tools would work with a universal viewer, assuming radiologists continue to view images in PACS. Because radiologists consult with many departments and referring physicians, features such as electronic sticky notes or annotation of clinical objects, which are embedded in PACS, are valuable communication tools. Losing those tools could cause significant workflow disruptions.
"Radiologists don't read like mushrooms in the dark; they talk to orthopedics, oncology, and other departments, and we have tried our best to make that part of the electronic workflow," Kennedy says. "And I think it generally works. Certainly, if you took [those collaboration tools] away, it would break things. It's hard [to translate those tools to a universal viewer environment] because now you've got to have an application that spans two completely dissimilar [application programming interfaces], with no current established standard for doing so."
For this reason, Kennedy thinks replicating radiology worklists in a universal viewer could also be problematic. Modern worklists require complicated rules, and specialized worklists, for needs such as pediatric radiology or customized dashboards, increase the difficulty. Although he believes some sort of enterprise storage will reduce PACS' storage requirements, Kennedy believes that, at the moment, VNA expectations may be running too far ahead of their capabilities. For now, he says, "Most of the business logic and most of the magic still happens in the PACS."
Seeking Control
VNA adoption is accelerating, though. With medical organizations placing a premium on enterprise content management, keeping PACS as the medical image archive just isn't practical. Organizations want more control over their data, and VNAs have the potential to make that happen. But a PACS that is interoperable with multiple archives is a key component of that strategy.
"Whether you think you're going to buy a VNA in the next year or not, there is some probability that eventually you will want that capability," Gray says. "So even if you're not doing it immediately, the next time you take a look at a PACS solution, you've got to consider its ability to interoperate with other systems and use that degree of interoperability as a major differentiator."
Whether VNAs, ANVs, or another model eventually becomes the industry standard will depend on how organizations do their value calculations. Although cost and utility will be driving forces, a lot will depend on the needs of individual facilities. But, one way or another, it seems a safe bet that PACS and archives will increasingly be judged on their individual merits.
— David Yeager is a freelance writer and editor based in Royersford, Pennsylvania. He is a frequent contributor to Radiology Today.