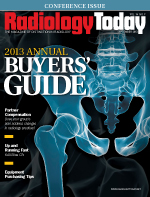 September 2013
Up and Running Fast — 640-Slice Scanners Are Coming Online in US Hospitals
By Beth W. Orenstein
Radiology Today
Vol. 14 No. 9 P. 12
When patients present with chest pain at North Shore University Hospital's (NSUH) emergency department in Manhasset, New York, they may undergo a CT scan to determine the cause, if deemed appropriate. North Shore is one of a handful of health systems in the United States that has the newest Aquilion ONE ViSION 640-slice CT scanner manufactured by Toshiba.
The scanner, which is housed in NSUH's emergency department, can image the entire heart in less than one-third of a second, says Biana Trost, MD, director of cardiac CT in the department of cardiology at NSUH, "so it really facilitates rapid diagnosis."
If everything appears normal, the patient can be discharged. If the scan shows the patient has mild coronary artery disease (CAD), "We can follow up with them in the cardiology office within a week," Trost says. "With moderate disease, we either medically manage or obtain a nuclear stress test to see if the lesion is flow limiting. And if the patient has severe CAD, he will be sent immediately to the cardiac cath lab for possible stent placements."
Trost says the 640-slice scanner's speed can get timely answers for patients and clearly has made a difference. Patients no longer need to wait hours for answers, and if they have low- to moderate-risk CAD, they won't have to be admitted to the hospital.
Toshiba introduced its first Aquilion ONE in 2007. At RSNA 2012, Toshiba unveiled a newer version, the Aquilion ONE ViSION, which is equipped with a gantry rotation of 0.275 seconds, a 100-kW generator, and 320 detector rows covering 16 cm in a single rotation with 0.5-mm slices. Toshiba utilizes an alternating focal spot that allows 16-cm z-axis coverage to be sampled twice, thus generating 640 slices in one rotation.
"It's like having four 64-slice scanners built into one," says Tim Nicholson, senior manager for CT market development at Toshiba America Medical Systems.
Larger Bore
One advantage of the newer version is its 78-cm bore and fast rotation, which can accommodate bariatric patients, who may not fit in conventional scanners, and patients with high heart rates. "Obesity is a growing epidemic in this country," Trost says. "If you can diagnose coronary artery disease earlier in this patient population, you can start them on preventive therapies. That's a feature of the scanner we didn't have before."
The ONE ViSION edition also has Toshiba's third-generation iterative dose reconstruction software, AIDR 3D, which enables a significant reduction in radiation.
Marcus Chen, MD, director of cardiovascular CT at the National Institutes of Health (NIH), the first site in the United States to install the Aquilion ONE ViSION, says he and his colleagues have been able to get the median radiation dose for a cardiac CT to less than 1 mSv. "And that's for all comers," he says, "not selecting people who are small or who had an ideal heart rate. With a 64-slice CT, the radiation dose is typically anywhere from 5 to 10 mSv. Therefore, with the new ViSION scanner, there is at least an 80% dose reduction. Not only is the radiation dose savings dramatic, but we're also able to maintain image quality and have completely diagnostic scans." (The NIH researchers published their analysis earlier this year: Chen MY, Shanbhag SM, Arai AE. Submillisievert median radiation dose for coronary angiography with a second-generation 320-detector row CT scanner in 107 consecutive patients. Radiology. 2013;267(1):76-85).
The NIH installed the Aquilion ONE ViSION in July 2012 and was the second installation worldwide; the first was in Japan, where Toshiba is based. For roughly one-half of the day, the NIH uses its Aquilion ONE ViSION for cardiac imaging. "The other half of the day it's used for general radiology imaging outside the heart," Chen says.
The scanner is ideal for heart imaging, according to Chen. "You're able to image the whole heart in one beat and not have artifacts," he explains. "That makes the scan easier to interpret, and it is also safer for patients to have less radiation and less contrast."

Sixty-four-slice scanners can image 4 cm in one rotation, so heart scans would have to be stitched together and registered. That process and the heartbeat's motion create artifacts that make scans more difficult to read. With the Aquilion ONE, the heart can be imaged in one rotation and within one heartbeat.
Because of the 640-slice CT scanner's capabilities, physicians often refer cardiac patients whose previous scans were equivocal and/or who aren't candidates for CT imaging on traditional systems to the NIH. "I've been referred patients because they've had scans at their hospitals, which were, unfortunately, nondiagnostic," Chen says. "The images were blurry, and their doctors sent me these tough cases because they wanted an answer. I was able to perform and read the scans from a ViSION scanner without a problem."
West Virginia University Hospitals (WVUH) in Morgantown installed the Aquilion ONE ViSION edition in mid-April. Like NSUH and the NIH, WVUH uses its 640-slice scanner mostly for cardiac scans. The scanner is housed in the radiology department, adjacent to the emergency department. "So it's just across the hall, making it easy to work with the emergency department," says Crystal Rosenberger, RT(R)(M)(CT), radiology manager at WVUH.
With the scanner, WVUH hopes to expand its cardiac program, she says. "We currently schedule cardiac scans on an outpatient basis. As more insurance companies have accepted it and physicians support it, we want to use it in conjunction with the emergency department as a rule-out tool."
Perfusion Imaging
WVUH also uses the scanner for 4D brain perfusion imaging to assess the ability to intervene with stroke patients. The Aquilion ONE ViSION can scan the entire brain in a few seconds and multiple phases of brain function in minutes. Using advanced analysis software, the radiologists reading the scan can provide assessments of the brain's function and structures in about 10 minutes. "Our neuroradiologists have been very impressed with the scanner and are quite pleased with everything," Rosenberger says. "They continue to work with us to find new ways to utilize the functionality of this scanner as an alternative to more invasive and high-risk procedures."
A trauma center, WVUH also performs a large amount of orthopedic surgeries. If patients have metallic prosthesis, the scan can contain artifacts from the prosthesis. The 640-slice CT scanner's technology will smooth out artifacts from metallic prosthesis, "so it works very well for those, too," Rosenberger says.
Another advantage for imaging some orthopedic patients with the Aquilion ONE ViSION is that they don't have to lie on the scanner table, which can be a comfort issue for some patients. "If I'm doing an extremity like a wrist or an elbow, the patient can sit on a chair on the back side of the gantry and put his arm in the gantry opening," Rosenberger says.
Trost says that as a cardiologist, she finds having the 640-slice CT scanner useful in managing her patients. "It delivers very little radiation and still tells us a lot about the patients' coronary artery anatomy as well as the heart's structure," she explains.
Future Possibilities
In the future, the 640-slice CT scanner may be utilized for advanced applications, such as CT perfusion and fractional flow reserve (FFR), although large studies have not yet validated this.
"We often see a stenosis in the vessel with the images from this scanner, but we don't know if it's physiologically significant," Trost says. "It could be just an anatomic lesion. Currently, if we don't know whether the patient is getting enough blood supply distal to the lesion, we send them for a nuclear stress test or cardiac catheterization to obtain FFR measurements invasively." She adds that more studies need to be done to validate FFR and CT perfusion and to standardize its protocols.
NSUH also is a major referral center for transcatheter aortic valve replacements. Faulty aortic valves are replaced percutaneously in patients who are high-risk candidates for open-heart surgery. The 640-slice CT scanner allows cardiologists and radiologists to evaluate the patient's aortic valve and determine whether he or she is a candidate for this less invasive procedure, where the replacement valve is inserted through an artery in the leg or near the clavicle or through the aorta directly and put into place.
"Initially, we were doing only high-risk patients," Trost says. "But now we are participating in a trial to include intermediate-risk patients who don't want to go through or aren't candidates for open-heart surgery." The 640-slice CT scanner provides precise measurements for proper sizing of the percutaneous valve that is to be delivered.
The Aquilion ONE ViSION at NSUH also is being used for patients who have had one heart bypass surgery and need another. "We need to evaluate their bypass grafts and make sure they don't pass too close to the sternum, where the surgeon needs to make another incision," Trost says.
In addition, the scanner is used with some patients to determine whether they have calcium buildup on the walls of their arteries. "If we find the patients have any degree of calcium in the heart, we can start them on preventive therapies to prevent the blockages from growing," Trost says. "If the scan shows that the patient's plaque has high-risk features that could lead to a heart attack, he or she can be referred for an angiogram and possible stenting or even surgery."
James Naidich, MD, a practicing radiologist for 42 years who also had some risk factors for heart disease, underwent a 640-slice CT scan. The imaging test results revealed he had severe blockages in all three arteries in his heart—much to the surprise of his colleagues. In the spring, he underwent an angioplasty to unblock his arteries and place stents to restore blood flow.
Trost suggests reading the scans from the Aquilion ONE ViSION is no different from reading scans from conventional CT scanners. "Anatomy is anatomy and if you know it, you should be able to read it from multiple different machines," she says.
Physical Accommodations
The Aquilion ONE ViSION's footprint is a little larger than smaller scanners, but most of the time it can fit into an existing CT suite, Nicholson says.
Rosenberger says the only accommodation her department had to make for its scanner was adding special cooling devices to its reconstruction cabinets. "The actual scanner and gantry table is just like any other," she says. "But the Aquilion has two reconstruction cabinets and because the reconstruction is done so fast, it puts off an awful lot of heat. We did need a special closet/room for the cabinets with special cooling devices."
Because of its low dose, the scanner also has a lot of potential for assessing pediatric patients, Nicholson says.
The cost of the Aquilion ONE ViSION is about 1.5 times that of a smaller scanner. "But if you can triage patients faster and move them through the emergency department and get a diagnosis faster, it can make up for the cost of the device," he says.
Several other US sites have installed the Aquilion ONE, but Toshiba hasn't announced them yet. Other systems are in use in Japan, Europe, and Australia.
Is it an everyday scanner? Nicholson says it certainly could be: "You could have this as your only CT scanner. You absolutely could."
However, he expects the demand to be greatest among sites that want to build programs around their expertise in a particular area where the 640-slice CT shines. "If you look at where health care is going in the US today, providers are being mandated to give better quality care and reduce cost," he says. "I think a lot of customers will do that by specializing. They'll be a specialized cardiac care or specialized stroke care or specialized pediatric care center, and that's where technology like this will help customers to do that."
— Beth W. Orenstein of Northampton, Pennsylvania, is a freelance medical writer and frequent contributor to Radiology Today.