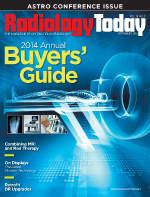 September 2014
Retrofit Upgrade: Vendors and Facilities Share Their Experience With This Popular Path to Direct DR
By Dan Harvey
Radiology Today
Vol. 15 No. 9 P. 8
The advantages of direct DR are widely accepted: enhanced image quality, improved workflow, and potentially significant dose reduction. But the transition from CR still involves some questions and challenges. Cost is a crucial consideration that goes beyond equipment price tags. Facilities examining conversion need to consider overall costs, including labor, workflow, and room utilization. The changing health care business environment forms a big part of the cost equation. "Get more done with less" is the mantra, and greater efficiency means the facility needs to see more patients in the same time frame.
Retrofitting existing CR systems (or in rarer cases, film) with DR can provide an attractive option for larger or smaller facilities. Vendors' retrofit technology is making the transition more affordable. Conversion to DR doesn't necessarily mean existing equipment has to be replaced. As long as useful life remains, the move forward can be accomplished with a relatively simple retrofit, but other factors can also influence purchasing decisions.
An aging CR system that needs to be replaced is one primary motivator; the capacity for greater productivity is another. In a consolidating health care environment, it's not unusual for a facility to see more patients and serve more physicians. "To remain competitive, [the facilities] must find a way to speed up the exam process, and that's where DR truly shines," says Steve Eisner, Konica Minolta's senior product marketing manager. "A wireless DR panel—the same size as cassettes—can accomplish the same things, for instance, positioning." The big difference is that the DR panel is independent of a secondary device (a CR reader) and, in turn, is more efficient.
Changing from CR to DR without replacing the entire radiography room is where facilities begin. "The DR detector, similar in size and weight to the traditional cassette, makes for an easy transition," says Rob Fabrizio, director of marketing and product development at FUJIFILM Medical Systems U.S.A. "Because it's wireless, the detector is still much like CR, and that means it can fit well into existing equipment with minimal modifications. A customer will be rapidly up and running.
"In most cases, customers come to us for specific reasons—for instance, our current growth market is on the mobile side," he adds. "They need to upgrade their mobile units or transition to DR…"
Replacing an outdated system that no longer meets the facility's needs is the starting point for the customer and vendor, Fabrizio says.
Detector Size
DR mobility and detector size (now both large and small) fuel market growth. Many purchasing decisions start with detector size, according to Fabrizio. Fujifilm carries three: 14 X 17 in, 17 X 17 in, and 24 X 30 cm, an appropriate size for neonatal isolette trays. A small detector can make a lot of sense, not just for neonates, but also for shoulder and C-spine exams, Fabrizio says. "Some customers come to us thinking in terms of full-size, but once they are shown the value of the smaller format, they realize it's something they need. It becomes a no-brainer," he says.
Functionality and practicality of detector size are elements that must be considered, Eisner says. The customer picks the size that's most appropriate based on the image target. He says the 14- X 17-in detector tends to be the most accepted wireless detector because it fits existing bucky trays and is light and comfortable for the users, while the 17- X 17-in detector is more popular in fixed systems.
"Detectors have been made very easy to share from one use to another, further simplifying transition," Fabrizio says. "For example, you could upgrade one room to the latest workstation and buy a DR portable and share the detector part-time with the room and part-time with the portable. That represents a good return on investment [ROI]."
While many purchasing decisions start with the detector size and the mobile system that users need most or like best, with today's emphasis on cost, many customers will consider retrofitting existing rooms to accommodate the DR transition, Fabrizio says.
The retrofitting route depends on two primary factors: a facility's budget and how well its current X-ray system still functions.
"In the current era of economic trouble and health care reform, and restrictions on hospital budgets, hospitals don't want to replace equipment until there's an emergency or the equipment has reached the end of useful life," Fabrizio says.
Ueli Laupper, Agfa Healthcare's business director for DR, says the following are key questions to consider and balance in evaluating a potential retrofit upgrade:
• When did you last purchase equipment?
• Does it make sense to completely replace the old equipment with new?
• Is retrofit the more practical option?
Consulting Service
Many vendors are now including consultation among their offerings. "As needed, we'll consult with a customer on an ROI comparison between CR and DR," Eisner says. "If a customer is very busy with film or with their CR system, the math is pretty linear about what they spend on labor and the impact of using two rooms instead of one. The question becomes 'why would they'? Potentially, DR is twice as productive as a CR room, depending on workflow. ROI is key when factoring in resources such as labor and second-room upkeep."
Laupper says Agfa offers a consulting service called migration planning, designed to help customers analyze their installed base, assess equipment age and performance, and fit everything in according to available budget. Agfa offers service agreements tailored to a customer's specific situation, which helps make lifecycle costs more predictable.
A good example of how this works is the radiology department at Loma Linda University Medical Center in California, which recently made a full transition from CR to DR using Agfa's program. The transition mainly involved the installation of some DX-D Retrofits to upgrade to DR and retain current equipment.
The medical center began the transition process in 2013. It wanted to upgrade to DR technology mainly because of dose reduction. Now, about 80% of its imaging procedures involve DR. "Agfa's financial model allowed us to implement the transition without having to go to our administration for capital," says Roland Rhynus, CRA, executive director of the radiology department.
At first, many thought the transition would be pretty quick, but several things soon became apparent. "We had done a single-room conversion with Agfa, and it went swiftly and smoothly, so we figured that doing a number of rooms at different facilities and portables would go as quickly and easily," Rhynus says. "But there were small hurdles, based on existing equipment. For instance, intermittent RF [radiofrequency] interference caused image artifacts. Each piece of equipment reacted differently to the DR environment. Agfa helped us figure it out, although it wasn't as quick as anticipated. By keeping our eye on the ball, we realized dose reduction and improved efficiency."
Dose reduction and efficiency were the core of his recommendation to Loma Linda University Medical Center's administration. There was cost involved, but the expense was primarily an adjustment to existing maintenance service agreements rather than direct purchase dollars.
"We already established an arrangement with Agfa, where we have a maintenance service agreement for image acquisition and PACS, so we know that improvements entail a certain amount of money," Rhynus explains. "The more effective and more efficient, the greater the price. So savings that we could have implemented by rollover—we no longer needed this or that—we used to acquire the upcharge for the transition from CR to DR technology.
"We implemented DR at each campus but not in all X-ray rooms," he adds. "Frankly, some X-ray rooms we never use. They're in a back-up to a back-up situation. Many large facilities face a similar situation."
Mobile Improvements
Rhynus says portable DR was a valuable piece of the transition. "We were well into the discussion about how to do this—how many plates, what it would look like, the financial outlook, how to roll out, and so on—and portable changed it for us a lot," he explains. "Instead of doing an extra room, we went portable. That's huge from a reader and physician perspective. In the old world, it was incredibly inefficient. In the new world, it's right there. Everybody immediately sees, and it's over. There are actionable, clinical results."
Carestream has seen many of its customer sites upgrade X-ray rooms and portable systems from CR to DR, accomplished via installation of the company's DRX detector and using the facility's existing equipment. The El Camino Hospital in Mountain View, California, retrofitted systems to transition from CR to DR. The facility installed three Carestream DRX-Revolution mobile X-ray systems and two DRX-Mobile Retrofit Kits to equip its campuses in Mountain View and Los Gatos. All DRX-Revolution and retrofitted systems are equipped with high-resolution, wireless cesium iodide detectors.
At the hospital's Mountain View campus one DRX-Revolution is dedicated to the neonatal ICU and two DRX-Revolution systems are used in the emergency department and operating room as well as for bedside inpatient exams. The Los Gatos facility retrofitted two existing portable systems with wireless DR detectors. These systems perform about 60 general X-ray exams daily in all areas of the Los Gatos hospital.
El Camino's imaging operations manager Howard Sanford, DC, RT(R)(MR), says radiation dose and efficiency drove the upgrade decision. "DR is far superior as far as workflow," he says. "It saves us time and labor hours. There's affordability, too."
The radiology department selected the DRX-Revolution because of its innovative hardware and software features: a collapsible column, motorized driving, better maneuverability, and a powerful 32kW generator, according to Sanford. The generator produced better image quality for thicker body parts, such as abdominal exams and lateral lumbar spines, as it captured images in shorter exposure times.
Carestream's DRX-Mobile Retrofit Kit enabled El Camino to upgrade existing CR-based units with wireless DR detectors.
"To break it down, we have affordability," Sanford says. "In the long term, this will save on work hours. On the service side, our physician customers see images in real time, especially with portable equipment and in the upgraded operating room. That's where real time truly counts. As far as images, we can check quality and when an error occurs, such as with positioning, we can make an immediate correction.
"Before, with CR, a patient had to wait in a room while we reviewed everything," he adds. "That not only made the patient impatient, it tied up a room. Previously, efficient throughput was hard to accomplish, especially with the outpatients who came in during heavy traffic times. Now we can schedule more patients more efficiently."
Ultimately, an appropriate, well-managed retrofit upgrade can bring a facility DR benefits with minimal disruption. "With a fairly seamless transition, it makes technologists' lives easier," Eisner says. "Results are almost instantaneous. Workflow is greatly improved. Images are better, and it makes the technologists look better. More importantly, exams get finished much more rapidly and effectively."
— Dan Harvey is a freelance writer based in Wilmington, Delaware.