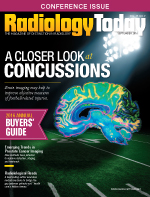 September 2016
Interventional Update: A New Twist — Novel Stent Design May Improve IR Procedures
By Dave Yeager
Radiology Today
Vol. 17 No. 9 P. 12
With efficiency and patient satisfaction becoming increasingly important in health care, physicians are looking for new ways to add value to their services. One example of this impulse may be coming soon to ureteral blockage treatment. A new nephroureteral stent that can help interventional radiologists reduce patient discomfort, save time, and cut costs may be approved by the FDA later this year.
Nephroureteral blockages can be caused by kidney stones, tumors, trauma, or an enlarged prostate, among other conditions. Typically treated noninvasively by a urologist, some blockages require treatment with a stent. If a blockage is severe, the urologist may refer the patient to an interventional radiologist. The current method of nephroureteral stenting for a ureteral obstruction, however, is a two-part process, and each part takes an hour.
In the standard care model, fluoroscopy imaging is used to guide a percutaneous nephrostomy catheter into the patient's kidney through the patient's flank. A disposable drainage bag is attached to the catheter, and the patient is usually discharged within 24 hours. The second procedure takes place three to 14 days after the first, after the puncture site has healed. During this procedure, which is also performed with fluoroscopy, the patient is sedated, the catheter is removed, and a cytoscopic stent that runs from the patient's kidney to his or her bladder is inserted.
Two for One
Bob Smouse, MD, FACR, founder, CEO, and CMO of BrightWater Medical and a professor of radiology and surgery at the University of Illinois College of Medicine in Peoria, has been doing traditional nephrostomy catheterization for more than 20 years, and he believes he's found a better way to treat ureteral obstructions: Smouse has developed a different type of stent.
Smouse's stent, the ConvertX System, can be implanted as an internal-external catheter and converted to an internal stent. It is inserted the same way as a traditional stent, but it requires only one procedure. The plastic composite stent has an external port that can be hooked to a drainage bag or capped to allow natural drainage from the kidney to the bladder. Three to 14 days after the stent is inserted, the port can be detached without a second procedure. In addition to this ureteral application, Smouse foresees potential liver and pancreas applications with modified versions of the stent.
At the Society of Interventional Radiology annual meeting in April, Smouse presented three studies that examined the use of the ConvertX System in preclinical models. All conversions from catheter to stent were successful; no stent migration, blockage, encrustation, sedimentation, fractures, or deformations were reported. Later this year, BrightWater Medical will submit an application to the FDA for 510(k) clearance as a Class 2 device and to the European Union for CE mark approval of the ConvertX System. In May, the company completed a Series A financing round for $5.2 million with OSF HealthCare of Peoria, Illinois.
"The ConvertX can be used in every case where you need to put a stent in through the flank," Smouse says. "It can be used for cancer patients, large impacted kidney stones, prostate cancer that blocks the orifice of the ureter, or patients who have scar tissue in the ureter from previous kidney stones or medical interventions, so it can be used for any blockage that requires an antegrade (top-down) ureteral stent insertion."
Urologists insert retrograde (bottom-up) stents for less difficult blockages, a procedure that allows them to avoid going through organs, but for large kidney stones or cancer, Smouse says an antegrade approach is required. Most of the patients who are referred to Smouse with difficult blockages are cancer patients. He says the stents remain in the patients between, on average, one and three months. During this time, the patient's urologist and oncologist plan the patient's cancer treatment.
Barry T. Katzen, MD, FACR, FACC, FSIR, founder and medical director of the Miami Cardiac & Vascular Institute and a clinical professor of medicine at the University of South Florida College of Medicine, says 50% to 60% of the ureteral blockages that are treated at his hospital require a nephroureteral stent. He has tried the ConvertX stent in preclinical models, and he thinks it would fit well with the existing workflow.
"It feels in your hands just like a traditional nephroureteral stent, and it has the stiffening cannula in it that facilitates passage through the soft tissues and the kidney and into to the obstructed ureter," Katzen says. "The first part of the procedure is done in the same way that it would be done with conventional or existing technology. It doesn't have either an increased size or stiffer feel than what we're using now."
Because the device is similar to other stents, Katzen says using it doesn't carry a high risk. He adds that the health care system may benefit from reduced costs and increased availability of IR suites. The most important aspect of the device, though, is its potential effect on patient care.
"It's virtually eliminating a second complete procedure, so that makes it more comfortable and easier for the patient and everybody else in terms of having to do a second procedure to remove the nephrostomy tube," Katzen says. "The iteration that's driven in this is really reflective of the change that's happening in our health care environment."
— Dave Yeager is the editor of Radiology Today.