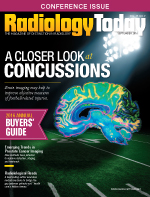 September 2016
Emerging Trends in Prostate Cancer Imaging
By Keith Loria
Radiology Today
Vol. 17 No. 9 P. 18
New methods have potential to improve detection, staging, and treatment.
Prostate cancer is the most common nonskin cancer and second-leading cause of cancer mortality among men. About 1 in 7 men will be diagnosed with prostate cancer during his lifetime, and 1 in 39 will die as a result. According to The American Cancer Society, approximately 180,890 new cases of prostate cancer are expected in the United States in 2016. PET and CT have been used in conjunction to image both the physiological function and the structure of recurrent prostate cancer, but new molecular tracers and additional imaging modalities are starting to play a role in detection and treatment, as well.
Rise of Radiotracers
New radiotracers have shown promise for prostate cancer staging and detecting recurrence after therapy. At the 2016 annual meeting of SNMMI, oncologists presented a study on the increased use of prostate-specific molecular imaging at the point of initial biopsy and preoperative planning to root out the full extent of disease. For example, according to a press release, research scientists have been working on a PET imaging agent that targets a protein called prostate-specific membrane antigen (PSMA), which is overexpressed on the surface of prostate cancer cells and can be detected even after they have spread to other organs.
The agent is made by combining a small amount of radioactive material called gallium-68 and the molecular compound PSMA-HBED-CC; collectively, it is known as Ga-68 PSMA. Prior to PET/CT scanning, Ga-68 PSMA is injected into the patient, binds to cells expressing PSMA, and emits a signal that is detected by the scanner. A study conducted by Wolfgang P. Fendler, MD, from the department of nuclear medicine at Ludwig-Maximilians-Universität of Munich, showed that Ga-68 PSMA PET/CT accurately identifies affected regions of the prostate and may present a promising tool for noninvasive tumor characterization and biopsy guidance, according to the press release.
There are also several new, commercially available radiotracers. In May, the newest tracer, 18F fluciclovine ([18]FACBC), was FDA-approved for men with suspected prostate cancer recurrence following therapy. [18]FACBC joins the growing armamentarium of imaging tracers, which also includes C-11 Acetate and C-11 Choline, to detect local and distant prostate cancer.
Currently, Decatur Memorial Hospital (DMH), in Decatur, Illinois, and the Mayo Clinic in Rochester, Minnesota, are the only two places in the country using C-11 Choline for PET/CT and MRI. Thomas H. Tarter, MD, PhD, a urologic oncologist with Cancer Care Specialists of Illinois, says C-11 Choline PET/CT and MRI uses a tracer that, after injection, highlights the exact location of prostate cancer in patients and is particularly effective for men whose prostate specific antigens go up after a prostatectomy without explanation.
"The imaging has advanced markedly in just the last five years, both for diagnosis and accurate detection of prostate cancer, especially in the relapse state, and that's where C-11 Choline comes in," Tarter says. "It is the most sensitive test we have—about a 30% detection rate over conventional imaging, in the relapse state."

C-11 Choline is a radioactive isotope agent. Because of its short half-life, it is produced on site at DMH by a Cyclotron; once it's created, it must be injected into the patient within an hour. The drug is injected into a patient who then undergoes a PET/CT and PET/MRI of the pelvis. When the drug is accumulated in the relapsed prostate cancer's site, it appears on the PET scan as a bright spot. Mark Muscato, MD, director of radiology at DMH, believes C-11 Choline is the best test right now for diagnosing prostate cancer.
"It has a greater affinity for uptake in prostate cancer cells, and we're able to detect recurrent disease at a much earlier stage as compared to the other tests out there," he says. "Routine PET scanning with FDG isn't very sensitive for prostate cancer."
Another potentially useful radiotracer is sodium fluoride (Na-F-18 or NaF). Findings from a pilot study conducted by Andrea B. Apolo, MD, head of the bladder cancer section of the Center for Cancer Research at the National Cancer Institute in Bethesda, Maryland, suggest that the use of NaF-PET/CT, in clinical practice accurately detects bone metastases in patients with advanced prostate cancer, and follow-up scans over time correlate clearly with clinical outcomes and patient survival. The study, published in the June issue of The Journal of Nuclear Medicine, consisted of 60 prostate cancer patients, including 30 with and 30 without known bone metastases that were diagnosed by conventional imaging, who underwent NaF-PET/CT at baseline, six months, and 12 months. The findings showed that changes in standardized uptake values and lesion number were correlated with prostate-specific antigen change, clinical impression, and overall survival.

"Our study suggests that NaF-PET/CT may be a useful imaging modality in the diagnosis, prognosis, and follow-up of prostate cancer patients at high risk for bone metastasis," according to a press release about the study. "It provides a strong rationale to further the clinical development of NaF-PET/CT as a bone imaging tool in prostate cancer and other malignancies."
MRI Targets Tumors
The past few years have seen a tremendous increase in the use of MRI for prostate cancer diagnosis. In 2015, the ACR, the European Society of Urogenital Radiology, and the AdMeTech foundation jointly released expert consensus guidelines: Prostate Imaging Reporting and Data System, version 2 (PI-RADS v2), modeled after similar efforts that took place with breast imaging in the '90s that were designed to promote global standardization of acquisition, interpretation, and reporting of MRI exams. PI-RADS v2 was released in response to the rapid proliferation and adoption of prostate MRI throughout the United States and abroad.
"Prostate MRI is used to direct biopsies at suspicious regions in the prostate as well as to direct focal therapies, such as laser ablation," says Ely Felker, MD, an assistant professor of radiology at the David Geffen School of Medicine at UCLA. "The American Urological Association and the Society of Abdominal Radiology released a consensus statement [in June] wherein prostate MRI and MRI-targeted biopsy was strongly recommended in men with a negative systematic prostate biopsy and persistent clinical suspicion of prostate cancer."
UCLA is one of the few centers in the country to offer both MRI-ultrasound fusion prostate biopsy and in-bore MRI-targeted prostate biopsy. The center currently has a National Institutes of Health-funded prospective clinical trial under way comparing MRI-targeted prostate biopsy approaches with the current standard, systematic transrectal ultrasound biopsy. It also recently completed a phase 1 clinical trial evaluating focal laser ablation in men with intermediate risk prostate cancer. The study found that the precise application of heat via laser to a tumor is both feasible and safe in men with intermediate risk prostate cancer.
Led by Leonard S. Marks, MD, a professor of urology and director of the UCLA Active Surveillance for Cancer of Prostate Program, the phase 1 study discovered no serious adverse effects or changes in urinary or sexual function six months after the procedure. This technique involves the insertion of a laser fiber into the tumor using MRI guidance, which, when heated, destroys the cancerous tissue, according to a press release from the program.
"Our feeling was that if you can see prostate cancer using the fusion MRI and can put a needle in the spot to biopsy it, why not stick a laser fiber in the tumor the same way to kill it?" Marks says. "This is akin to a lumpectomy for breast cancer. Instead of removing the whole organ, target just the cancer inside it. What we are doing with prostate cancer now is like using a sledgehammer to kill a flea."
Felker, who works with Marks, notes that the understanding of prostate cancer is rapidly evolving and, along with it, the ways to detect, risk-stratify, and manage it.
"Imaging, principally MRI, is assuming an increasingly central role in this new paradigm," she says. "As more molecular information underlying prostate cancer is deciphered, I expect there will be significant efforts to identify novel imaging features or 'biomarkers' that correlate with and possibly predict these genomic features."
Another MRI-guided procedure, commercialized by Profound Medical Corp., Toronto, Ontario, Canada, combines real-time MR imaging with transurethral robotically-driven ultrasound to heat and ablate malignant prostate tissue. Steve Plymale, CEO of Profound Medical, says the system provides millimeter accuracy of ablation tailored to patient-specific anatomy and pathology. Unlike high-intensity focused ultrasound, which coordinates ultrasound beams to the prostate from the outside in via the rectum, Profound's TULSA (transurethral ultrasound ablation)-PRO device uses a transurethral ultrasound applicator that is inserted into the prostate via the urethra, heating the targeted tissue.
"Thermal ablation is different from focused ultrasound," Plymale says. "Our applicator has 10 transducers that produce an ablation area with a 360° sweep, rather than a focused beam. Operating from the inside out rather than the outside in, it heats the precise prostate area and simultaneously cools the urethra, creating a 1 mm cooling zone. We heat the tissue while receiving real-time temperature feedback to ensure that critical structures around the prostate are preserved and side effects are reduced or, in some cases, eliminated."
A phase 1 study that was approved for publication in European Urology examined the use of the MRI-guided TULSA system on 30 patients with biopsy-proven low-risk and intermediate-risk prostate cancer. The treatment was delivered with the therapeutic intention of conservative whole-gland ablation with 3-mm safety margins and 10% residual viable prostate around the prostate capsule; patients were followed for 12 months after the procedure. The study found that MRI-TULSA was safe and technically precise for whole-gland prostate ablation in patients with localized prostate cancer, and its side effects were well tolerated.
Plymale says Profound Medical was granted CE Mark approval in April 2016 and is working on FDA 510(k) clearance for TULSA-PRO. A 110-patient Pivotal Trial will begin in the third quarter of 2016.
Watchful Waiting
There is a growing awareness, however, that not all prostate cancer demands immediate treatment. Active surveillance, or "watchful waiting," is an increasingly adopted strategy by many men with low-risk disease.
"In this paradigm, men with low-grade prostate cancer defer definitive therapy, instead opting for periodic imaging and/or biopsy," Felker says. "This approach allows men to avoid potential side effects such as impotence and incontinence, without missing the window of opportunity for definitive therapy, if it becomes necessary."
MRI and MRI-targeted biopsy have proven very useful in terms of initial risk stratification and serial monitoring of these men, both active areas of research at UCLA. Additionally, several new molecular tests are now available, using commercially available gene panels, which provide further personalized risk stratification based on molecular signatures in biopsy specimens. According to Felker, the three most widely used are Oncotype Dx Genomic Prostate Score, Prolaris, and Decipher.
With more and more data now available about personalized risk, men are increasingly wary of a one-size-fits-all approach when it comes to prostate cancer management.
— Keith Loria is a freelance writer based in Oakton, Virginia.