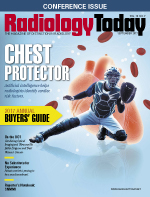 Reporter's Notebook: SNMMI 2017
Radiology Today
Vol. 18 No. 9 P. 18
Editor's Note: This article is based on press materials provided by SNMMI at its Annual Meeting in Denver.
Immuno-PET Shows Promise for Detecting and Treating Pancreatic Tumors
New research offers hope for pancreatic cancer diagnosis and treatment. A first-in-human study presented at the 2017 SNMMI Annual Meeting demonstrates the feasibility and safety of the novel human monoclonal antibody HuMab-5B1 with highly specific targeting for the cancer antigen (CA) 19-9, which is expressed on pancreatic tumors and a variety of other malignancies, including small-cell lung cancer and tumors of the gastrointestinal system.
"This new agent is intensely accumulated in pancreatic cancer and finds very small metastases with PET/CT imaging," explains Christian Lohrmann, MD, lead author of the study from Memorial Sloan Kettering Cancer Center in New York. "There are promising data that HuMab-5B1 could become a theranostic drug used in both targeted imaging and therapy, which could eventually improve the prognosis for pancreatic cancer patients."
The researchers evaluated the antibody with and without radiolabeling with zirconium-89 (89Zr-DFO-HuMab-5B1). With further validation, 89Zr-DFO-HuMab-5B1 could lead to a host of improvements in pancreatic cancer management—more accurate staging of tumors, better surgical guidance, restaging of metastases, and potential drug selection for CA 19-9 targeted therapies. The high uptake of the antibody alone suggests that it could be used by itself, radiolabeled, or coupled with another molecular compound to treat high-risk pancreatic tumors that are inoperable or metastatic.
For this study, nine patients with CA 19-9-positive metastatic malignancies underwent a series of four whole-body PET/CT scans—one the first day of injection with the imaging agent, then again on day two and around days four and seven. Subjects also received a diagnostic CT scan of the chest, abdomen, and pelvis within the four weeks leading up to baseline PET/CT. Results of the CT scan were used to verify the results of 89Zr-DFO-HuMab-5B1 PET/CT imaging.
Maximum standard uptake values normalized for body weight were analyzed for agent uptake in tumors. The agent was well tolerated and led to no serious side effects. Significant uptake was detected in local tumor recurrences as well as in metastases—for example, in the lymph nodes, lungs, bone, and peritoneum lining of the abdominal cavity. Uptake was analyzed for a total of 52 lesions. The highest uptake was shown on day seven in the lymph nodes. Results of the study showed that PET/CT imaging with the monoclonal antibody led to the detection of tiny tumors in the peritoneum and mesenteric lymph nodes that were not found by CT alone.
Targeted Photodynamic Therapy Highly Effective Against Prostate Cancer
Researchers presenting a preclinical study at the 2017 SNMMI Annual Meeting demonstrated the efficacy and optimal dose for targeted photodynamic therapy to treat prostate cancer before and during surgery. Prostate cancer is the most common cancer in American men, apart from skin cancer, according to the American Cancer Society. About 161,360 new cases of prostate cancer are estimated for 2017, and 26,730 men in the United States are expected to die from the disease.
For the study, prostate-specific membrane antigen (PSMA) was targeted with an anti-PSMA antibody radiolabeled with the tracer indium-111 and coupled with specialized photosensitizers that cause cell destruction upon exposure to near-infrared light. The combined formula is In-111-DTPA-D2B-IRDye700DX.
"Coupling the photosensitizer to an imaging agent that targets PSMA on the tumor surface makes it possible to selectively and effectively destroy prostate tumor remnants and micrometastases while surrounding healthy tissues remain unaffected," says Susanne Lütje, MD, PhD, lead author of the study, of the department of radiology and nuclear medicine at Radboud University Medical Center in Nijmegen, the Netherlands, and the Clinic for Nuclear Medicine at University Hospital Essen in Germany.
This technique optimizes prostate cancer care by allowing visualization of tumors prior to surgery, providing real-time guidance to surgeons in the operating room, and priming tumors for photodynamic therapy when surgery isn't enough or risks damage to sensitive structures. A gamma probe is used to detect PSMA-expressing tumor cells. Photosensitizers can then be activated with light in the near-infrared wavelength; this causes them to emit fluorescence, or oxygen radicals, that damage PSMA overexpressing tumor tissues.
Study results showed effective localization of the drug at the site of tumors, as well as effective imaging and photodynamic therapy via near-infrared exposure in mice. Further study in humans is needed before this procedure could be made available for prostate cancer patients.
"In the future, this novel approach to prostate cancer could significantly improve the effectiveness of treatment, reduce recurrent disease, and ultimately prolong survival and protect quality of life for patients," Lütje says.
PET Imaging of Atherosclerosis Reveals Risk of Plaque Rupture
Certain types of plaques associated with atherosclerosis are prone to instability and tend to break apart, a situation that, if left untreated, can lead to embolism and sudden death. Lesions called thin-cap fibro atheroma (TCFA) are especially prone to rupture. Stanford University researchers have developed a scanner that unites optical, radioluminescence, and photoacoustic imaging to evaluate for TCFA. The research was presented at the 2017 SNMMI Annual Meeting.
"This is the first clinical imaging system able to detect vulnerable plaque in their earliest stages," says Raiyan T. Zaman, PhD, an instructor of cardiovascular medicine at Stanford University School of Medicine. "Our novel imaging system can detect these vulnerable plaques despite their small size, complex biochemistry, and morphology. This could lead to a paradigm shift in the way coronary artery disease is diagnosed and assessed."
Early diagnosis and treatment could save lives by preventing the progression and subsequent rupture of these plaques. That is precisely why researchers designed the Circumferential Intravascular Radioluminescence Photoacoustic Imaging (CIRPI) system, which allows not just high-acuity optical imaging via a beta-sensitive probe but also radioluminescent marking inside the artery to determine the extent of inflammation. Photoacoustic imaging also provides information about the often complex biological makeup of the plaques—eg, how much is calcified or composed of cholesterol or triglycerides.
"This is an important and potentially life-saving tool that could one day be used by interventional cardiologists to identify the appropriate treatment plan for patients at risk of future TCFA rupture," Zaman explains.
For this study, researchers focused on atherosclerotic samples of both human and mouse carotid arteries and performed CIRPI following injection of fluorine-18 FDG. Photoacoustic lasers were used at different wavelengths to delineate plaque composition. The result was a never-before-seen 360° perspective of arterial plaque burden, confirmed effective by follow-up radiography, ultrasound, and histology.
According to 2017 statistics from the American Heart Association, cardiovascular disease, including but not limited to coronary artery disease, accounted for more than 17.3 million deaths worldwide in 2013, making it the leading global cause of death. The toll is expected to rise to 23.6 million by 2030. Coronary heart disease is estimated to cost an average of $10.4 billion annually. This amount is expected to increase by 100% from 2013–2030.
Dual Time Point PET Scan Identifies Alzheimer's Biomarkers
More people die of Alzheimer's disease than prostate and breast cancer combined. The Alzheimer's Association reports that more than 5 million Americans are estimated to be living with Alzheimer's disease. This number is expected to swell as high as 16 million by 2050, when Alzheimer's and other dementias could cost the United States more than $1 trillion. Identifying the disease before major symptoms arise is critical to preserving brain function and helping patients maintain quality of life. A new study presented at the 2017 SNMMI Annual Meeting demonstrates that a dual-time point PET scan could identify important biomarkers of Alzheimer's disease.
For this study, researchers assessed a procedure called dual-time point fluorine-18 Florbetaben (F-18-FBB) PET imaging, which involves the injection of a single radiotracer, F-18-FBB, and two scans performed to observe blood flow and amyloid burden in the brain—two biomarkers for neurodegenerative disease, including Alzheimer's.
"Until now, researchers conducted two separate molecular imaging procedures to glean information about beta-amyloid buildup and neuronal injury in the brain," says Henryk Barthel, MD, PhD, a professor and assistant medical director of the department of nuclear medicine at University Hospital Leipzig, in Leipzig, Germany. "This study provides proof of concept that information about both biomarkers can be obtained from the administration of a single PET tracer."
The study examined 112 subjects aged 62–82, with 53 women, 41 diagnosed with mild cognitive impairment, 50 with probable or possible Alzheimer's, and 21 with another dementia. Dual-time point F-18-FBB PET scans were conducted during the first 10 minutes of the procedure and again from the 90- to 110-minute mark. Researchers performed quantitative and visual analyses of PET data.
With these data, they were able to determine both neuronal injury and amyloid load in all subjects. At least one biomarker was positive in 39% of the subjects with mild cognitive impairment, in 37% of patients with possible Alzheimer's dementia, and in 72% of patients with probable Alzheimer's dementia. Larger prospective trials are needed to further validate this research, but if these results continue, dual-time point F-18-FBB PET could supplement diagnostic dementia workups by providing essential information about Alzheimer's pathology in a convenient and clinically useful manner.
Dual-Agent PET/MR With Time of Flight Detects More Cancer
Simultaneous injections of fluorine-18 (F-18) FDG and F-18 sodium fluoride (NaF) followed by quantitative scanning significantly improves image quality and detection of bone metastases at a lower dose, according to research presented at the 2017 SNMMI Annual Meeting. Dual-agent PET/MR is further supported by time of flight, a quantitative feature of modern PET image reconstruction that approximates the position where photons are created as radioactive agents decay, which translates into finer image quality.
"For certain patients with breast and prostate cancer who require evaluation of metastatic disease, a single PET/MR exam can provide more accurate information with less radiation dose in one procedure that is more convenient for patients and potentially less costly for the health care system," says Andrei Iagaru, MD, an associate professor of radiology and division cochief of nuclear medicine and molecular imaging at Stanford University School of Medicine in Stanford, California. 
For this study, researchers prospectively enrolled 56 cancer patients—39 men with prostate cancer and 17 women with breast cancer, ages 34 to 85—for conventional bone scans to determine the spread of their disease. All participants were administered simultaneous injections of F-18 NaF for the evaluation of bone turnover and F-18 FDG for increased metabolic activity and/or inflammation. After injection, scientists performed PET/ MR scans with time of flight capability and compared the results with conventional technetium 99m-methyl diphosphonate bone scintigraphy.
Results of the study showed improved detection of prostate and breast cancer that had metastasized to bone. Dual-agent PET/MR pointed to bone metastases in 22 patients who were also found positive for metastases with conventional bone scans. In addition, PET/MR detected more bone metastases in 14 patients when compared with the conventional bone scans, which caught only one lesion that was not detected by PET/MR. Researchers concluded that PET/MR found a greater extent of metastases and, as an added benefit, significantly reduced the required radiation dose from the injected agents—80% less from F-18 NaF and 67% less from F-18 FDG.