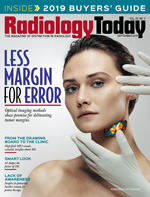 Editor's Note: Iterative Thinking
By Dave Yeager
Radiology Today
Vol. 20 No. 9 P. 3
Technological improvement is a hallmark of humanity; humans are good at tweaking existing technology, repurposing tools, and combining technologies to make something new. Voice-controlled remote controls are one example that comes to mind. These sorts of iterative improvements eventually lead to entirely new ideas about what is possible, a phenomenon that is often seen in medical imaging. This month's issue showcases evolving and evolved technologies that are redefining what is possible in health care.
Our cover feature looks at the uses of optical imaging for defining tumor margins. Surgeons typically remove a little extra tissue when performing tumor removal to ensure that no cancerous cells are left behind. Optical imaging methods that can be utilized while surgery is in progress show promise for shrinking those margins so more healthy tissue can be left intact. Beth W. Orenstein sheds some light on where the technology is now and where it may be headed.
Another imaging modality that offers a fresh look at an old problem is high-field MRI, which is providing more detail into the origins of multiple sclerosis. Although the loss of myelin, the coating that insulates nerve axons, is a known consequence of the disease, 7 T MRI is helping researchers identify cortical demyelinating lesions much earlier in the disease's progression, which has led to earlier diagnosis and tracking and may lead to improved treatment. Dan Harvey has a deeper dive into how this technology is advancing the understanding of MS.
Next up, Keith Loria has a rundown of the latest trends in DR. People tend to think of DR as "just X-ray," but Loria's article shows that there's more to it than that. With an increased focus on the patient's experience and continuing emphasis on reducing radiation dose, manufacturers are incorporating many new features into their DR systems. One particular area of emphasis is AI, which allows users to streamline workflow and obtain more information from scans than was previously possible. Find out what else is new with DR on page 18.
Finally, Chuck Green has an update on the state of proton therapy. Despite the clinical advantages it offers for many cancers, the therapy still faces several challenges, notably lack of access and reimbursement. For more patients to benefit from this therapy, providers will have to spread the word about its utility and allay concerns about its cost.
Enjoy the issue.
david.yeager@gvpub.com