October 2010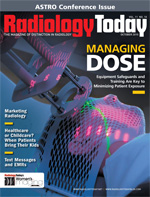 Healthcare or Childcare?
By Kathy Hardy
Radiology Today
Vol. 11 No. 10 P. 26
There really isn't a good place for children in imaging center waiting rooms, but parents often expect a women's imaging center to provide childcare service.
When patients bring their children to their mammogram appointments or other imaging exams, they add an unexpected and sometimes unmanageable dynamic to a women's imaging facility's day-to-day operations. Unattended children can put a strain on already busy staff members, create a stressful environment for their mothers and other patients in the waiting room, and leave the facility open to liability issues.
"We have not had a child hurt in our office, but I feel that it's inevitable," says radiologist Stamatia Destounis, MD, managing partner of Elizabeth Wende Breast Care (EWBC) in Rochester, N.Y. "Things are bound to happen. I'm a little bit worried, but we're an outpatient facility and when a patient walks in, there is an expectation that we will take care of them. That expectation includes taking care of whoever comes with them."
Discouraging Children in Tow
One of the largest freestanding breast imaging centers in the United States and the largest single-site center in New York state, EWBC has handled more than 200,000 patients since opening in 1975. In that time, the center has seen an increase in the number of women who bring children with them. This could be a reflection of hard economic times, where it's more difficult to find and pay for reliable childcare. Some women may not have family members who can stay with the children, while other women are simply unaware children are not permitted in the exam area.
At the Women's Imaging Center in Denver, the mission is to "respond with respect and dignity to individual medical, physical, and emotional needs." To focus on the mission of caring for women, office manager Gail Berliner says her staff tries to discourage mothers from bringing their children to appointments.
"We don't have a place for children to play, nor do we have any babysitting," she says. "We tell women that it's best if they find someone to watch their children for them or reschedule their appointments, telling them we would be happy to accommodate them at another time."
Patients of the Women's Imaging Center receive letters prior to their appointments in which, among other instructions, they are encouraged to find someone to watch their children. The center also offers women the option of rescheduling their exams if they cannot come to their appointment alone. Other centers publish instructions in brochures or on their websites about whether or not they can bring children with them.
Berliner says she sees more children during the summer months, when kids are not attending school. School-aged children are often more capable of entertaining themselves, sitting quietly, and reading during their mother's imaging exams so they create less disruption. And babies can remain in carriers outside the mammography room to be easily watched by a staff member.
"If a baby is sleeping, someone from our staff will sit with the baby carrier while the mother is having her mammogram," Destounis says. "A routine mammogram doesn't take a significant amount of time. Assuming there is no underlying concern with the patient, the technologist will check the image for quality and then the patient can pick up her baby and go home."
Toddlers and children up to the age of 6 can be the most difficult to manage when left alone in the waiting room, Destounis says, because they don't easily entertain themselves. "If a child is not sitting with his or her mom, one of our staff members has to watch that child," she says.
Another factor that affects the need for office staff to watch a child is the type of procedure a woman is undergoing. If she is having a more in-depth diagnostic procedure and brings children with her, they will more likely need some attention from staff members.
"There is no guarantee that the patient will be out in less than an hour," Destounis says. "We are an online facility, and a majority of our patients want to wait for the results of their exams. That process can take an hour or longer. That's just the nature of an online practice."
No Standard Policy
Destounis says there is no standard industry policy regarding unattended children in imaging center waiting rooms. Some centers have a policy that children must be accompanied at all times, meaning women must bring another adult with them to supervise their children. While common sense says parents should watch their children, centers often attempt to manage the risk by posting signs in the waiting rooms notifying parents that they are responsible for controlling their children at all times.
"Women have been bringing their children here since the center opened," she says. "It's only been recently that we have become more aware of what can happen when it comes to issues of confidentiality and medical-legal issues as they relate to potential injuries to children while they are at our center."
Despite this, the EWBC Center does not have a policy regarding women and children at the center. In fact, many centers don't have written hard-and-fast policies. These organizations contend that while unattended children are an issue, they don't want to alienate women who need their services.
"A policy is not considered a 'warm and fuzzy' approach to this situation," Destounis says.
Berliner says the Women's Imaging Center does not have a written policy regarding children in the waiting room. adding that the facility's insurance carrier does not require them to have one. The assumption is that if a patient brings someone with them, the patient bears the weight of responsibility for that person.
Customer Service
Destounis says there is an expectation among many patients that a women's imaging center will have staff to help with their children. A practice that addresses women's medical needs is perceived as a nurturing environment, one in which children would be welcome.
"We are a customer service organization," Destounis says. "We don't want to upset our patients. If a patient has a problem, we want to take care of them. That can include taking care of their children while they are at our center."
As first-time patients become return patients, they continue to expect that someone at the center will take care of their children during their exams, Destounis continues. At that point it becomes difficult to stop the practice and turn children away, even if they are behaving badly. Situations in which children are disruptive can become awkward and unfair to other patients in the waiting room, many of whom are stressed because of their medical conditions. In some cases, women dressed in the gowns to undergo certain imaging procedures are placed in the same waiting area with children waiting for their mothers.
"We've had patients complain about noise from children, whether it's crying or they're just being loud," Destounis says. "When that happens, we will move the patient with children to another area of the center. However, sometimes they don't want to move, and we need to find other ways to deal with the situation."
In some cases, imaging centers will take steps to create a safe area for children away from potential injury threats, such as hot water for making coffee or tea. Childproofing efforts can include outlet covers and age-appropriate furniture.
Over the years, EWBC has added crayons and coloring books to its inventory of magazines as well as toys and games to its waiting room. They have even done some remodeling in an attempt to create a separate space for children, but the space continues to fill quickly, Destounis says.
While adding space can be costly, so too are increased staff to accommodate the needs of women who need childcare while undergoing their imaging exams. The Women's Imaging Center keeps two employees at the front desk at all times, and they can provide some assistance with children. However, they have their own job responsibilities and are not meant to act as babysitters, Berliner notes.
Multitasking Staff
Some existing employees have been asked to take on additional roles. Patient advocates, typically employed to handle everything from explaining patients' medical conditions to helping them with health insurance and billing issues, are now taking on the role of in-office nanny. Destounis says that EWBC began employing one patient advocate several years ago. Today, that number has increased to three, due in some part to the additional role of childcare provider.
"Our patient advocates will take care of children who need to be left unattended in the waiting room," she says. "They take the children to a smaller area of the center where they can remain separate from other patients."
Typically, patient advocates have backgrounds in healthcare, social work, insurance, or the legal field. "Patient advocates aren't trained as childcare providers," Destounis notes.
Hiring more patient advocates has helped EBWC deal with the growing situation of children in the waiting room, but that has come at a cost.
"Breast centers don't have unlimited funding, and hiring additional staff to take care of patients' children is difficult," Destounis says. "As healthcare issues grow, so do our expenses."

As women's imaging centers add childcare to their already full plate of responsibilities, office managers and practice leaders continue to evaluate patients' expectations and weigh them against the cost of maintaining a successful practice.
"Where does our responsibility end?" Destounis asks.
— Kathy Hardy is a freelance writer based in Phoenixville, Pa. She is a frequent contributor to Radiology Today.