October 2010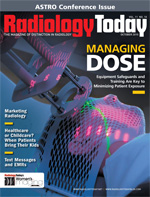 When Healthcare Meets Childcare
By Jim Knaub
Radiology Today
Vol. 11 No. 10 P. 6
Imaging facilities are not in the business of providing childcare, but many—particularly women's imaging centers—regularly face the expectation that a facility's staff will watch a patient's children while Mom has her imaging done.
Unsupervised children present real risks in a healthcare environment, and a kid-sized table with coloring books is not supervision. Committing space and staff to childcare isn't the job of an imaging facility, but many facilities feel forced to use front desk or patient advocacy staff for impromptu babysitting, even though they don't have appropriate systems in place to supervise children. As a result, imaging center management typically discourages mothers from bringing their children with them to imaging appointments, but that doesn't stop parents from doing so anyway.
Turning patients away because they have children with them means some will skip mammograms or other needed exams. Patients who don't have a support system where someone can watch their children during an appointment are likely to be the ones who need care the most. Providing babysitting during appointments is seen as good customer service in an increasingly consumer-driven healthcare environment, despite the fact that most imaging centers are not set up to provide it.
"We have not had a child hurt in our office, but I feel that it's inevitable," radiologist Stamatia Destounis, MD, told writer Kathy Hardy in an interview for our story on this sensitive subject on page 26. Destounis, managing partner of the Elizabeth Wende Breast Care Center in Rochester, N.Y., continued: "Things are bound to happen. I'm a little bit worried, but we're an outpatient facility and when a patient walks in, there is an expectation that we will take care of them. That expectation includes taking care of whoever comes with them."
Does your facility face this problem? Tell us how you handle it. Send your e-mail to the address below or post a comment on the Radiology Today Facebook page.
Enjoy the issue.