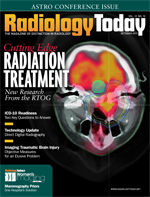 October 2011
ICD-10 Readiness
By Lindsey Getz
Radiology Today
Vol. 12 No. 10 P. 18
Are your software vendors up to speed? Is it possible to estimate the project's cost?
As the countdown to the October 1, 2013, ICD-10 implementation deadline slips beneath two years, many hospitals and healthcare organizations are scrambling to ensure they're ready to go. Among the uncertainties involved in the implementation process, vendor readiness and costs projections are two that can best be addressed with clear communication and early planning.
With a slew of changes looming on the coding horizon, hospitals and other imaging facilities must keep constant tabs on their transition to ICD-10. Vendor readiness is one of the bigger challenges confronting providers, with many reporting they are unaware of whether their vendor is prepared for the transition. To help alleviate this potential pitfall, experts recommend providers maintain an open dialogue with vendors and fire a healthy dose of questions in their business partner's direction. That may sound like a simple task, but for large organizations it's not so straightforward.
"Many organizations we talk to have a substantial number of vendors," says Mark J. Williams, a partner in PricewaterhouseCoopers' health industries practice. "Additionally, [many] organizations do not have a very robust structure on how to manage all of these vendors. Sometimes vendor management is distributed across the organization. … As a result, organizations often can't even provide a full list of their vendors. So the first step is to identify all of the vendors involved and then determine who within the organization is accountable for each. It's best if one central area can monitor everything effectively, at least through the compliance date."
Once the vendors who will be involved in the implementation process are identified, it's time to start the conversation. "It's important that hospitals are talking to their vendors early—as in today—if they're not already doing so," says HIMSS ICD-10 task force chair Tori Sullivan, MHA, RHIA, PMP. "Ask questions about what their timelines are for system modifications and what those modifications will include. Do those modifications add any new functionality? You certainly want to understand what your vendors' interpretations of those modifications are because vendors vary. It's not going to be the same answer across the board."
While it's crucial to ask vendors the right questions, Sullivan says it really comes down to testing. "You could never ask enough questions to satisfy everything you need to know without also doing a test run," she says. "The earlier you can get into a test environment, the sooner you can transmit test data into a real-life scenario. You can't duplicate your production environment, but you have to come as close as you can in a realistic manner."
Who is performing the testing is another factor to keep in mind, says Sullivan, citing the value of having educated resources on your side. "That means that your key users—the ones you may consider to be your 'super users,' who have coding knowledge and really understand the claims process—should be the ones doing the active testing," she notes.
Ralph D. Burns, president of the HealthSERVE division for SourceHOV, agrees that getting a jump on testing is advantageous to a successful implementation.
"If all vendors drop the new material on you in midyear 2013, when are you going to test and implement it?" he asks. "This needs to begin early and be accomplished in an organized fashion. We're proponents of establishing a program and applying project planning methodology. There are a lot of moving parts impacting different organizations—both internal and external. A detailed plan consisting of activities, dependencies, and milestone dates needs to be constructed and executed. Something that hospitals may not be thinking about is the need to establish a baseline of workflow processes, costs, and quality that can be tracked and evaluated. These metrics are vital input to knowing if a successful completion of a project has been attained. The problem is that hospitals are putting it off, and they don't seem ready to attack this. But I can't emphasize enough that it needs to start now. If one finds that a vendor is lacking in functionality, knowing that today and having a replacement plan in mind is critical as well."
One of the key discussion topics is the timing of product testing. In general, the sooner, the better, which may be cause for contract renegotiation.
"Organizations are going to want to work with their vendors to negotiate an addendum or a new contract that holds the vendor accountable for producing modifications to their ICD-10 product or service by a certain date," says Gwen Hughes, director of eHIM for Care Communications. "The healthcare provider may want to require a software vendor to deliver updated software well in advance of the October 2013 implementation date so that it can be installed, interfaced, and tested."
Actually, ICD-10 conversion may not necessarily be covered in a vendor contract, making an open dialogue even more critical. Providers are advised to examine the details of existing contracts to determine what modifications need to be made.
"In a lot of vendor contracts, where there's a compliance component, it may not be specific to ICD-10," says Burns. "It may say that vendors will maintain software compliance with whatever the current regulations are at the time. But with something as big as ICD-10, where it is necessary to operate in both an ICD-9 and an ICD-10 environment for a period of time, compliance probably comes with a price tag."
Besides setting a timeline, a contract addendum should include penalties if the vendor's product is not completed by the agreed-upon date. "I'm not a person who likes to think of beating someone with a stick for noncompliance, but the consequences to an organization for not being ready are truly enormous," says Hughes. "I'm suggesting penalties to hold the vendor accountable for meeting agreed-upon delivery dates that offset the financial burden to the provider if the vendor delay causes cash flow problems."
Burns says there's more to focus on than vendor agreements; payer contracts figure into the mix as well. "If you're renegotiating a payer contract, you better make sure it includes ICD-10 language," he says. "
"If there are codes called out in that contract, realize that those codes are going to change in 2013. Unfortunately, a lot of organizations just aren't focusing on that fact. They think they have a lot of time to deal with it, but that's not necessarily the case. If you're negotiating a multiyear contract with a payer, it's going to overlap into the ICD-10 period, and it's something that has to be dealt with now."
Predicting Costs
ICD-10 has far-ranging effects, not the least of which are cost concerns. Forward-thinking healthcare providers would like to get an idea of how the transition will affect them financially. In the CHIME survey, short- and long-term budgeting was cited as the second most pressing concern, mentioned by 45% of chief information officer respondents.
Unfortunately for providers, there is no simple formula for predicting ICD-10's financial burden. Nevertheless, there are areas where organizations can focus to gain insight into the final price tag.
Hughes says a lot can be determined by the implementation method. "Some [organizations] will do the absolute bare minimum," she says. "That may mean a few software upgrades and some coding-related education. For organizations that are small and have just a few relationships to manage, that bare minimum may prove adequate. However, larger, more progressive organizations will want to leverage ICD-10 to improve patient quality, safety, efficiency, and market share. Those organizations will perform detailed impact assessments on a variety of areas and create detailed plans to address each of those impact areas. That may mean an overarching guiding team and several workgroups—for example, revenue cycle, forms and templates, education and training, and IT—that have a tremendous amount of work to accomplish prior to implementation."
Williams agrees that some organizations will take a minimalistic approach—getting what he calls "just barely compliant"—while others will go the "distance out of the gate."
"How the organization approaches this from the beginning is going to make a big difference," he says. "Costs are going to be driven by the impact and the overall strategy taken. Keep in mind that the providers' admission process, the electronic medical records area, bill creations, appeals, and follow-ups, as well as payer claims, provider contracting, care management, actuarial, other business areas, as well as IT are all going to be impacted on some level."
Williams says predicting costs means considering what level of effort will be given to meeting the initiatives of each area affected by implementation. "It can get pretty granular," he says. "Organizations need to not only look at the hours spent internally but also the purchases that need to be made, whether it be vendorware, software, or consulting services. All of that also needs to be factored into the overall cost."
Organizations also need to keep in mind postimplementation coverage when it's expected that coder productivity will decrease and the organization as a whole will need time to stabilize. Burns says it's important to plan and view this conundrum from a cash flow standpoint. "One should establish performance baselines for coding accuracy, physician queries, backlogs, claim denials, and the like," he notes. "Monitoring all these things and estimating the impact on cash is a critical planning component.
"For example," he continues, "if I have 10 coders in my department and each one has to get trained, I might consider that it will take three or four weeks apiece over several months to complete the training. With the coder productivity dropping after go-live and while in training before go-live, an organization might need to consider using third-party coders to keep cash flow at the same level. That means the cost of outsourcing coding work may also be something to consider. While adding another cost to the budget may be stressful, the difference in productivity dropping off would be worse. Facilities need to plan for the drop in productivity."
However, with the industry struggling to secure enough coders as it is, Burns wonders where coding departments will find additional staff. "Considering the fact that the hospital next door to yours also needs coders, where are you going to get them from?" he says. "My advice is to figure it out in advance."
Because of supply and demand, many in the industry believe the price of coding may soon increase, giving rise to the thought that it could be a hidden cost that organizations are not factoring into their ICD-10 budgets.
"I've been in the industry for a long time, and I can remember the price of programmers going from $50 an hour to $200 as we got closer to Y2K," says Burns. "My opinion is that the price of coding will go up significantly the closer we get to 2013. A by-product of that rising cost is that it will drive more to look at computer-assisted coding. Technology might be the answer for simple records, but it won't be able to take over all of the organization's coding needs."
In the end, it all comes back to timing: The earlier organizations begin the implementation process, the better grasp they'll have on costs, which equates to a more on-target budget.
"It all relates to how early you can get started," says Sullivan. "We can't stress that enough. It's quite a large amount of information that needs to be understood, and that's not something that can happen overnight—no matter how many resources you throw at it."
As October 1, 2013, approaches, Williams says to think of it as a new chapter. "We like to talk about the compliance date not being the end but rather the beginning," he says. "After October 1, there's an entire transition period that everyone has to go through to make sure they got everything right. That could definitely take some time. As we move into ICD-10 implementation, it's time to start thinking about the long haul."
— Lindsey Getz is a freelance writer based in Royersford, Pa.