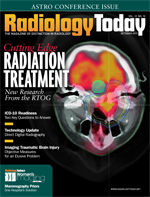 October 2011
Technology Update: Direct Digital Radiography
By Dan Harvey
Radiology Today
Vol. 12 No. 10 P. 26
Vendors and their customers recognize that the future of x-ray resides chiefly in direct digital radiography (DDR).
"As the technology continues developing, we'll witness much advancement," says Anne Ji, marketing supervisor of digital radiography for Canon USA Inc.
In the United States, DDR market growth remains slow but steady, reports Helen Titus, worldwide digital capture marketing manager at Carestream, a DDR technology provider. "Expect to see annual growth rates hit double digits in three to four years," she says.
Like any evolutionary change, DDR is characterized by advantageous adaptations. In the x-ray environment, change translates into improved image quality and productivity. "Quick capture of high-resolution images, and the ability to preview them in seconds, is critical to patient care," says Titus.
Many healthcare facilities have already realized that DDR effectively addresses digital workflow issues, says Ji. "CR was a good in-between solution, but it never cut out the image processing step in x-ray exams, so it was not a true workflow improvement," she says.
But with DDR, she adds, "We've heard many success stories, with customers indicating workflow improvements of at least 50% while providing patients a more comfortable experience."
With DDR systems, x-ray image display is available for immediate viewing anywhere on a PACS network, allowing imaging facilities to see more patients with the added benefit of better image quality.
"In addition, the patient can have their x-ray images put on a compact disc to take to their referring physician or hospital," says Viola Fernandes, radiography product manager at Siemens Healthcare.
Decreased Dose
In addition to workflow benefits, DDR can reduce patient radiation dose. "Compared to conventional image-capturing methods, DDR potentially uses less radiation for image acquisition," Fernandes says.
David Hotchkiss, director of product marketing, modality solutions for Fujifilm, concurs: "Dose efficiency is a major industry trend that drives this market forward," he says.
Also, as new companies enter the market, prices have significantly dropped in the past decade, Hotchkiss says. "In the past five years, facilities have found it more affordable to upgrade to DR." Many hospitals put off the move to DDR, citing that they don't have the exam volume to justify DDR's added cost. Hotchkiss thinks more cost-effective systems are shifting that equation. "Witness DR sales increase as CR sales decline," he says. "A new industry standard has been created."
DDR systems use a flat-panel detector rather than phosphor imaging plates for data collection, which results in some cost savings over equipment lifetime, Fernandes points out. DDR technology also promotes cost-effective retrofitting. "Many facilities in the United States keep a general x-ray room for as long as 14 years," says Hotchkiss. "Many installed rooms have gone CR, but the facilities want to upgrade without having to replace rooms. DDR is an effective way to retrofit an existing room."
That has led companies such as Fujifilm to provide whole room solutions and retrofit solutions. "You can buy a whole replacement room or you can convert," Hotchkiss says. "We can help customers do both."
Cutting the Cord
Wireless system development is a growing trend in radiography, enabling DDR without a corded flat-panel detector. The tether poses real challenges. "For one thing, it's cumbersome," says Shawl Lobree, vice president of diagnostic x-ray marketing for Philips Healthcare. "It makes it hard for a technologist working alone to position the detector and position the tether around the patient."
But there is a second, and perhaps more significant, challenge: patient infection risk. "While a DR mobile unit has been considered an advancement, hospital-acquired patient infection has been traced to the tether on a DR mobile unit," says Lobree.
Vendors and customers are breaking free from the cord, and the impact is proving profound. "Wireless DR is transforming this area of imaging for the entire industry, especially in the United States," he adds.
"Through the years, x-ray has become increasingly flexible and, about 10 years ago, vendors came out with new detectors, but these remained in the realm of traditional configurations," Lobree says.
"Innovations were still confined to room work. You're talking about a limited number of applications and the need to bring the patient to the x-ray room."
Philips Healthcare
Customers Going Mobile
Wireless technology has made x-ray even more flexible. "Freely positioned exposures, better workflow, better image quality, low dose benefit, instant imaging—it all comes together in wireless DR, or in one package," Lobree says. "It has improved workflow in the hospital and outpatient settings, and it works for the most difficult applications. You can take wireless into the ER, OR, and ICU and to the patient bedside."
Healthcare facilities have gotten the message. "At the last RSNA," he says, "Philips' No. 1 customer lead generator was our wireless DR mobile product, the MobileDiagnost wDR." A portable, DR wireless unit, MobileDiagnost wDR boasts the same image quality and workflow efficiency as a premium DR room. Its portability enables clinicians to easily image immobile patients, and it provides fast exposures for critical, pediatric, and bariatric patients, in a cost-effective fashion.
"This wireless mobile product features all of the premium DR features and capabilities of our room solution—the DigitalDiagnost wDR—in a compact, mobile base unit," says Lobree. "You can take it into any area where you need to do portable work. Its flexibility doesn't compromise image quality, performance, user interface, and power."
The product fosters clinical collaboration, according to an example Lobree provides: "At a site in Galway, Ireland, an orthopedic physician performed knee surgery on a patient and requested that a portable radiography be performed at bedside, to confirm results right after surgery."
The imaging procedure saved the physician 15 minutes in his day. That amount of time might seem small to most people, but for a busy physician, it's considerable. "He didn't have to wait for a CR cassette or a film," says Lobree. "He could immediately collaborate with radiology to ensure the optimal outcome and then move on to his next case."
As far as other innovations in DDR, Philips has also just launched the aforementioned DigitalDiagnost release 3.0, a customizable radiography system with a wireless portable detector that can be moved between the table and vertical stand and used for free exposures. The DigitalDiagnost 3.0 and MobileDiagnost wDR share the same wireless detector, Eleva user interface, and UNIQUE multiresolution image processing. The multiple, flexible room configurations provided by DigitalDiagnost 3.0 enable clinicians to customize their DDR department to balance clinical and budget needs.
Carestream Health
DRX Line Offers Smooth Retrofit
Carestream is another purveyor that is smoothing healthcare providers' transition from traditional to DDR technology. The company's DRX-1 system allows facilities to transition existing analog rooms, while the DRX-Mobile Retrofit Kits convert existing mobile imaging systems to realize the speed and convenience that DR offers. Titus describes the cost-effectiveness and ease of transition. "The systems are not only affordable but require less than a day for implementation and training," she says. "We also offer a fully featured DRX-Evolution suite that delivers optimal productivity and positioning flexibility."
Titus adds that Carestream's key competitive advantage is what it calls the "X-Factor." "That's the ability to move DRX detectors to any member of the DRX product family and to allow for flexible growth," she says.
A detector used in a mobile unit for a hospital's early morning rounds can be moved to a general radiology room for the rest of the day. Also, DRX detectors can be moved from day use in radiology exam rooms to mobile units that serve the emergency department at night. Further, when a facility is ready to upgrade to a full DR suite, the DRX detector can be deployed in the new room. "The ability to move detectors allows our DRX family to deliver a higher return on investment for capital purchases," she says about financial considerations.
The DRX family also offers clients advanced software, including Carestream's Tube and Line Visualization feature that provides instant verification for physicians placing tubes and PICC lines in seriously ill or injured patients. "This enhances care for ER and ICU patients," adds Titus.
At August's AHRA annual meeting, Carestream introduced two new additions to its DRX family: The DRX-Transportable System/Universal Mobile retrofit kit (which converts any vendor's existing analog mobile x-ray system to DR technology) and the DRX-Transportable System/Field Portable kit, which converts x-ray imaging systems used in diverse applications, such as nursing homes and field hospitals, to a DRX detector.
Siemens Healthcare
Flexible Configuration
Siemens helped pioneer the development of x-ray, so it's appropriate that the company offers a portfolio of DDR products to meet clients' clinical and budgetary requirements.
"The first commercial medical x-ray equipment was available from Siemens Reinger, in Erlangen, Germany, in 1896," Fernandes says. "In the past decade we launched a family of analog and digital solutions, with our ongoing investment into research and development."
The effort resulted in Multix M, which, as its name implies, is a multipurpose system that offers numerous application possibilities, according to the company. "It covers the radiography spectrum—from chest and skeletal to pediatric and orthopedic exposures—acquired either on the patient table, the wall stand, or as free exposures," describes Fernandes.
Images are available almost immediately, and exposures can be acquired using a single mobile flat detector. In turn, this offers customers positioning flexibility and utilization versatility.
The company's Ysio system consists of configurable DDR solutions tailored to match clients' specific imaging requirements. "This translates into the flexibility to select the key components and features that provide a best fit for the customers' radiography needs," says Fernandes, describing it as a new digital solution that can be as individual as a facility's routine. "Whether for general, trauma, dedicated chest, or other specialized imaging applications—for hospitals or private practices—and whatever the budget, Ysio is available in a variety of combinations: as a wall stand with an integrated detector, as a wall and table system with a wireless detector, and even as a mixed detector solution."
Canon USA
Adding Wireless to a Full Line
Canon is another DR pioneer—it introduced the world's first portable DR detector, followed by the first full-size portable DR detector—and, true to its heritage, it has advanced into wireless DR technology, even as it continues providing a full line of DR detectors.
Its newest line of DR detectors includes fixed, portable, and wireless products. All include the company's proprietary imaging technology that provide higher resolution and lowered x-ray dose.
Canon recently developed a glass substrate used in all its DR flat-panel detectors. This substrate features a 125-micron pixel pitch. Products provide higher-resolution images while lowering x-ray dose to the patient. "Low-dose efficiency is the focus that drives our product development, and this will be seen in the current line of DR detectors as well as future products," says Ji.
GE Healthcare
FlashPad: New Wireless Detector
As the x-ray equipment market expands and fragments, the importance of adaptable and game-changing equipment, post-sale product support, and quality technical training will rise, says Dave Widmann, general manager for GE Healthcare's x-ray rad/R&F business.
GE's recently introduced FlashPad is a new wireless detector designed to continue the company's tradition of reliability while representing cutting-edge durability and portability, he says, adding that it's "the first wireless detector to operate with ultrawideband connectivity."
Also, GE Healthcare's newest line of user-friendly, mobile x-ray systems—including the fully digital Optima XR220amx powered by FlashPad and the digital-ready Optima XR200amx—offer improvements from previous x-ray systems in areas of reliability, accessibility, and flexibility. "Based on customer input and built on GE's innovative medical imaging legacy, these mobile systems are designed to bring x-ray directly to the patient, enabling fast, low-dose, high-quality images that can aid in accurate diagnoses," he says. "Both also feature intuitive touch screens and immediate start-up capability that can help enhance workflow and other operational challenges."
The Discovery XR656, another of GE's DR systems powered by FlashPad, employs advanced applications, seamless data transfer, and flexible configurations to increase diagnostic confidence and improve workflow. These applications include Dual Energy Subtraction, which helps eliminate overlying bone obstruction from chest or abdominal images, and VolumeRAD, GE's version of digital tomosynthesis for radiography, which provides multiple high-resolution slice images of patient anatomy to remove obstructing structures and help improve lesion detection, say Widmann. "As well, GE's full-featured Precision 500D and Proteus XR/a offer not only quality imaging and advanced dose-management capabilities but also user-friendly workflow and productivity benefits."
Konica Minolta Medical Imaging USA
Seamless Digital Upgrade
From Konica Minolta comes the Aero DR wireless flat-panel detector system. This 14- X 17-inch cassette-sized detector has the same dimensions as an ISO 4090-compliant film cassette and will fit into an existing wall stand or table bucky without any modifications. Applications include general radiography and portable radiography, says Darren Werner, the company's DR product manager and technical marketing manager.
"Its benefits include high image quality and improved patient care and safety," Werner says. "With its simplified operation, it's easy to use and adopt into a facility. Further, it offers excellent image quality with reduced radiation dose."
Features include the CsI scintillator that delivers high detector quantum efficiency and workflow tools, including the hybrid image processing procedure code mapping. The product offers three-second image preview and 10- to 17-second panel refresh time. The single uniform S/W platform allows for DR and CR operation, and its wireless and wired modes of operation suit all imaging needs.
"The Aero DR is very versatile," says Werner. "It can be used with traditional general radiography rooms and portable x-ray units. Also, its Panel Roaming feature promotes redundancy and allows imaging resources to be focused on demand to handle acute and peak imaging needs."
In addition, cost of ownership is low. The long-life battery technology delivers five to seven years of use before it needs to be replaced, and its rugged Superframe structure ensures resistance to damage from impact or accidental drops, says Werner.
The Future Is Now
"We've reached the stage where DDR is needed and recognized as a true solution," says Ji.
Vendors and their customers recognize that the future of x-ray resides in DDR.
"As image quality and dose safety improves, as well as cost-effectiveness and increased access to x-ray equipment, usage of digital x-ray will expand in scope," says Widmann.
— Dan Harvey is a freelance writer based in Wilmington, Del. He is a frequent contributor to Radiology Today.