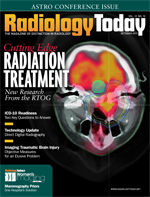 October 2011
Managing Mammography Films
By Jim Knaub
Radiology Today
Vol. 12 No. 10 P. 3
While the debate over mammography's screening value continues—with September's Radiology featuring dual commentary from advocate Daniel B. Kopans, MD, and screening skeptic Peter C. Gøtzsche, MD—this month's Radiology Today looks at the challenging day-to-day issue of managing a mammography film archive. Kathy Hardy reports on Piedmont Fayette Hospital's turnkey solution to managing mammography films and creating digital priors, which was part of its transition to digital mammography.
The debate over screening's real value and when to do it won't go away, but neither will mammography. Even if science were to clearly and precisely determine who should be screened and when, the powerful emotion and politics involved are extremely unlikely to permit any change to current policy. The prudent thing for anyone involved in breast cancer screening is to determine how their facility will operate efficiently. For many facilities, migrating from film mammography to digital exams is one of those efficiency challenges, often the last step in the transition to a digital imaging department. Requirements imposed by the Mammography Quality Standards Act create a clear set of compliance hoops to jump through that must be considered in any solution.
 Piedmont Fayette ultimately outsourced film archiving and digitizing—which made for a scary day when the film library was packed up and shipped from Fayetteville, Ga., to SourceCorp's Kentucky facility, admits Greg Woods, executive director of patient services at Piedmont Fayette.
Two years out, the story seems to have a happy ending. Patient priors not in the facility's PACS are being scanned and delivered to the network before a patient's next scheduled appointment so they're available to the radiologist.
As time marches away from the go-live date, fewer priors need to be scanned from film and those costs are dropping. Read about it on page 22.
Also check out our digital supplement, which features an interview with American Society of Radiologic Technologists President Dawn M. McNeil, MSM, RT(R)(M), RDMS, RVT, CRA, who discusses technologists' role in radiation dose reduction, a topic she selected as a primary focus of her term.
Enjoy the issue.
jknaub@gvpub.com