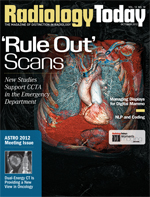 October 2012
Managing Monitors for Digital Mammography
By Kathy Hardy
Radiology Today
Vol. 13 No. 10 P. 26
The beauty of a monochromatic Ansel Adams photograph appears in the textures and contrast of light and dark, and the variations in black and white tell the story. The same can be said for digital mammography images, where the impact is in differentiating the grays and interpreting what that means for a patient.
"Mammography is nothing more than a density graph showing different shades of gray," says Richard L. Ellis, MD, director of breast imaging research and education at the Norma J. Vinger Center for Breast Care, part of the Gundersen Lutheran Medical Center in La Crosse, Wisconsin. "It's extremely important to maintain the ability to discriminate between the various shades of gray that appear in a digital mammogram."
Since the FDA approved the first full-field digital mammography system in 2000, there's been a constant need to maintain a consistent view at the highest resolution possible on the medical displays used to interpret mammograms.
"For radiology, there is a set of standards that should be followed for soft-copy displays," says Diana Kissel, PACS administrator and IT manager for Elizabeth Wende Breast Care in Rochester, New York. "It is strongly recommended that at least 5-MP monitors are used. There are also FDA recommendations regarding monitor luminance, contrast, and lookup tables. The displays should have the ability to support zooming and panning and to view images in full resolution."
Generally viewed on 5-MP monitors, digital mammography requires the highest resolution among the routinely used imaging modalities, resulting in better visibility of subtle masses and calcifications.
MQSA Regulations
As per its guidelines, the FDA approves digital mammography monitors and enforces Mammography Quality Standards Act (MQSA) regulations. Quality assurance of the displays used for mammography is regulated by the MQSA through each vendor's quality control program, as overseen by the FDA and the ACR. The MQSA mandates requirements for each modality, including the number of pixels in the monitor resolution.
In most cases, a medical imaging facility first receives a six-month provisional certificate from the FDA for its digital mammography system. The facility then should be inspected within 10 to 14 months of its initial provisional certification and every 10 to 14 months from its most recent inspection.
Before a facility can begin a digital imaging program, its staff need to make sure that the equipment delivers the necessary results by running a series of tests. The guidelines indicate that mammography displays should be acceptance tested by a qualified medical physicist. This applies to new facilities as well as existing digital imaging locations that have purchased new equipment.
"The radiologists do not read from any displays until they have been tested by a physicist," Kissel says in regard to procedures at Elizabeth Wende Breast Care. "The software used for testing purposes is provided by the monitor vendor."
The FDA requires that all imaging facilities use medical physicists with training in surveying digital mammography systems to conduct independent surveys and/or equipment evaluations in order to maintain monitors used with digital mammography. Equipment evaluation pass/fail results must be sent to the ACR, which reviews and approves evaluations and notifies the FDA of the results.
While the 5-MP monitors used with digital mammography have been available for several years, Manoj Tyagi, vice president and global sales leader with US Electronics Inc, says he sees a "great deal of confusion" regarding the various guidelines and requirements for their use and maintenance. "The confusion isn't about what steps are required to satisfy FDA requirements but on the perceived variations between the MQSA manual and the understanding of what the FDA might want users to check every day as well as how to keep accurate daily measurements required before radiologists can use the equipment," Tyagi says. "The easiest route is to follow the manufacturer's quality control manual for the brand of LCD being used."
Vendor Procedures
The FDA says facilities must follow the latest version of the manufacturer's quality control manual procedures for the unit tested. Monitors must meet the manufacturer's performance standards, and any failures must be fixed before use on patients, with repairs taking no longer than 30 days.
Robin B. Shermis, MD, MPH, medical director of ProMedica Breast Care in Toledo, Ohio, recalls that when that facility made the switch from analog to digital mammography, the focus was on workflow, scanning old images, and incorporating them into their PACS. Once that was established, the focus shifted to maintaining the high level of image acquisition and viewing.
"There's a lot of work involved in keeping monitors in compliance, but there should be," he says. "There is a lot at stake. We need to have assurance that there is consistency in our imaging."
He adds that while each modality has differing criteria, qualities across the board that are most important are consistency in quality, no "drop off" of pixels, and proper contrast. "Quality assurance is important," he says. "We need to make sure that the monitor is doing what it's supposed to do."
In many instances, imaging facilities learn that monitors that met acceptance testing standards when they were first installed can see altered performance over time. Changes in luminance and resolution characteristics can occur. Displays also can be influenced by changes in ambient lighting conditions in reading rooms.
When considering the physics of digital mammography, the FDA guidelines note that the factors that most affect medical image interpretations are contrast, resolution, and noise. Optimal mammography display is achieved by taking these factors into consideration and by using time-efficient, intuitive, and reader-specific user interfaces. Because display devices are susceptible to variations in hardware and calibration as well as degradation over time, acceptance testing and quality control testing are necessary to maintain an adequate level of display quality.
Daily Quality Control
The Norma J. Vinger Center for Breast Care began its conversion to a digital mammography system about five years ago, completing the process a few years after that, and now operates 10 Totoku monitors. Although Ellis says the monitors are "reliable and stable," that doesn't mean the imaging displays aren't put through their paces every day. Per the center's quality control program, each morning begins with technologists turning on the center's reading monitors used for rendering interpretations and running quality control tests that involve patterns comprised of different shades of gray and square shapes. Measuring a monitor's grayscale display is "paramount in imaging," he says.
"This test allows you to look at the level of contrast and make sure that we can see all the shades of gray in a mammogram," he says. "The quality control policies we have in place give us the reassurance that we're reading images to the best of our ability."
In addition, the daily monitor quality control test includes detector uniformity, spatial resolution, contrast resolution, geometric accuracy, and clinical review and artifact identification, Ellis says. Full-field digital mammography test patterns, which are provided by their display vendor as part of the FDA approval process, include the Society of Motion Picture & Television Engineers and the American Association of Physicists in Medicine Task Group 18 quality control test patterns.
Any monitor that does not pass one of the morning tests is shut down, and the hospital's internal IT department takes the equipment, examines the situation, and determines a course of action for repair. "That monitor is taken out of service until it is fixed," Ellis says.
Operations are similar at Elizabeth Wende Breast Care, which uses EIZO monitors—seven pairs in all—with its PACS workstations. The age of the monitors ranges from about six years old to just a few months old. The facility is still using the first LED monitors purchased with its PACS workstations when staff began reading digital images from PACS.
On a daily basis, monitors are tested before patients arrive. Quality control technologists review test patterns on the soft-copy display, looking for any imperfections or distortion. "Any issues found must be assessed for severity and whether or not it will affect the radiologist's ability to read images," Kissel says. "Any severe issues would need to be serviced or would require the monitors to be replaced."
Monitor Pairs
In addition, compliance technologists perform monthly luminance and gray-scale tests on the monitors. Again, any monitor that does not pass testing requires IT follow-up and will not be included in the rotation until the problem is solved or the monitor is replaced. Replacing a monitor isn't as simple as pulling out the old and inserting the new in its place.
"Mammography-grade monitors are matched and paired together, so it isn't as easy as a monitor 'dies' and you replace it with another," Kissel says. "The reason for this is that the displays on each monitor must match in color and contrast as closely as possible because there can be variations. Both monitors would have to be replaced in the event of a problem, and that is costly."
Medical physicists at Elizabeth Wende test their displays annually. In addition, any new displays purchased throughout the year undergo testing to make sure they are compliant. Quality control technologists closely follow a quality control manual provided by the PACS vendor, Kissel says, and when they conduct their yearly MQSA audit, they must provide documentation of the testing to the auditor.
"As you can see, the testing and maintenance of the monitors does require time and money," she says. "Although, as technology improves, testing time decreases because of improved hardware and software. With our newest monitors, it is evident how much the technology and ease of use has changed from our older displays. There is also far less time involved in testing the newer monitors."
Avoiding Downtime
Keeping up with the latest monitor technology also is part of the maintenance process. While Elizabeth Wende has not experienced any major issues with its current monitors, personnel continually research the latest 5-MP-or-higher technology in the event they need to make a quick replacement decision. Kissel says they check out new technology at industry trade shows, such as RSNA, as well as bring in vendors to demonstrate how their monitors perform when connected to existing PACS workstations. This gives their radiologists and quality control technologists the opportunity to see which versions work best with their existing setups.
Due to the costly nature of mammography-grade monitors, Kissel says Elizabeth Wende plans to use its existing monitors through end of life, referring to the possibility of the monitors no longer functioning, or "burning out," or no longer passing the monthly quality assurance tests.
"Once our facility is at the time where we need to replace our displays, we will have done our research and know what each of our radiologists prefer," she says. "Rather than scrambling to make a decision, we are informed and prepared to make a purchase."
"There aren't many breast imaging centers that can have one or two monitors down and still maintain their existing number of patients," Ellis adds. "It's like telling a surgeon that their OR [operating room] suite is down for the day. How can they get their work done?"
— Kathy Hardy is a freelance writer based in Phoenixville, Pennsylvania. She is a frequent contributor to Radiology Today.