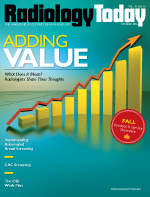 October 2014
Editor's Note: Proving Value
By Jim Knaub
Radiology Today
Vol. 15 No. 10 P. 3
So much of health care is driven by regulation that organizations can become tentative about doing anything in the absence of specific direction spelled in regulations. The movement to what is widely called value-based care is one good example.
Every imaging-related meeting I've attended this year has featured discussions on what value-based care means in radiology. It seems that most attendees hope that someone will tell them how to add value, or better still, the Joint Commission and the Centers for Medicare and Medicaid Services will issue guidelines or a final rule detailing the requirements to meet some value-based care standard in imaging. Well, pilgrim, that cavalry will not be riding to the rescue.
To its credit, the ACR has entered the fray with its Imaging 3.0 campaign, which describes numerous ways that radiologists can adopt and/or adapt to succeed in the changing health care environment. Bibb Allen, Jr, MD, FACR, who chairs the ACR Board of Chancellors, is one of several informative sources interviewed in our cover feature, Adding Value. As Allen points out in the article, a quality image and report bring obvious value to health care. That is true, but the health care market—like many things in this world—is simply demanding more. Imaging 3.0 is an excellent start at suggesting what that more might entail. The thoughts of the other radiologists and consultants interviewed provide some other ideas about what your group can do—or what a hospital may be expecting from its radiology service.
The biggest message in this is that radiologists need to make this happen rather than watch it happen to them. It may well mean figuring out what their hospitals want and need and then taking steps to provide it. Proving your value to your hospitals helps them prove it in their market and to insurers. In a nutshell, that's alignment.
The traditional health care business model where every organization can just carve its own generous slice out of an ever-growing health care pie is facing a serious challenge. Our government, businesses, and citizens may be unwilling to pay for, or unable to afford, a pie that large. Going forward, those paying for health care will be much less likely to take your word that you deserve your portion, and your group is going to have to prove it. To end on a positive note, you know imaging does deserve a share—make it your group's mission to show them why.
Enjoy the issue.
jknaub@gvpub.com