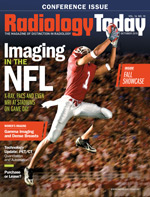 October 2015
Imaging in the NFL
By Beth W. Orenstein
Radiology Today
Vol. 16 No. 10 P. 12
With its own Web-based PACS and EMR—and even MRI scanners in two stadiums—the National Football League tackles its game-day radiology needs.
Keeping players healthy is key to the success of every team in the National Football League (NFL). It is not an easy task, "given the high level of physicality and body trauma the players experience on the field, especially on game days," says Morris Panner, CEO of DICOM Grid, headquartered in Phoenix. The software company manages diagnostic imaging and related health care data through its cloud-based platform. "The need for rapid, accurate diagnoses can be the difference between a team's season or a player's career," Panner says. Enter radiology. Thanks to advances in both radiology and technology, the medical specialty is playing an increasing role in diagnosing the severity of players' injuries when they happen—as they inevitably do.
All 32 NFL teams have long had X-ray machines at their stadiums—some are older and some more advanced, largely depending on when the stadium was built or renovated, but all meet the requirements of modern imaging technology, says Matthew J. Matava, MD, immediate past president of the NFL Physicians Society, chief of sports medicine at Washington University in St. Louis, and head team physician for the St. Louis Rams.
"We need the machines virtually every game to take an X-ray of at least one player," Matava says. In the past, each team relied on hard copy paper charts and film X-rays of the player's previous injuries. Digital images of the player's previous injuries are now part of his EMR that can be accessed in some cases on portable handheld tablets on the sidelines. That information goes a long way in helping the team doctors and athletic trainers to more quickly determine whether what they are seeing on the X-ray is new or a previous injury, Matava says.
"If a player is in pain, you're not worried about putting him back on the field," says Bud Carpenter, head certified athletic trainer for the Buffalo Bills. "You know he can't go back. But if he says, 'Oh, I'm fine,' it's better for the team to [be able to] clear him and allow him to return to the game or practice if we have all the images and information we can when making a diagnosis."
Like most imaging centers or departments, NFL teams also have upgraded their imaging technology from film to digital radiography. Although the digital X-ray equipment at the stadium isn't used as often as it would be in an imaging facility or department, the teams justified the significant expense of upgrading the technologies they use at the stadium because of the NFL's and players' relatively recent agreement to invest more in player health, says Diana L. Nole, president of Carestream's Digital Medical Solutions business. In the past two to three years, several teams, including the Buffalo Bills, Green Bay Packers, San Diego Chargers, and San Francisco 49ers, have bought Carestream DRX mobile and room systems for their stadiums. The system is designed to simplify weight-bearing, cross-table, and tabletop studies of patients weighing up to 650 pounds. Team athletic trainers and physicians can see the results much quicker with digital X-rays, Nole says.
"With the older technology, it could take anywhere from two to five minutes to get a good image," Nole says. "The first image may not be great and so you have to take it again, and that's just because you're using older technology—computed radiography. CR uses a digital form of film but it still has to be scanned and the scanner has to read the image and display it. That whole process can take a few minutes and you don't know if you have a good image." The digital technology they use now, she says, allows the X-ray technologists stationed at the stadium to take a preview image and determine if it's the right view where the suspected injury is within six or seven seconds. "Then you can get an actual full resolution image in under 20 seconds," she says. "And once you have a digital image, we work to give access to any of the team's staff who needs to look at it. Having the ability to accurately access a player's condition so quickly can help prevent further injury."
An orthopedic surgeon, Matava likes that the digital images he may see taken during a game are much more user-friendly than film. "With digital imaging, you can tone down or blow up an area of interest and it's easier to see what you're looking for than holding a film X-ray up to a light box, which we were doing only five years ago and now seems like ancient history," he says. The higher quality of the digital images taken at the stadium also helps to reduce the amount of radiation players are exposed to, Matava says. Because the digital images are accurate and can be easily accessed by all clinicians onsite, they often don't have to be redone. In the past, if a player suffered an injury that required further treatment such as surgery, he may not have been able to get a copy of the X-rays that were taken at the stadium. His doctors or surgeons also might require additional X-rays if the quality of the originals wasn't as good as they needed. "Having to take a new set of X-rays would expose the player to more radiation, which is never good," Matava says. "This helps eliminate that issue in many instances."
Access to Studies in Real Time
But how can team physicians easily access these X-rays when players are on the road? DICOM Grid works with physicians for the Miami Dolphins and other professional sports teams to provide instantaneous cloud-based image sharing. And the league has a partnership with INFINITT to provide a PACS for NFL players' medical images.
"Surgeons have said that receiving X-rays as quickly as possible is critical to the recovery of injured players," Panner says. "They never feel out of touch with the players they're responsible for." Team physicians have told Panner that the enhanced ability to pull up players' images on their phones, handheld tablets, or workstations wherever they are allows them to make decisions from anywhere at anytime . "DICOM Grid's image exchange capabilities and HTML5 zero-footprint viewer allow medical images to be shared and viewed in real time," Panner says. DICOM Grid's workflow automation tools allow the right information to get to the correct locations most efficiently, he says.
Because these are NFL players—and their health is of interest to their competitors—there's been a lot of discussion about the security of sending the images and other relevant medical records electronically whether to the tablets of the medical staff standing on the sidelines or to workstations of their team doctors who may be back home if it's an away game, Nole says. Panner agrees that the sensitivity of sharing health care information about NFL players makes it much harder. But everything that's shared electronically is done so in a way that is compliant with HIPAA, Panner and Nole say. The NFL has its own Web-based PACS that is HIPAA compliant and lets properly credentialed providers see a player's new and old images from any stadium, team facility, or physician's office. The PACS is closely integrated with the NFL's EMRs it now maintains for each player.
Stadium MRI?
Two stadiums, in Dallas and Cincinnati, have MRI scanners onsite. Some argue that every stadium should have MRI machines, but Matava says having MRIs onsite isn't that practical. It wouldn't help speed diagnoses, he says.
"An MRI takes a half-hour to 45 minutes, and that alone will preclude the ability for the player to return to the game even if it's found to be negative," he says. In addition, Matava says, radiologists would need to be on standby to read the results. "If a player needs an MRI, he probably shouldn't be going back in the game anyway," he adds. In St. Louis, Matava says, the team books four MRI slots every Monday (or the day after the game) at Washington University/Barnes-Jewish Hospital. Some players don't feel or report their injuries until after the game when they wake up with a swollen knee or ankle, he says. "Leaving slots open the next day gives us the ability to get a player in in a relatively quick fashion," Matava says. "We usually [scan] three to four players in the day following a game."
Bringing even more advanced imaging to the stadium is in the works, though. Carestream, which makes digital X-ray systems used by several teams, is working on a 3D cone beam CT imaging product that could be located at the stadium or in an orthopedist's office could provide additional information the 2D radiography, says Jim Burns, chief technology officer at Carestream. "It would allow for even more improved imaging on site during games and practices for musculoskeletal radiology," he says. "It would be helpful particularly if you're looking at complicated fractures of the wrist or ankle."
Cone beam CT has a smaller footprint and doesn't require the site preparation that a conventional CT or MRI scanner would, Burns says. "It won't require local shielding." That eliminates the issue with conventional CT that the cost of the preparation can approach the cost of purchasing the device. This is something that could be rolled into the training room and plugged into the wall, he says. The shielding will be contained within the device. Cone-beam technology can be used for any body parts, but it works nicely for orthopedics, which is what most teams need. "All you have to do is put an arm or a leg into it," Burns says. With bigger body parts, scatter becomes a bigger problem. Carestream hopes to apply for FDA approval for its product sometime next year, he says.
Diagnosing Concussions
Imaging also has a growing role in concussions, another priority health issue for the NFL. In 2012, the league adopted stricter rules to determine when players can return to the playing field after suffering a concussion. If a concussion is suspected, players are subjected to neurological testing on the sidelines. (An unaffiliated neurological consultant is one of about 27 medical staff at the stadium on game day.) Carestream is working with the Buffalo Bills and Johns Hopkins University to investigate cone beam CT to help detect traumatic brain injuries (TBIs) earlier and monitor them. The 3D imaging system developed for musculoskeletal radiology and orthopedic imaging of extremities may prove helpful in the diagnosis and treatment of head injuries. The goal is to create a system capable of detecting TBIs at the point of care so that patients can be directed to appropriate therapy and avoid repeat injuries, Burns says.
In 2013, the NFL and General Electric launched the Head Health Initiative to speed diagnosis and improve treatment for mild TBI. It's a five-year, $60 million collaboration that also includes athletic-wear company Under Armour, Matava says. The initiative includes a four-year, $40 million research and development program from the NFL and GE to evaluate and develop next generation brain imaging technologies to improve diagnosis that would allow for targeting treatment therapy for patients with mild TBI. In addition, the NFL, GE, and Under Armour launched a five-year, open innovation challenge fund to invest up to $20 million in research and technology to better understand, diagnose, and protect against TBI. The National Institute of Standards and Technology is also supporting this effort.
"The NFL is a huge user of and investor in all sorts of imaging and technology," Matava says. "The technological advancements that have occurred in the field and are now being implemented in the NFL are nothing but positive for the physicians and specialists involved in protecting the health of players. Thanks to today's technology, we're able to do things quicker and safer."
— Beth W. Orenstein of Northampton, Pennsylvania, is a regular contributor to Radiology Today and huge fan of the Philadelphia Eagles.