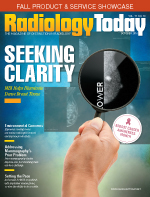 October 2016
Seeking Clarity: MBI Helps Illuminate Dense Breast Tissue
By Kathy Hardy
Radiology Today
Vol. 17 No. 10 P. 24
When faced with a patient with dense breast tissue, physicians often agree that you can't treat what you can't see. Where their opinions differ, however, is on which modality provides the clearest view through the white cloud of dense breast tissue on a mammogram.
Results of a recent retrospective study published in the American Journal of Roentgenology (AJR) offer a clearer view of molecular breast imaging (MBI)'s ability to provide a window into dense breast tissue. As reported, Gamma Medica's LumaGEM MBI system showed an incremental cancer detection rate of 7.7 cancers per 1,000 and overall clinical effectiveness as an adjunct screening tool, finding 13 malignancies among 1,696 women with dense breast tissue following normal mammograms. In addition, approximately 85% of these cancers were confirmed as node negative, meaning they were detected at an early stage.
"This study offers practice-based, clinical proof that, for women with dense breast tissue, MBI is a powerful tool that finds cancer where a mammogram alone can miss it," says Robin B. Shermis, MD, MPH, FACR, medical director of ProMedica Breast Care in Toledo, Ohio. "With MBI, we're catching invasive cancers and node-negative cancers, and we're catching them early. While it's important to catch everything, these are the specific things you like to catch."
The study used data gathered from routine clinical practice at ProMedica from 2011 to 2014, focusing on women aged 25 to 90 with heterogeneously and extremely dense breast tissue. Gamma Medica's president and CEO, Phil Croxford, says this study represents "real world" findings, given that it's retrospective and involves a large number of patients.
"You're looking at results from previous patients," Croxford says. "The [doctors who read the exams] weren't thinking about a [retrospective] study when they were treating patients. [The researchers] were able to gather rich data from 1,696 patients, all with dense breasts."
Croxford notes that this study also serves as a follow-up to prospective, blinded studies from the Mayo Clinic that were published in the AJR last year that showed MBI offered substantial improvements in detection rates compared with mammograms, while utilizing radiation doses comparable to mammograms. Results of the Mayo Clinic studies also showed a 400% increase in breast cancer detection when MBI was used in addition to mammography as a secondary screening, a 15% decrease in cost per cancer detected, and a greater level of comfort for the patient over mammography and other adjunct modalities.
Personalized View
According to Shermis, who is also a member of Radiology Today's editorial advisory board, standardized anatomical screening technology alone is not specific enough to reliably detect cancerous tumors, particularly in women with dense breast tissue. Modalities such as ultrasound or MRI aren't able to reliably detect lesions through dense tissue to detect cancerous tumors, he says; the functional imaging offered with MBI, which focuses on the higher metabolic cellular activity of breast lesions by utilizing a radiotracer and a high-resolution gamma camera, allows for a more specific and effective diagnosis.
Croxford adds that a functional imaging diagnostic tool like MBI also does a better job of taking into consideration variables in women's breasts, as well as the nature of women of different ages and at different stages of their lives. He believes that this modality provides a more personalized diagnosis.
"Modalities that look only anatomically don't address the differences in women's bodies," Croxford says. "With these studies, we're bringing a level of sophistication to diagnostics with metabolic tools. We're demonstrating that this specialized approach works well at the diagnostic stage, not at the surgery or treatment stage."
Patient Dianne Anderson can speak beyond the study findings regarding how MBI helped in the early detection of her stage 2 breast cancer. The 57-year-old Oregon, Ohio, resident was told early in her mammographic history that she had fibrocystic breasts long before her state adopted dense breast notification legislation in 2015. At that time, her OB/GYN referred her to a surgeon, and she underwent a bilateral stereotactic biopsy.
"After my mammograms, I was always told that I would need additional views or biopsies because I have dense breasts," she says. "I didn't think that it was any big deal."
However, in 2012, after receiving a normal mammogram, she says Shermis recommended that she undergo MBI, due to her dense breast tissue.
"MBI was new in our area, and I was skeptical at first," Anderson says. "A year before this, I received a notice that recommended that I get an MRI, but I never heard from a doctor so I didn't pursue it. The notice from Dr. Shermis' office said MBI provides a more in-depth evaluation. My insurance would cover the procedure so I decided to give it a try."
The MBI revealed her cancer, although the mammogram had not. With her more than 10-year history of mammograms every six months and frequent biopsies, she opted to undergo a bilateral mastectomy, which found that the cancer had spread to her lymph nodes, followed by rounds of chemotherapy and radiation. She is currently in her fourth year of taking estrogen blockers.
"I'm so glad I had the MBI," she says. "Who knows what stage my cancer would have been in if it hadn't been discovered then?"
When describing the MBI process, Anderson says her experience lasted about 90 minutes—although MBI screenings usually take an average of 30 minutes—from the time of injection of the radiotracer through completing the imaging with the gamma camera. She compares the imaging to having a mammogram, but without the compressions. Overall, she says the procedure is comfortable and relatively seamless, as compared with other imaging she's undergone.
When considering patient comfort, the time-of-exam factor is a consideration, Shermis says. He explains that there needs to be a balance between time and radiation dose. The current dose used with MBI is 8 mCi, though the effective dose when administered is closer to 6 mCi.
"The goal is to reduce the dose even further, although the level of radiation used now is lower than the environmental level," he says. "We're still making strides with dose reduction that would make it comparable to mammography but with four times the detection rate."
Shermis adds that MBI also fits well from a practice workflow perspective.
"We can read images in real time, with no need for callbacks," he says. "Patients can go from mammogram to MBI."
Other Options
When looking at other adjunct modalities, Shermis weighs the pros and cons, looking at factors such as specificity and sensitivity, patient tolerance, and insurance coverage.
"If a woman is found to have dense breasts and she is in the high-risk category for breast cancer, MRI can be a good option," he says. "But if the patient has no family history of breast cancer or other risk factors but has dense breasts, MBI is the choice."
Regarding ultrasound, Shermis recognizes the modality's role as a diagnostic tool. He contends, however, that ultrasound creates more problems than it solves.
"Using ultrasound is time consuming and not a real-time solution," he says. "It doesn't fit into our workflow. We want to do everything at one time; it's beneficial for the patient."
Tomosynthesis is another viable adjunct option, but Shermis sees limitations in the visibility it provides when trying to see through dense breast tissue.
In an effort to help clear the confusion, Gamma Medica launched Be Certain, an educational program designed to raise awareness of breast density. According to Croxford, this online resource presents information for referring physicians, radiologists, and women, with a goal of educating them about dense breast tissue and the challenges and limitations of today's current standard of care.
"Women should be able to receive personalized care for their own clinical situation and access to the latest information that will empower them to make the best-informed choice about their diagnostics and treatment plans," Croxford says. "The Be Certain campaign presents information about dense breast tissue in an informed and balanced way and [a way] that can be trusted as reliable and accurate."
He believes the timing is key, particularly as states continue to legislate dense breast notification.
"Today, there are 27 states with mandatory dense breast notification laws," Croxford says. "While notification is a good thing, the notices women receive don't explain their options. There needs to be more information provided to women that addresses their 'What next?' questions."
Croxford adds that another confusing factor for women is when to actually start getting mammograms and how often to schedule them after their first screening.
"Based on the various recommendations, some women might not even get their first mammogram until age 55," he says. "Compare that to heart care, where you start preventive measures as soon as possible."
Shermis says that as more facilities look for adjunct screening modalities, they should consider MBI as a safe, inexpensive, reliable, and easy-to-use option.
"When it comes to adoption of MBI, it takes having a champion or advocate in a leadership role within the breast imaging center or surgical practice presenting findings at staff meetings and at tumor board meetings" he says. "There also needs to be some education for referring physicians regarding the benefits."
Some of that education can come from the patient side, as well.
"If you have dense breasts, you should learn more about MBI," Anderson says. "Find out what's going on in breast imaging. You need to advocate for yourself. Women should know all their options."
— Kathy Hardy is freelance writer based in Phoenixville, Pennsylvania. She is a frequent contributor to Radiology Today.