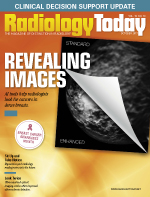 Imaging Informatics: Patient-Centric Teleradiology
By Dave Yeager
Radiology Today
Vol. 18 No. 10 P. 5
"Patient-centric" is one of the most popular buzzwords in health care today, but what does it mean? The answer to that question depends on the nature of a particular practice. In the case of teleradiology, a practice where radiologists and patients aren't even at the same site, it usually means providing subspecialty expertise and keeping turnaround times as fast as possible. But with a nascent movement to connect radiologists with patients afoot, some in the industry are rethinking the scope of teleradiology.
"We always felt that we were just a little bit short of delivering the kind of care that we really wanted to give. And that care, in mammography especially, is really very patient-centric, very compassionate care," says Arlene Sussman, MD, medical director of vRad, a MEDNAX company and a teleradiology and telemedicine provider. "Most of the women who go for mammograms are pretty nervous to begin with, so we really wanted to make this a more personalized experience."
To do that, vRad partnered with Cisco on a pilot program, Live Video Diagnostics, which enables vRad radiologists to consult with doctors, technologists, or patients at six facilities in real time. The facilities are located in rural areas in Arizona, California, Nevada, Oklahoma, Texas, and West Virginia. Sussman says those sites were chosen because they had large patient populations who would benefit from the technology.
"For the most part, a lot of these women don't have access to subspecialists," she says. "We wanted to provide care face to face."
Virtual Doctors' Hours
Cisco installed 22-in monitors and video connections at the pilot sites and the offices of vRad's radiologists at no extra charge. Sussman says it took about a day to test the system, and the videoconferencing process is as easy as dialing a phone. Images are exchanged via a virtual private network, a method that meets HIPAA requirements.
vRad set up "virtual doctors' hours" with fellowship-trained mammographers for each pilot site. During doctors' hours, technologists scan the patients and then conference with the radiologist who's assigned to the facility so the radiologist can point out areas of concern in real time.
"When the patients' mammograms come to us from the cloud down to our workstations, I am able to dial the videophone to the site, in Oklahoma, for example, and talk to the technologist," Sussman says. "And not only can I see her face to face and have a conversation about the images but I [also] can share my screen with her, point to the image, and provide feedback regarding the image quality or the need for additional images while the patient waits."
After the technologist completes additional scans, if needed, and sends the images to vRad, the radiologist then delivers the results to the patient in real time through a videoconference. So far, the program has been popular.
"The patients are happy to talk with us," Sussman says. "Women want to meet the specialist and be able to ask questions. It provides a connection with their doctor."
Sussman says that although vRad's radiologists and patients are separated by physical space, that need not be a barrier to making connections. In fact, she believes technology has the potential to enhance radiologist-patient interactions.

"We think this is the most compassionate solution to reaching patients who have no other access to specialists," she says.
Referrers can also videoconference to discuss cases. If radiologists want to communicate results, the system will do it automatically and notify them when the referrer is available.
"All it takes is one left click to contact anybody about results," Sussman says. "The radiologist receives a text when the phone call has arrived. Until then, they're reading exams."
Sussman says vRad has lined up additional sites for the program. She expects the number of sites to double by the end of the year. Because the system is cloud based, scaling it up is not difficult. Currently, Live Video Diagnostics is only for mammography, but vRad may expand the program to emergency departments in the future.
— Dave Yeager is the editor of Radiology Today.