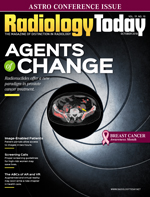 On the Case
By Anna Luisa Kuhn, MD, PhD; Katyucia de Macedo Rodrigues, MD; and Ajit S. Puri, MD
Radiology Today
Vol. 19 No. 10 P. 30
History
A 72-year-old woman with a past medical history significant for hypertension presented to the emergency department with worsening headaches over the previous two weeks. On the evening of presentation, the patient also complained of new onset left facial and retro-orbital pain. There were no focal neurological deficits.
Findings
Noncontrast head CT demonstrated an extra-axial, circumscribed, and hyperdense mass in the prepontine cistern, which was inducing mild mass effect on the left anterolateral pons (Figure 1). The patient went on to have an MRI of the brain to further characterize this mass. MRI revealed a heterogeneous signal intensity mass within the prepontine cistern on T1-weighted imaging (Figure 2), a signal void on the T2-weighted imaging (Figure 3), and a hypointense halo on the gradient sequence (Figure 4). CT angiography revealed a contrast opacified circumscribed mass in the region of the left posterior communicating (PCOM) artery (Figure 5).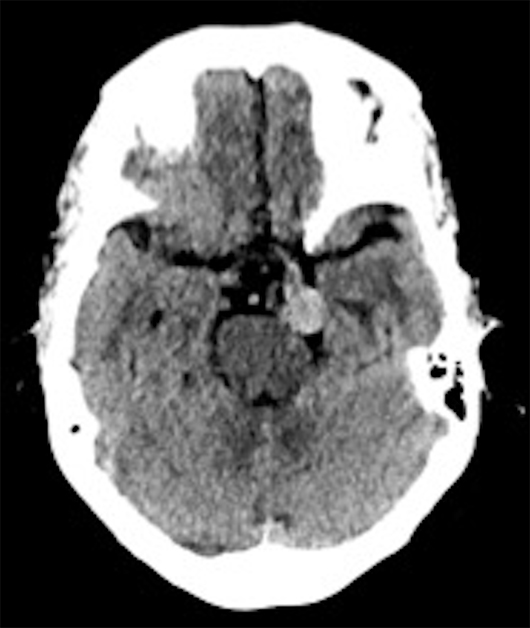 Figure 1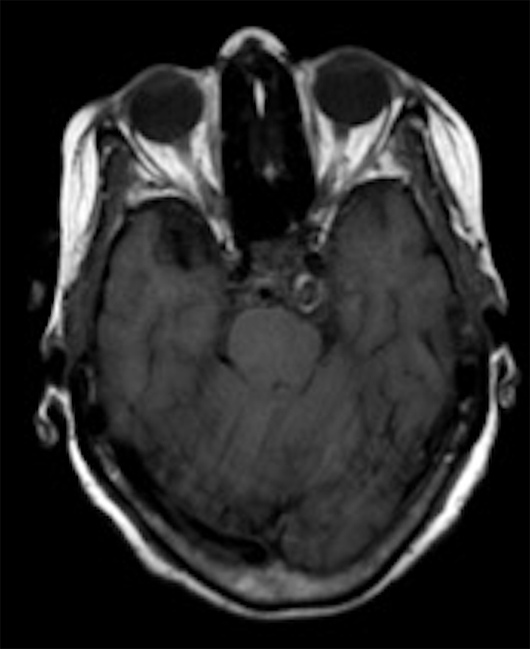 Figure 2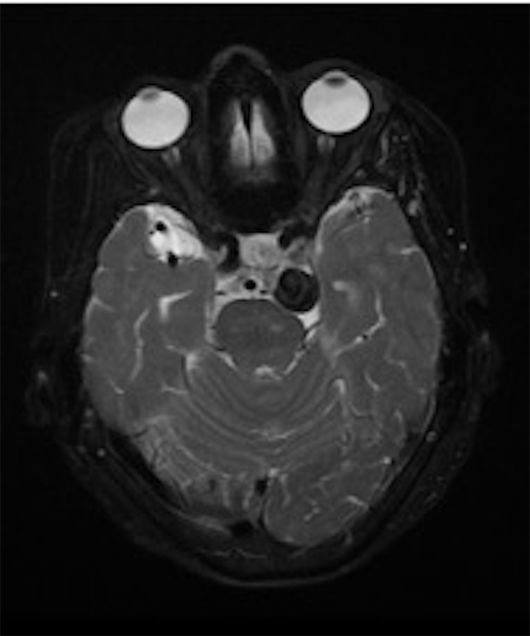 Figure 3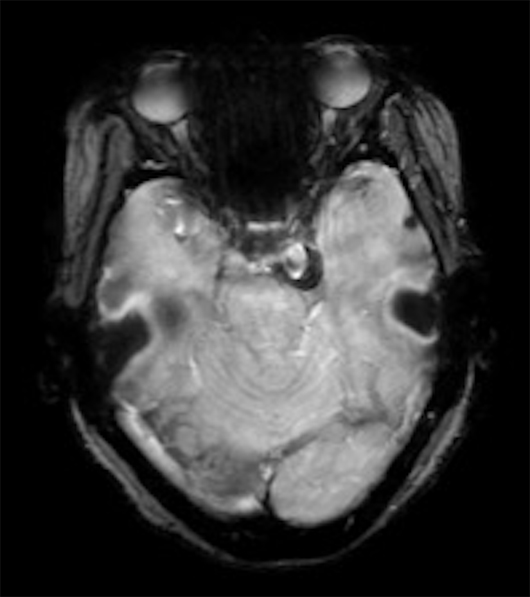 Figure 4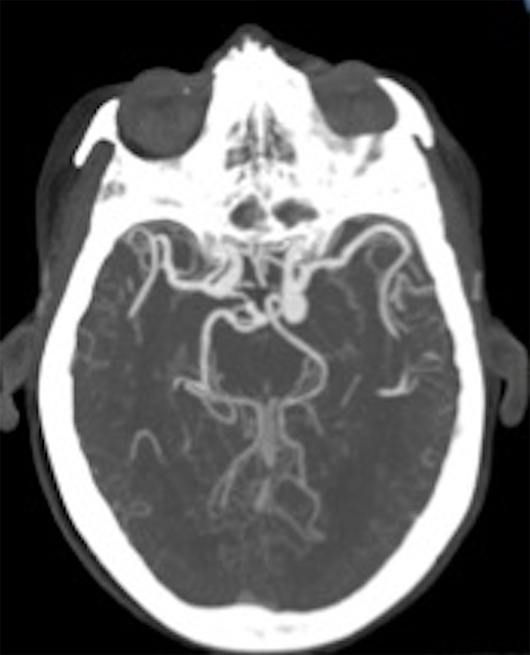 Figure 5
Diagnosis
Large PCOM artery aneurysm.
Discussion
The PCOM artery connects anteriorly to the internal carotid artery (ICA) prior to the terminal bifurcation of the ICA into the anterior cerebral artery and middle cerebral artery. Posteriorly, the PCOM artery communicates with the posterior cerebral artery (PCA).
There are considerable variations in the anatomy of the PCOM artery. The size of the PCOM artery ranges from a small artery often not visualized on angiography to a large artery nearly the size of the PCA. A fetal PCOM variant is defined as a PCOM artery, which has the same caliber as the P2 segment of the PCA and is associated with an atrophic P1 segment of the PCA.
Intracranial aneurysms have an overall prevalence of approximately 3% to 6%. The majority of aneurysms arise from arteries of the circle of Willis, most frequently from the anterior communicating artery followed by the ICA and middle cerebral artery. Most aneurysms remain asymptomatic until they either become large in size, exhibit mass effect on adjacent structures such as cranial nerves, or rupture.
The risk of aneurysmal rupture varies with location of the aneurysm, size, type, and history of prior aneurysm rupture. The risk of rupture of posterior circulation aneurysms is considered to be higher—<7 mm (2.5%), 7–12 mm (14.5%), 13–24 mm (18.4%), >25 mm (50%)—than that of anterior circulation aneurysms—<7 mm (0%), 7–12 mm (2.6%), 13–24 mm (14.5%), >25 mm (40%).
Posterior circulation aneurysms can present with subarachnoid hemorrhage, with an isolated oculomotor nerve palsy or a nontraumatic subdural hematoma. Subarachnoid hemorrhage presents classically with the sudden onset of severe headache associated with nausea, vomiting, photophobia, and meningism. Often, the patient loses consciousness, and the diagnosis is apparent clinically and confirmed by appropriate imaging of the brain or the finding of blood in the cerebrospinal fluid. Aneurysms can be treated neurosurgically or endovascularly using coils, with or without stents or flow diverters.
Differential diagnoses for this case include the following:
1. Schwannoma, which would present as a low-attenuation lesion on noncontrast CT and show T1 iso- to hypointensity as well as T2 hyperintensity.
2. Meningioma, which is an extra-axial tumor, slightly hyperdense on noncontrast CT and isointense to grey matter on T1-weighted images. Appearance on T2-weighted images may vary from isointense to grey matter to hyperintense signal intensity due to cystic degeneration.
3. Metastasis, which can be iso-, hypo-, or hyperdense (melanoma metastasis) on noncontrast CT with varying degree of surrounding edema. Metastases are typically T1 iso- to hypointense and T2 hyperintense unless there is a hemorrhagic component, which can change signal intensity.
— Anna Luisa Kuhn, MD, PhD, is a radiologist in the department of radiology at UMass Memorial Medical Center.
— Katyucia de Macedo Rodrigues, MD, is a radiologist in the department of radiology at UMass Memorial Medical Center.
— Ajit S. Puri, MD, is a radiologist in the department of radiology at UMass Memorial Medical Center.
Resources
1. Higashida RT, Lahue BJ, Torbey MT, Hopkins LN, Leip E, Hanley DF. Treatment of unruptured intracranial aneurysms: a nationwide assessment of effectiveness. AJNR Am J Neuroradiol. 2007;28(1):146-151.
2. Yoon NK, McNally S, Taussky P, Park MS. Imaging of cerebral aneurysms: a clinical perspective. Neurovasc Imaging. 2016;2:6.
3. Meyers PM, Schumacher HC, Higashida RT, et al. Reporting standards for endovascular repair of saccular intracranial cerebral aneurysms. AJNR Am J Neuroradiol. 2010;31(1):E12-E24.